Save California Transit
KEEP WORKING FAMILIES MOVING
DON'T LET FUNDING SHORTFALLS JEOPARDIZE OUR
PUBLIC TRANSPORTATION.
California's transit agencies are facing a critical moment, and working families' access to transportation is in danger. The pandemic has created an operations funding crisis for transit agencies, and with supplemental federal funding about to end, California needs to step in with significant investment to support our essential transit systems.
If we allow severe cuts to transportation budgets and do not provide new funding for transit operations, California's most vulnerable communities will suffer the most. This will disproportionately affect low-income families and those who rely on public transit. The result will be painful service cuts, which will push many commuters back into their cars and increase traffic and carbon emissions – a step backward in our fight against climate change.

"Saving transit in California is key to an equitable recovery."
CalMatters
Despite the challenges posed by the pandemic,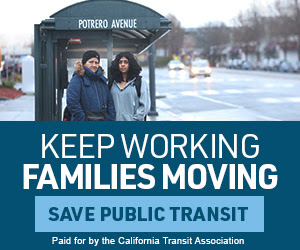 California's transit agencies are adapting and innovating to attract more riders. They have implemented various strategies, including rider-focused schedules, enhancing the cleanliness and safety of transit vehicles and stations, providing real-time travel information, and offering targeted fare-free programs. However, these efforts may not be enough, and will require additional funding, to achieve a full recovery in the short term.
It's crucial that we don't go backward. Instead, California needs to support public transit agencies to maintain and improve service for those who rely on them and to help the state meet its long-term environmental and equity objectives. We need to keep working families moving and avoid jeopardizing our public transportation.
Join us in our call to Save California Transit. Let's move forward together to create a stronger, more equitable, and sustainable transportation network for all Californians.