Proposition 6 – Senate Bill 1 Repeal
Voters Reject Repeal of Vital Transportation Funding
With 100 percent of statewide precincts having reported their vote totals, according to the Secretary of State, Proposition 6 has been defeated. Results show that, of nearly 7 million votes cast, 55.1 percent were in opposition to the repeal effort. Learn more.
Background
On April 28, 2017, Governor Brown signed Senate Bill 1 (Beall and Frazier), a landmark transportation funding package that is the culmination of more than two years of hard work by Senate Transportation and Housing Committee Chair Jim Beall, Assembly Transportation Committee Chair Jim Frazier and the Governor's Administration. The final package required a 2/3-vote in the Legislature and passed by a vote of 27-11 in the Senate and 54-26 in the Assembly.
The $5.24 billion/year funding package generates new revenues from various taxes and fees and is designed to repair and maintain our state highways and local roads, improve our trade corridors, and support public transit & active transportation. The funding package is a huge step forward for our membership and a significant win for the Association's advocacy efforts as well as every Californian who relies on our state's transit services.
SB 1 provides funding for public transportation as follows: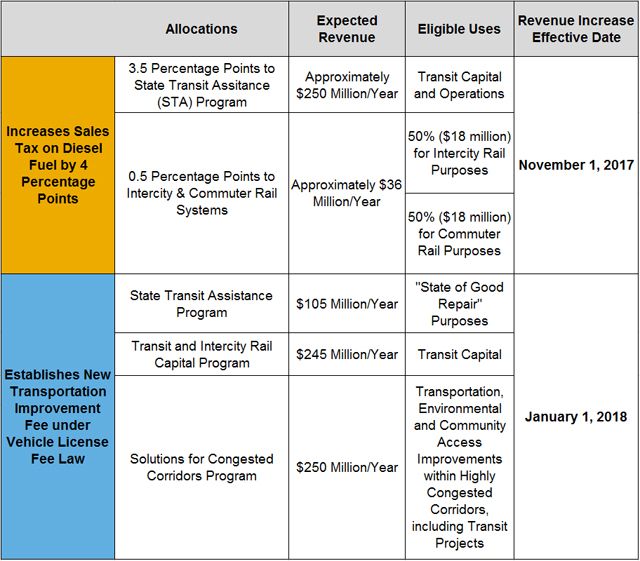 The Association projects that, from these programs alone, SB 1 directs or makes available more than $700 million in new public transit funding in FY 2018-19. Some of the revenue sources will grow or are adjusted up over time, generating $800 million/year by FY 2026-27 according to the Governor's Administration.
Additionally, SB 1 provides funding for various other multimodal programs with the potential to boost public transit.
More specifically, the funding package provides:
$200 million/year for the "State and Local Partnership Program" to reward self-help counties;
$110 million/year for the State Transportation Improvement Program;
$100 million/year for the Active Transportation Program to expand and improve bicycle and pedestrian facilities; and
$25 million/year to fund planning grants to assist regions with developing and updating their Regional Transportation Plans and Sustainable Community Strategies.
Finally, SB 1 directs:
$1.5 billion/year for fix-it first highway projects; and,
$1.5 billion/year for fix-it first local streets and roads projects.
The funding package also advanced a constitutional amendment – ACA 5 (Frazier and Newman) – to dedicate for transportation purposes all vehicle fee and gasoline or diesel tax revenues raised by SB 1, as well as some existing transit funding sources. Designated as Proposition 69, the measure overwhelmingly passed on June 5, 2018.
Shortly after SB 1 was enacted, opponents of the new funding begin work to qualify a measure for the November 2018 ballot which would eliminate the new SB 1 funding and require any future fuel tax increases to go to the voters. The measure qualified and appeared as Proposition 6 on the November 2018 ballot. Voters rejected the repeal effort, with 55.1 percent voting No on Prop 6.