Senate Bill 1 (Beall and Frazier)
Landmark Transportation Funding Package
Background
On April 28, 2017, Governor Brown signed Senate Bill 1 (Beall and Frazier), a landmark transportation funding package that is the culmination of more than two years of hard work by Senate Transportation and Housing Committee Chair Jim Beall, Assembly Transportation Committee Chair Jim Frazier and the Governor's Administration. The final package required a 2/3-vote in the Legislature and passed by a vote of 27-11 in the Senate and 54-26 in the Assembly.
The $5.24 billion/year funding package generates new revenues from various taxes and fees and is designed to repair and maintain our state highways and local roads, improve our trade corridors, and support public transit & active transportation. The funding package is a huge step forward for our membership and a significant win for the Association's advocacy efforts as well as every Californian who relies on our state's transit services.
SB 1 provides funding for public transportation as follows: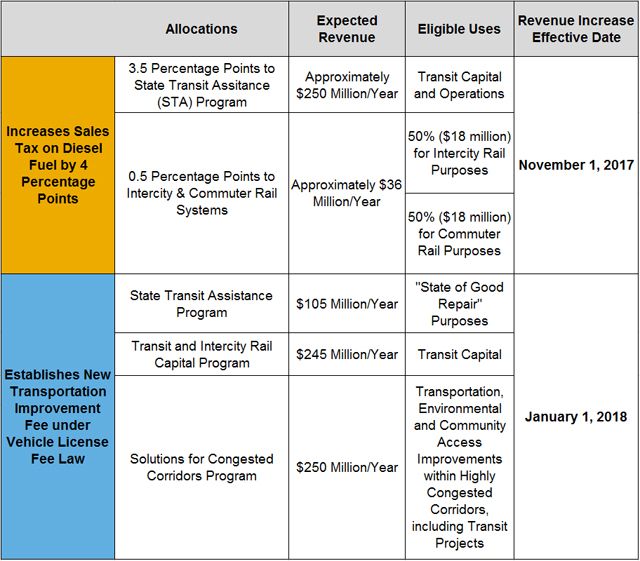 The funding package also provides for accelerated loan repayments from the General Fund to public transit; $236 million will go to the Transit and Intercity Rail Capital program.
We project that, from these programs alone, SB 1 directs or makes available more than $700 million in new public transit funding in FY 2018-19. Some of the revenue sources will grow or are adjusted up over time, generating $800 million/year by FY 2026-27 according to the Governor's Administration. (While many of the new taxes and fees will be adjusted over time by a consumer price index factor – such as the TIF – the new incremental sales tax on diesel fuel is not indexed to CPI).
Additionally, SB 1 provides funding for various other multimodal programs with the potential to boost public transit.
More specifically, the funding package provides:
$200 million/year for the "State and Local Partnership Program" to reward self-help counties;
$110 million/year for the State Transportation Improvement Program;
$100 million/year for the Active Transportation Program to expand and improve bicycle and pedestrian facilities; and
$25 million/year to fund planning grants to assist regions with developing and updating their Regional Transportation Plans and Sustainable Community Strategies.
Finally, SB 1 directs:
$1.5 billion/year for fix-it first highway projects; and,
$1.5 billion/year for fix-it first local streets and roads projects.
The funding package also advances a constitutional amendment – ACA 5 (Frazier and Newman) – to dedicate for transportation purposes all vehicle fee and gasoline or diesel tax revenues raised by the bill, as well as some existing transit funding sources. Designated as Proposition 69, ACA 5 will be before voters in June 2018, and will require only a simple majority to pass.
Association Action
For more than two years, the Association's advocacy team met with key members of the Legislature, legislative leaders and the Governor's Administration to emphasize the importance of including significant and sustained investment in public transit in the transportation funding package. The Association's advocacy team highlighted public transit's funding shortfall of approximately $72 billion over the next decade, and underscored that public transit systems, as part of the larger transportation network, must be maintained in a state of good repair and capable of achieving the various policy objectives in California's landmark legislation.
As part of this process, the Association developed and distributed numerous transit funding request letters; mobilized its members, as well as transit advocates, to testify in favor of transit funding at Committee hearings; and, utilized its iTransit campaign to continue to connect everyday Californians with their representatives in Sacramento to further promote the benefits of public transit and other modes of alternative transportation.
In response to our advocacy efforts, members of the Legislature introduced legislation in the special legislative session to provide such support to our public transit systems by enhancing current funding sources and distributing new revenues through existing programs and formulae. The introduction of these bills, SBX1 8 (Hill) and ABX1 7 (Nazarian) and SBX1 7 (Allen) and ABX1 8 (Chiu and Bloom), in July 2015 generated momentum for public transit funding that was later reflected in the Governor's transportation funding plan, released September 2015. With the urging of the Association's advocacy team, the language of these bills was amended into the then-primary vehicles for transportation funding in the special session, SBX1 1 (Beall) and ABX1 26 (Frazier).
Following the close of the special session in November 2016, the Association's advocacy team worked closely with Senate Transportation and Housing Committee Chair Jim Beall and Assembly Transportation and Housing Committee Chair Jim Frazier, to ensure that their collective work on a transportation funding package, SB 1 (Beall) and AB 1 (Frazier) would include investment in public transit.
Finally, in 2017, as the transportation funding package was being finalized our advocacy team was in daily meetings with legislators expressing the impact that SB 1 (Beall and Frazier) would have on their districts. Our Executive Director coordinated with the Governor's Administration and legislative leaders to secure the largest new state investment in public transit in more than 40 years.
Next Steps
Various state agencies and departments are developing develop new allocation rules, guidelines, and procedures for allocating the revenue provided by SB 1 (Beall and Frazier). The Association's advocacy team is engaged in this process to ensure that the rules and procedures that are established provide flexibility to transit agencies and do not impede efficient project delivery.
Below, please find information on program guidelines and the development process for the Transit and Intercity Rail Capital Program, the State Rail Assistance Program, and the Solutions for Congested Corridors Program:
SB 1 is facing a repeal effort, which could potentially be on the November 2018 Ballot and if successful, would eliminate more than $700 million in transit funding. In order to appropriately message the critical investments being made with SB 1 funding, the Association has developed a tool kit for our members to consult as they begin to promote the benefits of SB 1. Look for that resource coming soon!
Resources
Tools and Information for Association Members
Funding
SB 1 in the News
Additional SB 1 Information