The Fiscal Cliff
As Federal Funding Runs Out, Agencies Seek Restored Ridership and Other Funding Sources
By Jacob Herson
Managing Editor
Transit California
As the pandemic crashed transit ridership and associated revenue, the federal government acted to keep transit agencies afloat, delivering a total $69.4 billion nationwide, with few restrictions on uses and no requirements for local matches, through the CARES Act (March 2020), CRRSA Act (December 2020), and ARP Act (March 2021). "These not only plugged holes left by fare and other losses and helped avoid layoffs and service cuts, but they also continue to support transit operations today," says Jacob Wasserman, Research Project Manager at the UCLA Institute of Transportation Studies, part of the University of California Institute of Transportation Studies (UC ITS).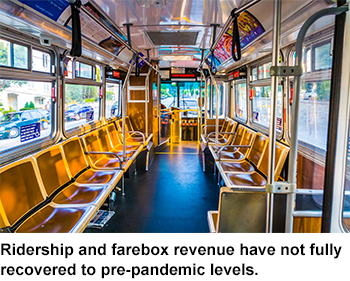 Wasserman said, "In our survey of California operators, we found that 54 percent planned to still be drawing on federal relief funding this fiscal year or beyond. In addition, other state and local revenues have proven stronger than once expected. Sales tax support for transit, for instance, is generally higher in 2022 than before the pandemic. Some agencies whose staff we interviewed have therefore saved reserves for multiple years to come."
But a serious fiscal cliff looms as these federal funds run out. The UC ITS survey found that 72 percent of agencies expect financial shortfalls after federal funds are expended, and 28 percent expect those shortfalls to be major. California agencies face a worse outlook than transit agencies nationwide, a situation made more concerning by the forecasted state budget deficit. This leaves operators looking to ridership recovery at a heretofore unseen pace or additional sources of relief funding to determine their financial position.
The San Francisco Bay Area Rapid Transit (BART) still sees a relatively stable financial position for the next fiscal year. Beyond that, the agency's "longer term financial position is uncertain," said a spokesperson. "The loss of our greatest revenue source, farebox recovery, requires us to seek new long-term, stable revenue sources. Identifying and securing those revenue sources will be challenging."
Caltrain faces severe shortages even sooner, with "an operating deficit in the range of tens of millions of dollars ($25M-$55M/year) each year, beginning in the next fiscal year (June 2023)," according to a spokesperson. "This is in no small part due to a slow return of ridership in the wake of the pandemic, with fare revenue being less than half of what it was."
Wasserman explains that the pandemic has reversed a previous trend among the state's transit operators. "In the half-decade before the pandemic, California transit agencies that relied on commuters and served core job centers—which tended to have a higher share of their costs covered by fares—were retaining riders more than other systems, which faced sizable ridership slides. But the pandemic has flipped this dynamic. Now, the systems that rely less on fares are generally in a better financial place. As ridership to central commercial areas recovers slowly and unevenly, systems that once relied on fares now face tough financial choices," said Wasserman.
BART confirmed that "ridership is heavily dependent on office occupancy in San Francisco, and the transition to widespread remote work has lowered the feasible ridership ceiling. In terms of expenditure, a key factor is intrinsic expenses. As a heavy rail system, BART has high fixed costs relative to other transit modes. Regardless of ridership, infrastructure needs to be maintained."
Caltrain voiced similar concerns. The agency benefited from Measure RR in 2020, approving a 1/8th-cent sales tax to provide its first dedicated funding source, over $100 million annually. Prior to that, Caltrain depended on farebox recovery for more than 70 percent of its funding, with the rest coming from annual contributions from the Peninsula Corridor Joint Powers Board (PCJPB) member agencies, which have since been reduced or eliminated.
"Given that Caltrain is primarily a commuter rail operation serving people who work in San Francisco, San Mateo, and Santa Clara Counties, we will be facing very difficult decisions with respect to our projects, service levels and/or gaining additional funding from the PCJPB partner agencies," said a spokesperson for the agency.
"Additionally, Caltrain will have new infrastructure and additional fleet thanks to electrified service that will need to be operated and maintained, so Caltrain's fixed costs are expected to increase after the project is completed (although fuel costs will likely go down). Federal assistance dollars that the agency has relied on to maintain operations since the pandemic will be fully used this fiscal year, and without additional resources and a strong ridership return, Caltrain faces an immediate funding shortfall starting in the next fiscal year," said the spokesperson.
If the remaining $410 million required to fund electrification could be provided from elsewhere, the agency could shift Measure RR resources allocated to that project to support its operations and delay the fiscal cliff for at least one year.
Wasserman emphasized that "a number of factors will shape transit's financial future in the state: the speed at which ridership recovers in various markets, the overall state of the economy, and whether the nation enters an economic recession, whether agencies can attract and retain front-line workers after two years of accelerating labor shortages."
He advocated that transit policymakers embrace "proven strategies from before the pandemic to restore ridership. Agencies can improve reliability through strategies like tactical transit lanes. They can provide a safe experience for riders of all backgrounds through ambassador programs, infrastructure improvements, and more." As detailed in Transit California, support for such strategies — as well as the pursuit of new state operations support — will be central to the Association's advocacy efforts in 2023.
BART's spokesperson said the agency "is working to make the system as safe, reliable, and convenient as possible by focusing on the customer experience. We have more safety staff than ever before, we are providing more service than before the pandemic, we have adjusted the schedule to make it more intuitive, and we have a major initiative to rebuild aging infrastructure. BART is also working with our partner agencies to implement the Bay Area Transit Transformation Action Plan to make transit work better for customers throughout the region."
Caltrain too has been seeking to make service improvements to attract returned ridership. The agency is targeting "the midday and evening hours, to appeal to a broader audience than just the workers with traditional commutes with 9-5 work windows."
Caltrain is promoting its GO Pass Donation Program, "which through our community partners is bringing in new riders by providing passes and access to the Caltrain system for low-income and historically disadvantaged riders. Caltrain has also had several fare promotions and pushed our event service, encouraging Giants, 49ers, Warriors, Sharks, and Earthquakes fans to take advantage of our convenient service when going to and from games, as well as concert goers attending those same venues. We have installed over 300 bicycle eLockers, new and improved ticket vending machines, and a new generation of Clipper readers in order to make Caltrain more accessible and convenient to those who use it." The agency also believes completing its electrification project will improve service and attract more ridership.
"Above all," says Wasserman, "decisionmakers should—looking beyond what transit agencies alone can change—appropriately manage and price private automobile traffic, including dynamic tolling and parking pricing. This not only will allow the road network to function better and will help account for the social costs of driving but will also put California transit in a more sustainable place."
View a webinar on this topic co-hosted by UC ITS and the California Transit Association. To learn about the Association's forthcoming efforts to address the fiscal cliff and support our members in their recovery, see 2023 Legislative Program.