Transit Rider Harassment
SB 1161 (Min) Seeks to Address an Endemic Problem Faced by Women and Vulnerable Communities
By Jacob Herson
Managing Editor
Transit California
State Senator Dave Min and Stop AAPI Hate introduced SB 1161 on February 17, 2022. The bill would require California's 10 largest transit districts to recognize street harassment as a rider safety concern and create data-driven solutions.
SB 1161 is part of a legislation package called "No Place for Hate," which Stop AAPI Hate has co-authored with various legislators and partners. One bill asks the Department of Public Health to take a public health approach to street harassment. The third bill deals with customer-on-customer harassment at businesses like big box stores, grocery stores, and gas stations. Together, the legislation is aimed at eradicating harassment in public spaces.
Harassment in public spaces is a multifaceted issue that affects many groups of people: women, ethnic minorities, members of the LGBTQI community, the elderly, adolescents, and people with disabilities. Aware of and deeply concerned with this issue, California transit agencies have undertaken a number of notable studies and initiatives in recent years.

The Scope of the Problem
Senator Min told Transit California: "Over the past two years, we've seen an astonishing and alarming rise in anti-Asian hate in this country. Stop AAPI Hate, which has been documenting this trend, has collected data on over 10,000 anti-Asian hate incidents since the onset of the pandemic. Whether it's in New York, San Francisco, or yes, Orange County, this has been disturbing to see. As an Asian American myself, this is personal to me. The elderly Asian Americans who have been violently assaulted could be my parents; the Asian American women who have been harassed and intimidated could be my cousins or nieces.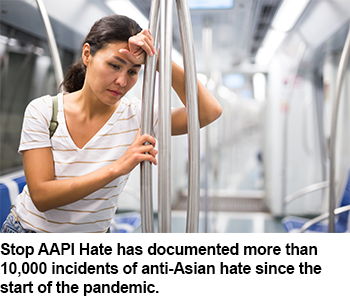 "One area where we can make real progress in the fight against hate is by focusing on the places where these incidents occur most frequently. We know that public transit is unfortunately all too often plagued by harassment that often spills over into intimidation or even violence. My bill, SB 1161, would compel California's 10 largest transit providers to get serious about how to make our public transit systems safer for everyone. By requiring our transit agencies to start documenting incidents of harassment based on gender, sexual orientation, race, ethnicity or otherwise, and also to start developing policies to make riders feel safer, this legislation is an important first step in fighting not only anti-Asian hate, but hate, harassment and intimidation of all kinds."
Stop AAPI Hate was formed by the AAPI Equity Alliance, Chinese for Affirmative Action, and the Asian American Studies Department of San Francisco State University in March 2020 "in response to the alarming escalation in xenophobia and bigotry resulting from the COVID-19 pandemic," according to the organization's website. "The coalition tracks and responds to incidents of hate, violence, harassment, discrimination, shunning, and child bullying against Asian Americans and Pacific Islanders in the United States."
As Senator Min mentioned, Stop AAPI Hate has documented over 10,000 hate incidents against Asian Americans since its founding. Annie Lee, Director of Policy for Chinese for Affirmative Action, told Transit California that two thirds were reported by Asian American women and that roughly half of the incidents occurred in public spaces. She described several documented incidents that occurred on California transit. Transit riders were accosted, verbally abused with sexual, racial, homophobic, and threatening language, and felt compelled to move away from their harassers.
"I want to emphasize that it's not just Asian American women who are receiving and enduring this type of street harassment; it's actually all women," said Lee. "There is such an endemic problem of street harassment that we live with every day and really impacts whether, how, and when we take public transit in the course of our lives."
Lee also emphasized that Stop AAPI Hate has worked with and learned from transit agencies in the process of developing this legislation. "Transit operators want to make transit safe for riders," she said. "That's what they care about, so there are a lot of shared goals: improving safety, increasing ridership." She points to LA Metro's study, "Understanding How Women Travel," released in September 2019, as well as BART's "Not One More Girl" campaign.
The women surveyed for the LA Metro study identified safety concerns as the top barrier to riding transit. 60 percent of respondents said they felt safe riding LA Metro during the day, but only 20 percent said they felt safe at night.
The study speaks to how women feel compelled to change their behavior due to safety concerns: "Some women reported wearing sneakers on the bus or train in case they unexpectedly need to run from an assailant. They also said they would avoid wearing skirts because they did not want their bare skin to touch the seat and out of fear that men would sexually harass them. Women reported that they hide their jewelry on public transit due to fear that it may be stolen, and many shared stories of seeing people robbed on public transportation."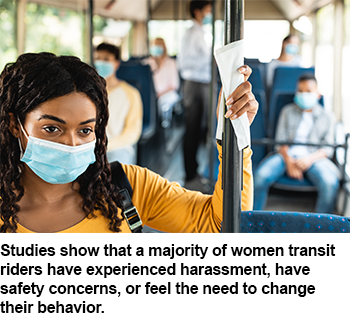 Dr. Anastasia Loukaitou-Sideris consulted on the LA Metro study, which she calls "a landmark study" and "very well done." Associate Dean of the UCLA Luskin School of Public Affairs, and a Distinguished Professor of Urban Planning, she had studied crime in transit environments before becoming interested in the specific issue of sexual harassment in 2017. She conducted two studies interviewing college and university students in the Los Angeles and San Jose areas. She then partnered with a Swedish criminologist to conduct a global study with collaborators in 18 cities, interviewing a total of 11,500 students. They found that sexual harassment in transit environments is a global concern but varies significantly among countries.
In Los Angeles, up to 80 percent of women respondents said they had experienced at least one of 16 specific harassment behaviors. Forms of verbal harassment were most common. Forms of non-verbal harassment, like staring, gestures, stalking, or exposure, numbered second. Forms of physical harassment, ranging from groping to sexual assault and rape, were least common, but more common during crowded peak hours.
Behaviors varied on different types of transit, and at the stop or station. A surprising number of men complained about harassment as well. A significant proportion of women changed their behavior to avoid transit if they could afford it: not traveling at night, traveling only when accompanied, being careful of how they dressed, carrying pepper spray or something to defend themselves, and strategically locating themselves or their bag. Less than 10 percent of those who said they experienced harassment said they had reported it. Members of the LGBTQI community were more likely to be targeted, but women more than men, and those who appeared LGBTQI more than those who did not. Sadly, bystanders usually chose not to intervene.
Dr. Loukaitou-Sideris's work came to the attention of the office of an LA City Council member. She helped craft a motion that the City Council adopted in March 2021, stating "the City of Los Angeles has a responsibility to protect its most vulnerable residents from harassment in public spaces." LA Metro's leadership also invited her to give a presentation on her research findings. "We had a very good meeting, and they were very attentive," she said. "They recognized that it is an important issue that affects a very big chunk of their ridership."
Potential Solutions
Dr. Loukaitou-Sideris outlined some possible solutions to Transit California, emphasizing that not one, but many are needed:
Educational strategies at schools;
Posters in transit environments;
"See something, say something" campaigns;
Apps on which riders can press a button and the agency will dispatch an officer to board the bus or train at the next stop;
Better real-time predictions to minimize vulnerable wait times at stops;
More service at peak hours to reduce crowding and groping;
The option to be dropped off closer to one's home at night;
A few seats closer to the operator, where some women feel safer;
Training bus operators to be sensitive and to know how to respond if they become aware of harassment.

The LA Metro study reports: "Over and over, participants in the workshops and pop-ups pointed to problems that could be solved by a deeper investment in lighting, more frequent service to produce shorter wait times, and other solutions at stops and stations."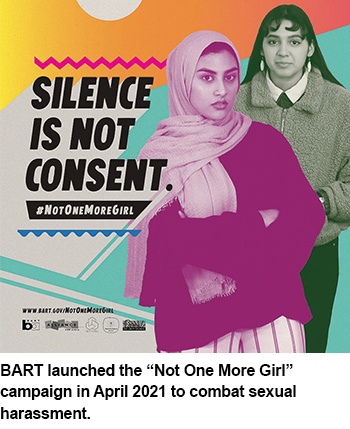 BART launched the "Not One More Girl" campaign in April 2021 in partnership with the Alliance for Girls, Betti Ono, Black Girls Brilliance, and The Unity Council's Latinx Mentorship and Achievement Program. "BART's Communications Department partnered with BART's Art Program Manager and worked through these organizations to engage local girls and gender expansive youth about their experiences on BART and to develop campaign materials to serve as BART's first ever sexual harassment prevention campaign," according to the agency's website.
"The campaign defines girls as gender-expansive youth (cis girls, trans girls, non-binary youth, gender non-conforming youth, gender queer youth and any girl-identified youth)." One result: the number of survey respondents who reported experiencing gender-based sexual harassment decreased from 12 percent in the first quarter of 2021 to seven percent in the last quarter of the year.
Regarding Stop AAPI Hate's efforts, Annie Lee commented: "In the ideal world, we are trying to create a culture shift, in the same way that we have done with second-hand smoke, and wearing seatbelts. We take for granted street harassment now, but it doesn't have to be that way, and we can all change. It starts with these bills but it certainly doesn't end there. I think the reason transit is so important is that transit is so tied to people's livelihoods, how people get to jobs, and school, and whether they can make a doctor's appointment. It's more than our public spaces—it's our ability to function in society, and right now the burden is often times just falling on the targets themselves."