Transit Workforce Development
FTA and State Entities Work To Help Transit Agencies Address Labor Shortages
By Jacob Herson
Managing Editor
Transit California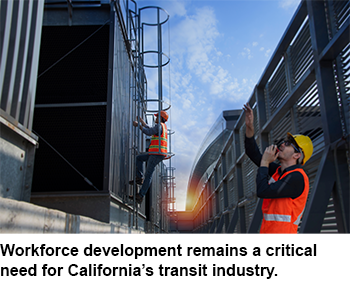 As the federal Infrastructure Investment and Jobs Act (IIJA) and the state budget direct significant amounts of funding to transit-related investments, labor shortages in the construction and transit operations and maintenance sectors could severely limit the benefits of these investments. The Federal Transit Administration (FTA), California Workforce Development Board, California Transit Training Consortium (CTTC), and West Coast Center of Excellence in Zero-Emission Technology (CoEZET) are all working to facilitate growth in the needed workforces.
The IIJA specifically authorizes FTA grant recipients or subrecipients to use a local or other geographical or economic hiring preference to build FTA-funded projects. FTA has subsequently rescinded a pilot program launched in 2021 that was geared toward facilitating equitable employment opportunities, and that has now been more fully authorized by the IIJA. The IIJA requires transit agencies applying for FTA's bus grants to determine the associated workforce planning and training needs in advance. FTA's website says, "we asked transit leaders to talk to their workers and create a plan not only for transitioning to cleaner fleets, but also to support the men and women who drive them and keep them running."
The IIJA also funds FTA's Technical Assistance and Workforce Development Program. Under this program, FTA's Workforce Development Initiative is aimed at helping transit agencies grow their workforce in a variety of ways. These include strategic planning; helping agencies in urbanized areas use the 0.5 percent available from formula grants and other funding investments for workforce development; helping agencies access funding from the U.S. Department of Labor; supporting internships, apprenticeships, and work-based skills training; helping develop a "transit curriculum" for operators and engineers/technicians, focusing especially on safely working with low or zero-emission buses; supporting academic and technical trade education partnerships, especially with community colleges; and helping agencies partner with social services programs to support workers transitioning from other fields or from disadvantaged backgrounds.
FTA is working with the Transit Workforce Center (TWC), which has a mission of helping transit agencies recruit, hire, train, and retain a diverse workforce. In 2021, FTA awarded a $5 million cooperative agreement to the International Transportation Learning Center (IITLC) to support the TWC. The ITLC will also facilitate partnerships between transit agency management and labor unions and use its extensive experience and knowledge of bus electrification operations and maintenance to reskill and upskill current and future transit workers.
The California Workforce Development Board (CWDB) is also investing in the growth of the needed transit workforces. Executive Director Tim Rainey said, "California's bold efforts for carbon neutrality include transitioning to zero-emission busses. Reducing carbon and impacting equity by creating access to good jobs go hand-in-hand. Through California Transit Works—a High Road coalition of 14 transit agencies and transit unions—the California Workforce Development Board has invested $11,000,000 since 2019 in upskilling mechanics, maintenance workers, and operators, and has provided access to great careers for workers and communities who most need good jobs." The CWDB recently participated in a meeting of the Association's Maintenance Committee to discuss their past investments in workforce development that have benefitted the transit industry and near-term funding opportunities.
The California Transit Training Consortium (CTTC) is a coalition of over 55 transit operators, community colleges, other educational institutions, and private business partners. The Consortium was originally established in 2004 to address new technological advances such as alternative fuel, fuel cell and hybrid drive technologies, GPS, on-board computerized microprocessors, and computerized facility support systems. CTTC's Board recently decided to expand to a statewide organization, having previously been known as the Southern California Regional Transit Training Consortium.
"Educating our workforce is so important to the future of public transit," said Jannet Malig, CTTC Board Chair. "The Consortium is the perfect marriage that brings in the training capacity and course content of the colleges to allow our transit technical staff to stay current in their field."
Since 2005, the CTTC has conducted a bi-annual workforce gap analysis, which has helped it gain federal funding and other grants to develop over 30 technical courses. Many of these courses have been modified for self-paced distance learning and virtual instruction. The most recent courses in development include CNG Diagnostics, High Voltage Safety, and Tank Inspection Certification.
The CTTC is supporting its members in meeting the above mentioned IIJA workforce requirement for FTA bus grants.
CTTC has just appointed Jen Carr its new Executive Director. "I am excited to join the CTTC and help further develop and deliver over 30 transit technician courses to the industry," said Carr. "There is no need for every agency to develop its own training when we can do this together."
FTA also funds the West Coast Center of Excellence in Zero Emission Technology (CoEZET), which is hosted by SunLine Transit Agency. CoEZET is dedicated to educating transit agencies on the in-service management of zero-emission technologies. Lauren Skiver, SunLine CEO/General Manager, said, "The West Coast Center of Excellence focuses on the entire organization and has built training that includes all levels of an organization. We also have a Governing Board which is comprised with all major suppliers of vehicles and components. This ensures our training meets specifications and warranty provisions, which is a critical component of our offerings."
Skiver says, "Transit must look to invest more heavily in the training and opportunities for our maintenance employees. Training opportunities also help us improve our diversity, equity, and inclusion goals. Generally, maintenance employees only learn from others where the investments have been made. Basic electrical, advanced electrical, fuel cell maintenance, and other building blocks necessary for each technician must be prioritized. Today's vehicles are far too complicated to have knowledge transferred through the telephone game.
"Funders need to understand and support through funding the operation and growth of training programs and need to provide ongoing support. There are lots of funds to build a school and very few opportunities to operate a school. This is why we see so many organizations with big ideas to build a program. The transit industry will end up with lots of start-ups and no sustained learning institution. SunLine understands that it is not enough or particularly helpful to have a program trapped in time since the technology is moving and changing at a rapid pace. I am disappointed that both state and federal funders are not seeing the critical issue that is being created by funding capital training program needs with no opportunities for operation and delivery of these programs.
"SunLine has been working on the West Coast Center of Excellence for about eight years. Anyone out there trying to start a program needs to understand the huge undertaking it is. We are looking for partners and welcome any organization that is interested in working with us!"