Progressive Policing
New trends in transit policing include intervention specialists, transit ambassadors, and a close eye on equity.
By Stephanie Jordan
Managing Editor
Transit California
The tragic murder of George Floyd by Minneapolis police last summer sparked massive social upheaval and increased the scrutiny of law enforcement activities targeted toward and biased against non-White people, including the policing of public transit by sworn personnel traditionally responsible for responding to fare evasion, homelessness, behavioral health, and substance use among other issues.
"We wanted to do something different and it's part of reimagining what public safety is about," says BART Board Director Bevan Dufty about the agency's efforts toward more progressive and equitable policing practices. "The best response to people who may be homeless, who may have mental illness, who may be addicted may not necessarily involve an armed officer."
BART Police Department (BPD) is pursuing action plans that call for the implementation of crisis intervention teams, the development of a districtwide homelessness action plan, and a redeployment strategy to place more officers onboard trains. The plan is based on extensive stakeholder engagement that included public meetings in all nine BART districts.
FUNDING
While vocal activists call for the de-funding of police, public transit agencies are seeing the need to increase funding to support the direction that pubic safety trends are headed.
Last June Metro Board of Directors heard 129 public comments from riders and advocates about policing policy with 105 comments supporting a reform motion to remove armed police from buses, trains and stations. However, about a year earlier a study conducted by Metro in 2019 found two-thirds of female riders saying there were not enough police officers on the transit system. Metro riders' most common recommendation is to improve safety by hiring more police.
Safety is a key performance indicator for Metro's Customer Experience Plan and a major component of the agency's strategic plan to retain and attract riders. Just this March Metro Board of Directors approved a $36-million increase to Metro's five-year law enforcement contract with the Los Angeles Police Department, Long Beach Police Department and the Los Angeles Sheriff's Department to cover additional costs through Dec. 31 of this year. Overall, under the contract, more serious crimes (known as Part 1 crimes) fell by nearly 23 percent between 2015 and 2019 and less serious crimes (known as Part 2) declined by 11 percent. The agency reports that with ridership down due to the pandemic, overall crime fell another 29.6 percent from 2019.
According to the agency, Metro's law enforcement contract increase for 2021 is being requested to cover "significant costs incurred since the beginning of the contract period to (1) augment outreach services to the unhoused population, address crime trends, sexual harassment; and (2) enhanced deployments to cover special events, employee and customer complaints, or other unforeseen circumstances. The agency does note that while crime has been down in 2021 within the past few months there has been an uptick in assaults mostly by unhoused people in cognitive crisis.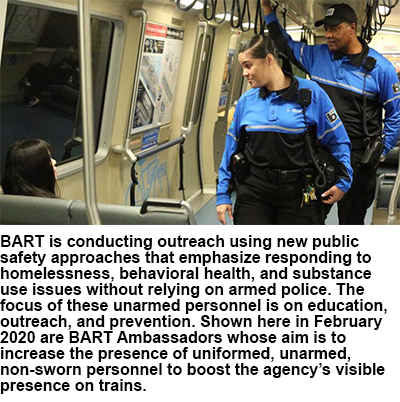 The Board also approved an additional $40 million in the 2022 budget for a number of unarmed initiatives that aim to improve safety on the system and connect the unhoused to social services and/or shelters. Included are a transit ambassador program, elevator attendants, installing blue boxes throughout the system and a flexible dispatch system for homeless outreach workers to better connect social services to the unhoused. The policing contract is up for renegotiation and renewal in mid-2022.
To support homelessness outreach on Metro vehicles and in facilities, the agency launched its PATH (People Assisting the Homeless) program that teams outreach members with specialized enforcement officers. In April 2020, Metro's PATH teams were instrumental in the success of Metro's Operation Shelter the Unsheltered Program, comprised of several agency resources working hand-in-hand to offer expedited housing services during COVID-19. The program has helped nearly 700 people secure shelter and connect to other social services.
ROLES AND UNIFORMS
The various roles of public safety personnel at transit agencies are rapidly expanding. A trend in public safety programs at transit agencies is the use of uniforms to distinguish between sworn officers and other intervention workers.
BART
In March, the BPD agreed to a three-year extension of its labor contracts with the BART Police Officers' Association and the BART Police Managers' Association. With the agreements in place, BPD can now fully staff its new Progressive Policing and Community Engagement Bureau by adding new classifications to the unions, including Crisis Intervention Specialists and Transit Ambassadors. The new bureau will eventually include 20 Crisis Intervention Specialists, 10 Transit Ambassadors, and 12 sworn officers.
Here is how BPD's Progressive Policing and Community Engagement Bureau classifies team responsibilities:
Sworn: Supervises, patrols, responds, is proactive, reactive, armed, and uniformed.
Crisis Intervention and Outreach Programs Supervisor: Supervises and has the skillset of a Crisis Intervention Specialist (CIS), monitors and deploys CIS, preforms county/city homeless coordination, monitors quality of life (QOL) data, is unarmed, and wears plain clothes. (Standard indicators of QOL include cleanliness, fare evasion, safety and security, and homelessness.)
Crisis Intervention Specialist: Engages those experiencing QOL issues, identifies potential services for mental health, provides crisis intervention, homeless and supportive housing services, coordinates with field representatives from counties and cities, provides BART point for homeless outreach (Hot) teams, is proactive, reactive, unarmed, and wears clothing with the BART logo.
Transit Ambassador: Maintains a presence on BART systems, observes and reports, proactive, strives for maximum visibility on trains, is unarmed, and wears a BART uniform.
The BPD launched the Ambassador Pilot Program in February 2020 with a goal to increase the presence of uniformed, unarmed, non-sworn personnel to boost the agency's visible presence on trains. The pilot program included 10 Ambassadors who received de-escalation and anti-bias training. During the 10-month pilot program BART Ambassadors performed 5,700 platform checks, rode 4,400 trains, and made 7,300 educational contacts with riders. Based on the accomplishments of the pilot, the BART Board formalized the Ambassador Program in October 2020.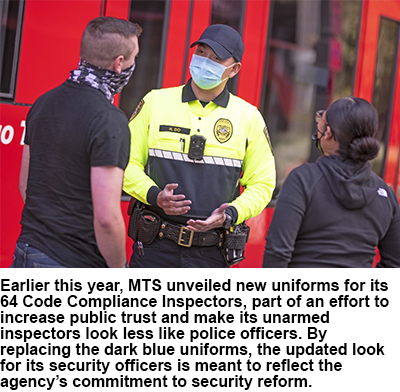 "This program is the result of a collaborative effort," said BART Police Chief Ed Alvarez. "Our Ambassadors are a force multiplier, they provide us with more eyes and ears out in the system, and they supplement what we're doing with our sworn police officers."
MTS
Earlier this year, the San Diego Metropolitan Transit System (MTS) unveiled new uniforms for its 64 Code Compliance Inspectors (CCI), part of an effort to increase public trust and make its unarmed inspectors look less like police officers. The new look for its security officers is meant to reflect the agency's commitment to security reform with brighter uniforms with a yellow band to the upper body to provide greater visibility of staff making it easier for riders to identify them for assistance.
"The significant social justice issues involving law enforcement all over the country have made us even more aware of how we want to engage with the community," said Monica Montgomery Steppe, Chair of the MTS Public Security Committee and San Diego City Councilmember at the time of the uniform unveiling. "We've made a concerted effort to place the focus on serving riders and the new uniforms reflect this new approach."
The 158 contracted Transit System Security (TSS) officers will, beginning this summer, also wear new uniforms switching from a traditional law enforcement dark blue to light blue. Together, CCIs and TSS officers are responsible for patrolling 53 stations, three Trolley lines, and 95 bus routes. MTS CCI has the power to arrest riders and write tickets, but are not armed.
"Over the past year, MTS Security has been working diligently with the Public Security Committee to explore ways to better serve our customers by emphasizing our role as ambassadors to our riders," said Al Stiehler, MTS Director of Transit Security and Passenger Safety. "We have been adopting principles, guidelines and implementing policies to be of better service to our community, and the new uniforms align better with that approach."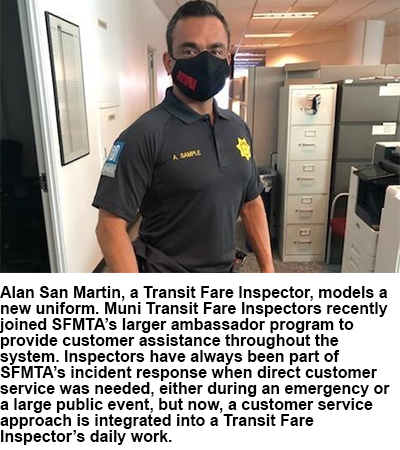 SFMTA
In September, San Francisco Municipal Transportation Agency (SFMTA) introduced a new approach for how the agency checks for fare payment and interacts with customers. Muni's Transit Fare Inspectors, rather than focusing solely on enforcement, shifted to help customers comply with fare policies. To support this new approach, Transit Fare Inspectors returned to service over multiple phases and sported a new look.
To start out, Muni Transit Fare Inspectors joined SFMTA's larger ambassador program to provide customer assistance throughout the system. The phased-in process for Muni to resume fare inspection followed these steps:
The first phase included providing Muni customers with service information, fare programs, kiosk location, physical distancing assistance and mask distribution when needed at stops and stations throughout the system.
For the second phase, in the latter part of October, fare inspectors returned to being on Muni vehicles to continue providing customer assistance of phase one and conducting fare inspections without issuing citations.
By the end of the year, the third and final phase was implemented with inspectors continuing to provide the customer service assistance of phase one, but with a return to full fare inspections, including issuing citations as needed.
The customer service role for inspectors is not really new. They have always been a part of the agency's incident response when direct customer service was needed, either during an emergency or a large public event, like a parade. The difference is now a customer service approach is integrated daily into the inspector's job description.
EQUITY AT THE CORE
BPD policing reform work did not begin last year, although the agency does admit renewed attention. It has seen more than a decade since the death of Oscar Grant who was killed during an encounter with BPD officers on New Year's Day in 2009. As part of its ongoing response to the shooting incident, BART turned to the Center for Policing Equity (CPE), a research and action think tank that provides leadership in equity specializing in partnerships between law enforcement and communities, with the mission of bridging the divide of communication, generational mistrust, and suffering. Using advanced analytics to diagnose disparities in policing, CPE helps to shed light on police behavior and provides recommendations to chart a path toward better policing practices. While BPD began its relationship with the CPE in 2012 when CPE trainers conducted a workshop on the masculinity threat in policing, it wasn't until 2015 that BPD began sharing data as part of the National Justice Database.
In January BART Board of Directors were presented with a report from CPE that analyzes BPD data from 2012 through 2017 and offered six recommendations. BPD is the first transit law enforcement agency in the country to undergo such a review by the CPE. BPD voluntarily agreed to this process with the hope the findings would form the foundation of a data-driven approach to ensuring equitable policing.
CPE shared the following recommendations with BPD:
Update use of force, stops, and searches data collection.
Require supervisor review of stop records.
Review fare enforcement policies.
Adopt a new policy on drawing or displaying firearms.
Further examine the causes of distrust and open productive channels of communication between BPD and the community.
Collaborate with other officials including the BART Office of the Independent Police Auditor and the BART Police Citizen Review Board.
"I take the findings of this report seriously and look at them as an initial benchmark against which future progress can be measured," said Alvarez. "This is a critical step in our journey to fully ensure BPD is engaging in equitable policing."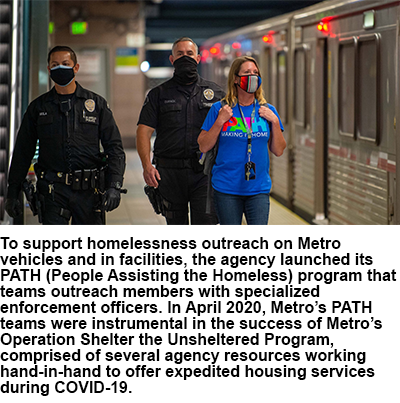 Metro
At the Los Angeles County Metropolitan Transportation Authority (Metro), the agency has openly concurred with and understands protestors' call for racial justice and equality and publicly stands against police brutality. In keeping with the agency's programs to help reinforce its agenda against systemic racism that are already in place, such as the efforts of Metro's Office of Civil Rights and Inclusion, Office of Equity and Race, and the Metro Women and Girls Governing Council, the agency recently established a transit Public Safety Advisory Committee (PSAC).
Approved in June 2020, PSAC was established by a Metro board motion for "a community-based approach to public safety." The committee is to review, comment, and provide input on how the agency can re-imagine public safety on its system, including shifting resources away from armed responses to non-violent crimes and violations. By fall, the search for PSAC members was underway with Metro staff committed to ensuring that the membership consisted of a diverse group of people's experiences and perspectives that best reflected the diversity of demographics that make up Metro ridership. The committee is made up of 15 community members and three alternates. During the four-week application period, Metro received over 380 applications. Staff also initiated an internal application process to select three ex-officio employee members and two alternates with the requirement the employees have experience with public engagement or providing face-to-face customer experience on Metro's system.
The PSAC will work with Metro's System Security and Law Enforcement, Office of Civil Rights and Inclusion, Office for Equity and Race, and the Executive Officer for Customer Experience. Examples of the committee's work program includes:
Developing a mission and values statement for transit policing.
Developing a transit ambassador program that provides staff presence at Metro facilities and on Metro vehicles.
Identifying alternatives to armed law enforcement response to nonviolent crimes and code of conduct violations.
Enhancing greater community stewardship of transit spaces.
The Universal Blue Light program proposed in Metro's June 2018 ridership initiatives.
Education about and expansion of Metro fare discount programs.
Outreach and services for unhoused individuals.
Provide input on the new scope of services, budget, and other provisions of the multiagency police contract renewal.
Review Metro's Customer Code of Conduct.
Shifting resources from armed law enforcement to the above strategies.
The selection of PSAC members was finalized in the latter part of February and the first meeting took place last month.
MTS
Fare evasion offenses hit the poor and working poor especially hard. Recognizing this, MTS implemented a fare citation diversion pilot program to help riders caught without a fare to avoid court fees and criminal citation.
Under the policy launched in September, citations are reduced to $25. A person will have 120 days to pay the fine to MTS in-person, at its Transit Store, or by mail. For those who don't have the means to pay a citation, the violator will have the option of doing three to four hours of community service at locations like the San Diego Food Bank. Passengers who receive citations will also have the option of appealing the fare violation within 15 days of the citation, which could include showing proof of a paid fare or issues with a malfunctioning ticket vending machine.
During the pilot, only citations that are not paid within 120 days will proceed to criminal courts.
CREATIVE STRATEGIES
While safety is a top concern of public transit riders, agencies throughout California are working towards meeting demands for both system safety and policing practices that are ethical and fair for all riders. Essential community relations programs, ambassador, and non-law enforcement positions are growing alternatives to armed officers on transit lines, as are social workers, mediators, and mental health professionals.
In December, BART and its Board of Directors received special recognition from TransitCenter, a foundation that works to improve public transit in cities across the U.S., with an award for Innovation in Public Safety. The agency was praised for pursuing alternative models of safety and specifically for the launch of the Ambassador Program.
"We believe this program is one of the best in the nation," said BART Board Director Lateefah Simon while at the award ceremony. Simon served as Board President when the Ambassador Program was approved. "We can continue advancing a new way forward. While we're steel and trains, our purpose is that we're there for people. We're there to create civil society and make sure mobility is a right and not a privilege."