Honoring Transit Workers
Small Operators Celebrate Frontline Heroes Through Transit Professional of the Year Award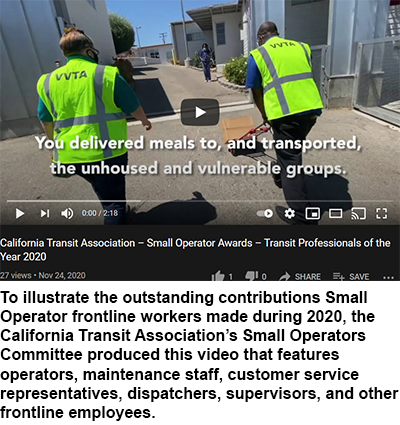 By Stephanie Jordan
Managing Editor
Transit California
During each California Transit Association Fall Conference & Expo, the Small Operators gather together for a special program and awards presentation. As reported earlier in Education and Insight from the November edition of Transit California, the Small Operators Committee made an unprecedented choice, which felt just right in an unprecedented year like 2020. The Small Operators Transit Professional of the Year Award was given to frontline public transit colleagues throughout the state, including operators, maintenance staff, customer service representatives, dispatchers, supervisors, utility workers, and other frontline employees.
At the virtual presentation ceremony, Rachel Ede, Deputy Director, City of Santa Rosa Transportation and Public Works (Santa Rosa CityBus) and California Transit Association Small Operators Committee Chair, said, "If we were all together, we'd be giving California's frontline transit workers a standing ovation for their incredible commitment and many contributions to our agencies and communities this year. Since we can't do that, we'd like to encourage everyone here today to find ways to celebrate this award back at your own agencies."
That day and in the days and weeks following the presentation, many small operators created ways to celebrate their frontline workers. Here are a few examples of how small operator agencies acknowledged this group of individuals for keeping systems operational and maintaining transit service to California communities throughout the pandemic.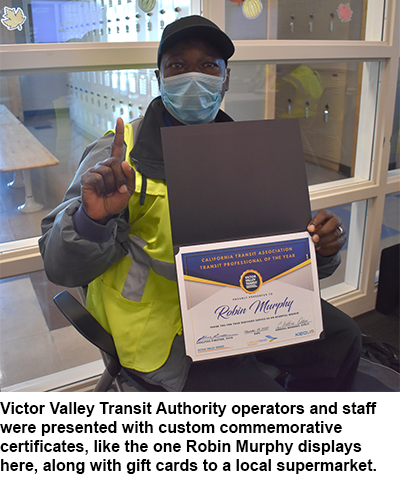 Victor Valley Transit Authority
To celebrate the Transit Professional of the Year award, managers at Victor Valley Transit Authority (VVTA) and contract partner Keolis North America combined efforts to make the day extra special for all staff and operators at their Hesperia and Barstow locations.
In a tremendous coordinated effort, just as the award was officially announced at the Small Operators Program and Awards event by Ede, simultaneously, the VVTA lounge room screens, social media channels, and on-board bus messaging all announced the distinction in unison.
To tie-in the award, all agency operators and staff were presented with custom commemorative certificates and gift cards to Stater Bros. Markets, a supermarket chain located throughout Southern California.
Yuba-Sutter Transit Authority
Yuba-Sutter Transit Authority (Yuba-Sutter Transit) took the statewide award as an opportunity to especially recognize and thank local frontline transit work Transit ers from its contractor Storer Transit Systems Yuba-Sutter Division.
"I am too often guilty of focusing on the task at hand, especially in an emergency, to the neglect of those who make accomplishing that task possible," admits Keith Martin, Transit Manager, Yuba-Sutter Transit. "For that reason, it was critically important to me that we individually and as an industry publicly express our appreciation to our frontline staff (direct and contract) for their commitment to our passengers and the communities that we serve during this pandemic."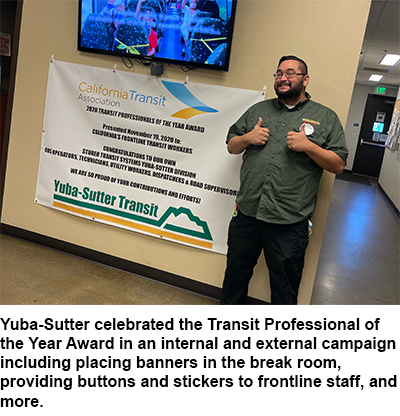 To commemorate the award, special banners were hung in the Yuba-Sutter Transit operations and maintenance areas and decals were attached to every bus. Frontline workers received special buttons and stickers to mark the award and Martin hosted a COVID-friendly grab and go continental breakfast.
The agency also produced an external campaign to highlight the award, including a newsletter article that noted, "These everyday local heroes have faithfully and creatively responded to the travel needs of our community during this unprecedented time, quickly adapting to new protocols and procedures to keep both them and our passengers safe. We are so proud of their continuing dedication and ask that you join us in congratulating our frontline transit workers for this award and thanking them for their service."
Martin believes the external campaign was very important. "While our frontline staff certainly appreciated the statewide industry acknowledgement of their collective role during this pandemic, they value even more our local efforts to highlight their character and worth to our own community for a job well done."
Culver CityBus
For Culver CityBus, November 19, the date of the Small Operators Program and Awards, was a day to celebrate. Not only did the frontline workers receive the Transit Professional of the Year Award, but also Culver CityBus was named the Small Operator Transit Agency of the Year.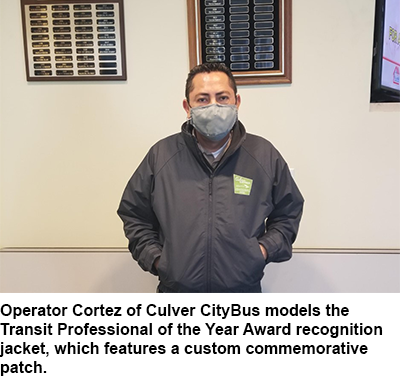 "The double honor is a testament to the hard work of all Culver City Transportation Department Staff," believes Rolando Cruz, Culver CityBus Chief Transportation Officer. "We have worked tirelessly to imagine a vision for mobility in Culver City and to make that vision a reality. There is no denying the progress that we have made over the past year and a half. Whether it is implementing new technology systems such as SmartBus that enhance the experience of our riders, or electrifying our fleet to help reduce our carbon footprint and make Culver City a healthier place to live, or helping essential workers get to their place of employment during the COVID-19 pandemic, this Department has consistently demonstrated the ability to meet and overcome any challenge that comes its way."
The agency celebrated by providing individually wrapped burrito boxes placed on tables spaced apart, allowing the Culver CityBus team to touch only their own item. In addition, employees received a backpack, a water bottle, and a memo from Cruz thanking them for their part in the awards. Operations frontline workers also received a jacket, while Fleet frontline workers received a hoodie sweatshirt. Both items featured a patch with the words "California Small Operator Transit Professional of the Year" with the Association's logo.
"It was really important for us to recognize our frontline essential employees as they not only stepped up during these challenging times, they rose above and beyond the call of duty," explains Cruz. "They engaged us and proposed solutions on keeping the community forward. And they continue to put themselves forward, getting other essential workers and the transit dependent where they need to be."
Cruz goes on to say how it was the mechanics and operators that designed the operator barrier that Culver CityBus is using today. The frontline workers also requested and installed hand sanitizers on the buses and wore masks from the start to set the example on mask wearing. "They responded to an emergency bid and adjusted their hours. They willingly helped clean and sanitize the buses and facilities, when there was no operator work. The list goes on, I could share more and more examples," says Cruz.
What did the workers think about being named Transit Professional of the Year?
Cruz responds, "Frontline workers were so happy to receive the award. It was awesome to have something positive to celebrate and a way to honor them during such a challenging year."