Leading the Way
California Transit Agencies Embrace Their Status as ZEB Champions, Advocate for Resources to Push National Industry Forward
By Stephanie Jordan
Managing Editor
Transit California
California transit agencies have a strong history of leadership with zero-emission transit buses (ZEBs). In fact California has almost five times more ZEBs deployed than the next closest state in the nation.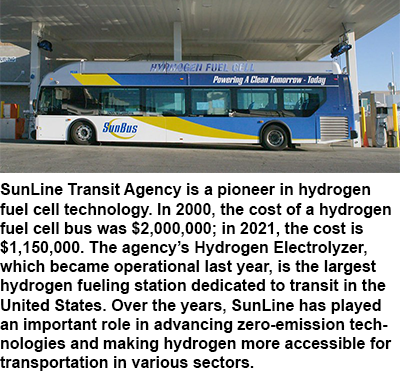 Even in the face of the pandemic's devastating impacts on the transit industry, the U.S. ZEB market grew by 24 percent in 2020, bolstered by federal and state investments and incentives. CALSTART published a report "Zeroing in on ZEBs" in December that highlighted the state of adoption and the importance of these federal and state investments and incentives have to continued market the acceleration of ZEB growth.
"Despite the harmful impacts COVID-19 had on the transit industry last year, the ZEB market grew significantly," states John Boesel, President and CEO of CALSTART. "ZEBs are the bright spot in the market, and this increase is reflective of a growing level of confidence in technology, which is an improving business case."
California's public transit industry has become a leader in building that business case for ZEBs. Well before California's mandated global climate and zero-emission goals pushed for adoption, several of California's public transit agencies began to experiment with ZEB technology with pilot programs as early as 1993, when SunLine Transit Agency Board of Directors voted to move toward a 100 percent alternative fuel fleet, starting with natural gas technology. In November of 2002 AC Transit began to operate a single 30-foot fuel cell electric bus, and by 2006 launched its first-generation fuel cell electric bus pilot program. Since then, despite higher upfront costs and infrastructure challenges, several agencies throughout the state have achieved major ZEB milestones. In turn, these agencies have shared best practices, recommendations, and lessons learned at California Transit Association conferences and other venues allowing even more California public transit agencies to take vital information back for their own ZEB pilot programs. This sharing of emergent zero-emission technologies has been particularly important for procurement and team collaboration strategies and preventing duplication of efforts.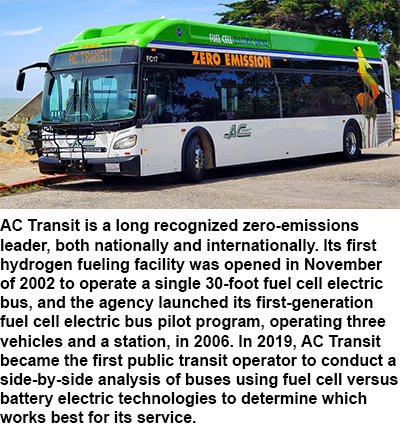 This education among agencies proved so valuable that SunLine Transit Agency now hosts the Center of Excellence in Zero-Emission Technology (CoEZET). CoEZET is a workforce training program focused on maintaining and operating zero-emission buses in public fleets. Public and private organizations, including transit agencies, colleges, private industry, and government agencies, are collaborating with SunLine to develop training and resources for zero-emission bus maintenance including all kinds of alternative and emerging energy technologies.
The decision regarding which zero-emission technology to invest in remains under consideration and is driven by an agency's situation related to terrain, operations, maintenance, and cost among other factors. A few agencies are not committing to just one, conducting tests to determine best fit. OCTA is testing both hydrogen fuel-cell electric buses and plug-in battery-electric buses to determine which ZEBs best meet OCTA's needs.
In 2019, AC Transit became the first public transit operator to conduct a side-by-side analysis of buses using fuel cell versus battery electric technologies to determine which works best for its service. The true side-by-side comparison involves running hydrogen and battery electric vehicles in identical service to collect real-world performance data for comparison—and to determine which technology performs better to meet the needs of its service.
The demand to accelerate understanding the successes and challenges of ZEB adoption became urgent when the California Air Resources Board passed its Innovative Clean Transit (ICT) Regulation in December 2018. The regulation, the first of its kind in the nation, requires California transit agencies to begin to purchase ZEBs as soon as 2023, with the goal of transitioning all transit buses in the state to zero-emission technologies by 2040.
COVID-19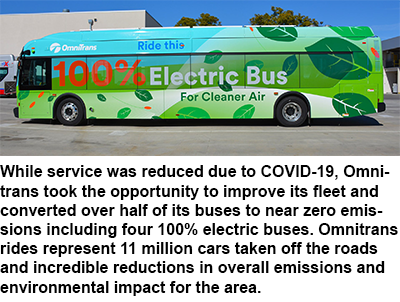 Even as the drive toward full adoption of ZEBs by 2040 seems ambitious, many agencies have laid plans to reach the goal earlier, including Long Beach Transit (2030), Los Angeles County Metropolitan Transportation Authority (2030), Los Angeles Department of Transportation (2030), Foothill Transit (2030), Santa Barbara Metropolitan Transit District (2030), and San Francisco Municipal Transportation Agency (2035).

Even with the global pandemic placing great strains on public transit agencies with lost revenues and increased operational costs to ensure public safety, commitment to ZEB goals has remained steadfast.
Omnitrans
Taking advantage of a forced reduction in service due to COVID-19 impacts, Omnitrans took the opportunity to improve its fleet and converted over half of its buses to near-zero emissions. Four electric buses also have been added to its fleet. These major improvements push Omnitrans closer to its long-term goal to provide eco-friendly public transportation to San Bernardino County.

In typical years, Omnitrans rides represent 11 million cars taken off the roads and incredible reductions in overall emissions and environmental impact for the area.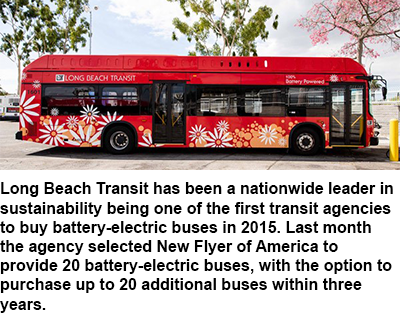 Long Beach Transit
Last month the Long Beach Transit (LBT) Board of Directors authorized the purchase of 20 new battery-electric buses from New Flyer of America. The zero-emission buses will be smaller than LBT's typical 40-foot buses.

"Long Beach Transit has been a nationwide leader in sustainability being one of the first transit agencies to buy battery-electric buses six years ago," states Michael Clemson, Chair of the Board of Directors. "I am proud to both support clean air in our community and fight climate change with these new buses."
LBT issued a request for proposals in January 2020 and after an evaluation process, New Flyer of America was chosen. Capital and grant dollars will be used to fund the $22 million purchase for the 20 buses. The agreement includes the option to purchase up to 20 additional buses within three years, subject to approval by the LBT Board of Directors.
"LBT made a commitment to clean air in the community with a fleet of zero- emission vehicles," adds LBT President and CEO Kenneth A. McDonald. "The smaller buses will help us navigate diverse neighborhoods, and moves us closer to having an entire fleet of zero-emission buses."
SunLine Transit Agency
With Earth Day a focus this month, many of California's public transit agencies celebrated zero-emission accomplishments including SunLine Transit Agency, who held a virtual ceremony to recognize its past, present, and future efforts towards sustainability and clean air. The agency, using Facebook Live, shared highlights of how SunLine has pioneered clean fuel technologies, as well as to launch new sustainability efforts for the Coachella Valley.
Tommy D. Edwards
1949-2021

This article is dedicated to Tommy Edwards, an industry pioneer and a fixture at Association events, serving often as an expert panelist for the Maintenance session track at Association Annual Fall Conferences.
Tommy had more than 49 years of heavy-duty truck and bus fleet experience. He began his transit career at SunLine Transit Agency as a journeyman mechanic in 1992 and progressed by serving in many positions over the years, including his most recent role as Chief Performance Officer. Tommy was involved in the development of several alternative fueled heavy duty projects from concept and grant writing to program management. He oversaw the hydrogen fuel cell bus program and hydrogen fueling station, and his leadership in the field helped bridge the gap for the commercialization of hydrogen. He was instrumental in the development of the West Coast Center of Excellence in Zero Emission Technology and Renewable Energy.
SunLine plans to continue to honor his legacy by establishing a Tommy D. Edwards Zero Emission Technology Memorial Scholarship under the West Coast Center of Excellence.
The agency has been hard at work, despite the pandemic impacts, toward its goals and this month, as part of its Earth Day ceremony announced a three-year demonstration research project that will integrate groundbreaking technologies to produce hydrogen for fuel cell vehicles at prices competitive with gasoline. Southern California Gas Co. (SoCalGas) will demonstrate a groundbreaking technological combination that will produce hydrogen from renewable natural gas (RNG) at SunLine's hydrogen fueling station in Thousand Palms. The research project, called "H2 SilverSTARS," will produce renewable hydrogen to fuel SunLine's fleet of 17 hydrogen fuel cell electric buses and support further expansion. The combination of new technologies will make it possible to provide renewable hydrogen made from RNG at natural gas fueling stations—or any location near a natural gas pipeline.
The demonstration project will integrate two core technologies. The first, Linde's HydroPrime HC300 MIN system, will make hydrogen from renewable natural gas the same way large centralized hydrogen production plants do—but with compact equipment small enough to fit in a tractor trailer container. While Linde's system is already commercially available and being used abroad, its use at SunLine's fueling station will be the first time it is deployed in North America. The SunLine location will be able to produce up to 650 kilograms of hydrogen a day.
The second technology, STARS-165 SMR, built by the start-up STARS Corporation, takes the Linde system a step further. It achieves significantly greater efficiencies in producing hydrogen by using a compact microchannel design and is driven by an electricity-powered induction heating process, meaning there is no combustion, which significantly reduces greenhouse gas emissions compared to traditional hydrogen production. In addition, the system is produced using 3-D printing, making it well suited for mass-production, and thereby drastically less expensive to make and operate compared to alternatives. Two STARS systems, with a combined production capacity of up to 330 kilograms of hydrogen a day, will be installed for this research project.
The 36-month project will initially demonstrate both core technologies individually and collect performance data to assess the STARS system's potential to improve its efficiency and cost. The STARS SMR technology will then be integrated with the Linde HydroPrime system with the goal of fast-tracking its commercialization.
"Earth Day was the perfect time to pause and reflect on all SunLine Transit Agency has done in the past three decades to advance zero-emission technologies and focus on the exciting efforts on the horizon," observes Lauren Skiver, CEO/General Manager of SunLine about its Facebook Live celebration. "This partnership with SoCalGas allows us to continue converting our fleet to zero-emissions five years ahead of state mandates," continues Skiver, who is also the California Hydrogen Business Council chair. "It also helps us realize our goal of making hydrogen fueling accessible to the public in order to inspire a cleaner tomorrow."
AVTA
In a few weeks, Antelope Valley Transit Authority (AVTA) anticipates reaching another key milestone as the nation's first all-electric fixed route bus fleet surpasses traveling five million electric miles. In February 2016, AVTA Board of Directors voted to award a contract to BYD to manufacture electric buses over a five-year period at BYD's facility in Lancaster. The project, which is nearing completion, has created a smarter, greener, and more interconnected transit system serving the Antelope Valley and areas extending south into the Los Angeles basin and north to Edwards Air Force Base and the Mojave Air and Space Port. By combining groundbreaking electric bus technology with wireless inductive charging technology, AVTA's innovative bus project is one of the first of its kind in the nation.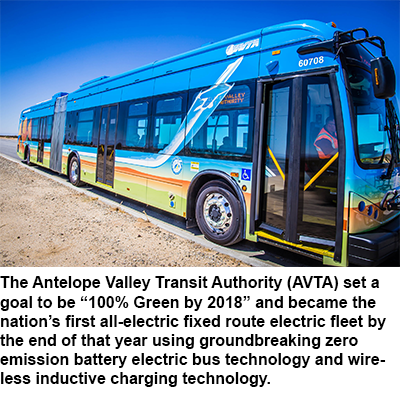 "AVTA operates 65 vehicles in our local fixed route fleet, all of which are zero-emission," says AVTA Chairman of the Board Marvin Crist. "The non-electric buses are for commuter service only and their all-electric counterparts will start arriving in June 2021 assuring a transition of our commuter fleet to all electric by December. Our goal from the start was to be the first transit agency to implement electric bus technology on a broad scale, and we have met that goal."
Foothill Transit
Foothill Transit has recently purchased two electric versions of the Alexander Dennis Inc. (ADI) double deck bus. The twin Enviro500EVs have arrived in California from the UK and will debut in Foothill Transit's fleet this year. Foothill Transit first demonstrated the ADI double deck bus on its downtown Los Angeles routes in October 2016. The customer response was overwhelmingly enthusiastic, proving that California riders appreciate good design, smart public transit, and vastly improved ride quality. The Enviro500EV will be 13'6" tall and will be completely zero-emissions thanks to an ADI partnership with Proterra, who will supply the battery and drive train technology. Foothill Transit already operates 30 Proterra electric buses in its fleet. A Metro Express Lanes Toll Revenue Capital Grant awarded to Foothill Transit in 2018 for $1.4M made the purchase of these two electric double deck buses from ADI possible.

Foothill Transit will replace two 12-year old compressed natural gas (CNG) commuter express buses with the two ADI Enviro500EVs. One 40-foot CNG bus can carry approximately 38 customers. The Enviro500EV bus can carry 80 customers in the same road footprint, which doubles the trip capacity with half the number of vehicles. Carrying more people in the same footprint allows Foothill Transit greater flexibility in choosing from limited stop locations in downtown Los Angeles, where road space is at a premium.
"Deploying the Enviro500EV will be transformative for Los Angeles and for the United States," believes Doran Barnes, CEO of Foothill Transit. "No other transit agency in the country utilizes this technology on commuter express routes. And adding seats without increasing traffic congestion or local greenhouse gas emissions is the ultimate benefit for one of the nation's more heavily traveled corridors."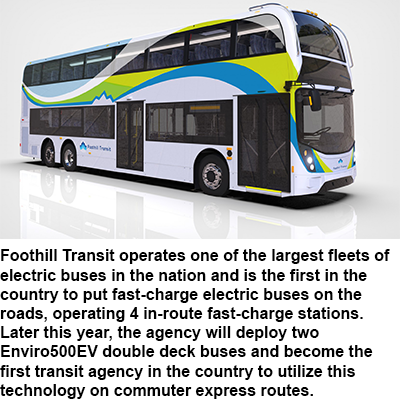 Foothill Transit's leadership in electric bus integration began in 2010 when it became the first public transit agency in the nation to deploy three Proterra fast-charge, all electric buses on the 16.1-mile Line 291 between the cities of Pomona and La Verne. Line 291 then became the first all-electric fast charge bus line in the nation in 2014 and to date, Foothill Transit's electric fleet had logged over one and a half million miles of service in Southern California.
Beyond California
When fully realized, California's transition to zero-emission buses alone will reduce GHG emissions by 19 million metric tons of carbon dioxide equivalent (MMT CO2e) from 2020 to 2050. For tailpipe NOx and PM2.5, the transition is expected to result in an estimated 7,032 tons and 39.4 tons emission reductions.

While California public transit agencies work to ensure the state achieves its ZEB transportation goals through demonstration projects and full deployment, they also assume additional costs and risks associated with deploying and advancing emergent zero-emission technologies to the benefit of the national transit industry and broader transportation sector.
According to CALSTART Vice President and bus and mobility initiative lead Fred Silver, "As ZEBs go, so goes a good portion of the medium- and heavy-duty zero- emission market. Electric shuttle and school buses, electric delivery vans, electric hostlers and others can all be powered by technologies developed and deployed first in ZEBs. For this reason, the ZEB market is considered a key foundational market in the zero-emission medium- and heavy-duty space with the power to contribute to the growth of other advanced zero-emission technologies."
Through California transit agencies' vast experience operating zero-emission buses, the long history developing state funding programs to support their deployment, and the success in helping to create a new manufacturing base, California transit agencies have specialized knowledge that the Association hopes will support the creation of a strong national program to incentivize the transition to zero-emission buses across the country.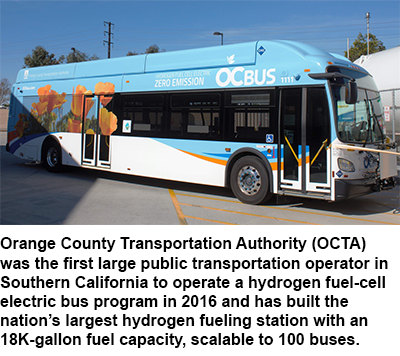 "We know that cost is the primary impediment to a more aggressive transition," acknowledges Michael Pimentel, Executive Director of the California Transit Association. "The costs of purchasing ZEBs, building the infrastructure necessary to deploy them, and procuring electricity to operate them, often exceed the costs of purchasing and deploying conventionally-fueled vehicles. These costs, which cannot be addressed through state or local support alone, stand in the way of agencies – in California and elsewhere in the nation – taking elective steps to more aggressively accelerate their deployment of zero-emission buses."
Pimentel and other California public transit leaders are actively advocating for increased state and federal support for ZEBs, urging the State Legislature to pass Governor Newsom's proposed $1.5 billion investment in zero-emission vehicles and charging/refueling infrastructure, and lobbying Congress to enact President Biden's American Jobs Plan, which would invest $25 billion in zero-emission bus deployment nationwide. Working with the Association's ZEB Task Force and Federal Legislative Committee, Pimentel recently submitted to Congress the Association's recommendations for the creation of a robust national program to support ZEB deployment.
Learn more about the Association's involvement in ZEB adoption, state and federal funding work through the California Transit Association's 2021 State Legislative program and 2021 Federal Legislative Program.
Together the efforts of California Transit Association members and staff to push toward ZEB goals can fulfill the promise of a cleaner, healthier future for California and beyond.