Education and Insight
The 55th Annual Fall Conference & Expo featured discussions on racial equity and service reinvention after COVID-19.

By Stephanie Jordan
Managing Editor
Transit California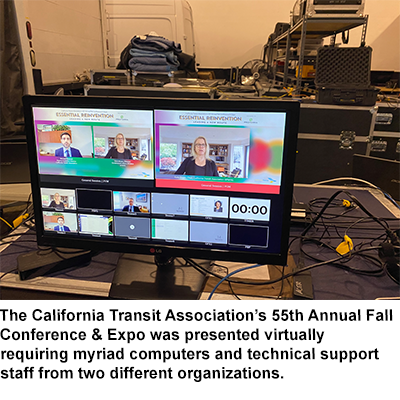 Despite a reduction in days and in length of sessions, the California Transit Association's 55th Annual Fall Conference & Expo, presented by Proterra, continued the tradition of offering non-stop learning, collaboration, and insights. Maintaining three keynotes, 20 concurrent sessions, the Small Operators Program and Awards, as well as the Expo, the Association's signature fall event went virtual on November 18 and 19 with the appropriate theme, Essential Reinvention: Leading a New Route. The conference theme was reflected throughout the event with a series of sessions that examined racial equity and COVID-19 impacts and recovery imperatives.
The conference opened with a thought-provoking panel discussion on The Future of Transit, that featured public transportation experts, including moderator Susan Shaheen, University of California, Berkeley, and panelists Darnell Grisby, TransForm; Michael Jones, San Francisco Bay Area Rapid Transit District; Joshua Schank, Los Angeles County Metropolitan Transportation Authority; and Jeffrey Tumlin, San Francisco Municipal Transportation Agency. Together they explored how our industry has changed during the pandemic and highlighted strategies transit agencies are pursuing – or must pursue – to regain and rebuild transit's place in the broader transportation network.
In an exclusive keynote presentation, on Thursday, November 19, Professor Ibram X. Kendi was featured in a conversation with Lateefah Simon, President of the Board of Directors for San Francisco Bay Area Rapid Transit District. Kendi is one of America's foremost historians and leading antiracist voices, and a National Book Award-winning and #1 New York Times bestselling author. In 2020, Time magazine named Kendi one of the
100 most influential people in the world. The conversation centered on what it means to be antiracist.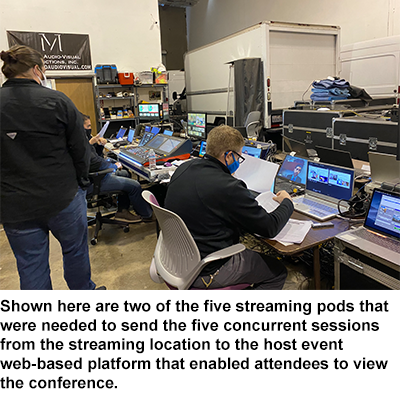 The 20 concurrent sessions were reduced from the traditional 90-minute sessions to 60-minutes to combat potential online viewer fatigue. With five breakout tracks, virtual attendees customized their conference by selecting from the sessions that were the most valuable to them. Tracks included: Fiscal, Planning, Policy & Compliance; Maintenance; Management & Leadership; Marketing & Communications; and Operations.
Concurrent sessions were held on a variety of topics, with many sessions reflecting the conference theme. A sampling of titles include:
Beyond Buzzwords: Diversity and Inclusion in Public Contracting
Scaling Up the ZEB Infrastructure
Navigating Changes in the Workplace
Emergency Preparedness: Enhancing Agency Readiness and Resiliency
Positioning Your Agency as a Community Asset Through Engagement
Responding to COVID-19: Planning Your Recovery
Hydrogen Fuel Cell: The Other ZEB
Labor Management Relations During COVID-19 (What's Changed?)
Targeting a Niche Audience for Stronger Results
Responding to COVID-19: Reinventing Your System with Racial Equity at the Core
Re-imagining Fare Policies to Promote Transit Equity
ZEB Rollout Plans: Mapping Successful Transitions
Recognizing and Addressing Racial Bias in Your Practices and Programs
Adapting to the Times: More Than Just Moving People
Presentations, if slides were used, will be posted to the Association's webpages in the coming weeks.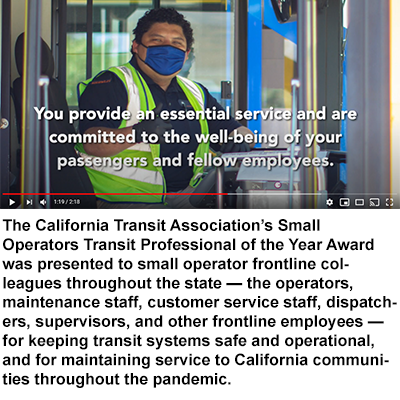 SMALL OPERATORS EVENT
On November 19, the California Transit Association's Small Operators Program and Awards featured Heroes are Always Essential, Being Your Best When it Matters the Most! – a keynote by Kevin Brown who encouraged attendees to be prepared each and every day to make a positive difference in the lives of the people they not only serve, but also those with whom they serve. For more about Brown's keynote, be sure to read On Board With...Kevin Brown in this edition of Transit California.
Rachel Ede, Chair, Small Operators Committee and Deputy Director, City of Santa Rosa Transportation and Public Works (Santa Rosa CityBus) hosted the Small Operators Awards. Ede presented the Transit Innovation and Resiliency Award to Monterey-Salinas Transit District, the Transit Agency of the Year Award was presented to the City of Culver City/ Culver CityBus, and Alameda County Supervisor Scott Haggerty was honored with the Distinguished Service Award.
Just as this has been an unprecedented year, the Small Operators awards nomination committee likewise made an unprecedented decision this year for the Transit Professional of the Year Award. Instead of recognizing an individual, this year the committee chose to recognize small operator frontline workers throughout the state—the operators, maintenance staff, customer service staff, dispatchers, supervisors and other frontline employees—for keeping the small operator systems safe and operational, and maintaining service to their communities throughout the pandemic.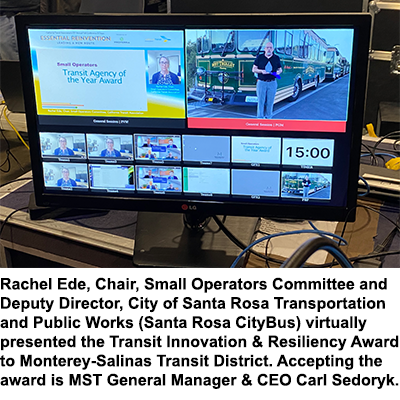 In addition, the event showcased an online expo where attendees could learn about the latest products and services from nearly 45 exhibitors. The virtual experience included the ability to schedule a meeting at a virtual booth, talking with exhibitors, and playing a passport stamp game to win a $500 American Express Gift Card.
MANY TO THANK
The 55th Annual Fall Conference & Expo would not have been possible without the generous sponsors who help make the Association's premier annual event a success. This year in particular, sponsors and exhibitors pivoted with us to move their sponsorships and expo booths online and we are grateful for their flexibility and loyalty.
The members of the Association's Program and Conference Committee, whose many months of hard work in the midst of COVID-19 impacts, produced a compelling, engaging, and inspiring conference agenda. We all are the beneficiaries of their dedication and appreciate all they did to ensure the conference continued in the virtual format.
The many concurrent session presenters and moderators likewise took time away from their responsibilities to prepare and present virtually, sharing best practices, new ideas, pilot program outcomes, and more. Our thanks go to them.
SAVE THE DATE
Even as we close the books on the 55th Annual Fall Conference, Association staff are already looking forward to next year. Be sure to save the dates to attend the 56th Annual Fall Conference & Expo, November 2-4, 2021. The Conference events will be held at the newly renovated Sacramento Convention Center and our agency host will be Sacramento Regional Transit District (SacRT). Accommodations at special rates will be available at the Sheraton Grand Hotel. Information on the event will be posted to the Association's webpages in the coming months.
---
THANK YOU CONFERENCE REGISTANTS!
Access to Conference Materials Available Until December 31
As a thank you and added value for registering for the 55th Annual Fall Conference & Expo, anyone who paid full or day rates can access portions of the conference via recorded footage and PowerPoint slides, if slides were originally used. These materials are posted to the event platform (original login required) and will be available through December 31, 2020. Conference registrants will find additional information in the email from California Transit Association Executive Director Joshua W. Shaw sent on November 30, titled Fall Conference & Expo - Session Recordings & Attendee Survey. For questions or assistance, please contact Maria Barajas, Association Services Director, via email at maria@caltransit.org.
---
LEADERSHIP CHANGE
During the California Transit Association's 55th Annual Fall Conference & Expo, Kate Breen, Association Executive Committee Chair and Director of Government Affairs, San Francisco Municipal Transportation Agency, announced a change in leadership as long-time Executive Director Joshua W. Shaw will step down at the end of the year from the role. Replacing Shaw will be Michael Pimentel, current Deputy Executive Director of the Association.
"I am so honored that the Executive Committee has entrusted the role of Executive Director to me and I look forward to continuing to serve the members of the California Transit Association," says Pimentel of the transition.
On November 17, the California Transit Association Executive Committee respectfully accepted Shaw's pending resignation, culminating the nearly 18-month conversation Shaw and his team have had with the Executive Committee to ensure the strongest possible staff leadership transition plan.
"No individual transit leader stands out more clearly than Josh, our Executive Director since 1999," said Breen during the general session announcement. "No one has worked harder or fought more tirelessly or advocated more passionately for public transit."

As of January 1, 2021, Pimentel will take the reins as Executive Director.
"As we move forward, together, into this next decade, I am committed to maintaining the intellectual rigor, political savvy, and professionalism that Josh has made the hallmark of the Association," promises Pimentel. "With our member's support, I also commit to doing the work to elevate diversity, equity and inclusion within the Association, and to support our member agencies in engaging, serving, and reflecting our most vulnerable populations."
While Shaw is stepping down as the Executive Director, he will continue to lend his expertise to the Association in a Senior Counsel position.