On Board With ... Tony Brigmon
Former Southwest Airlines "Ambassador of Fun,"
and 54th Annual Fall Conference & Expo Keynote Speaker

Tony Brigmon is the former "Ambassador of Fun" at Southwest Airlines, responsible for delivering customer care and employee development programs. At Southwest, "fun" was the power of positivity that helped catapult a small carrier into a force that changed the airline industry.
Brigmon was the 54th Annual Fall Conference & Expo opening keynote speaker and offered an entertaining, high-energy and interactive presentation. Brigmon is one of the first to pioneer the positive culture movement in corporate America and is ranked as a top 10 speaker by Meetings & Conventions Magazine.
He is the author of the book "The FUNomenal Workplace" and was selected to receive Southwest Airlines' most Prestigious Award, the President's Award (out of 2000 + employees).
---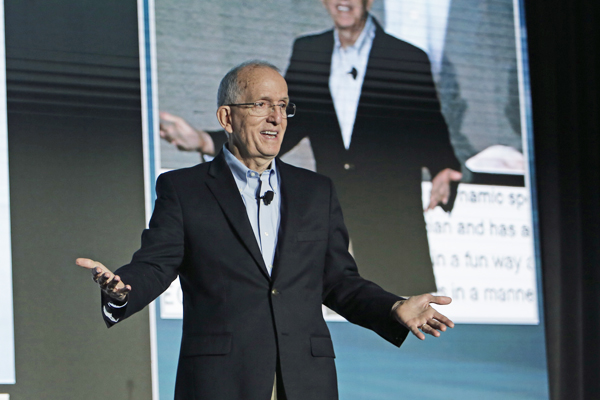 Transit California:
In 1967, Herb Kelleher and Rollin King developed the initial Southwest Airlines concept in a hotel bar in San Antonio. Their original business plan consisted of a triangle drawn on a cocktail napkin – three lines connecting Dallas, Houston, and San Antonio. The airline industry was very different prior to 1979 with the federal government tightly controlling interstate air travel and deciding which airlines flew where and at what price. Competition on inter-state routes was virtually nonexistent, and federal regulators, not the market, determined price. All that changed on Oct. 24, 1978, when President Jimmy Carter signed the Airline Deregulation Act into law. Once the regulation was lifted, Southwest had the opportunity to begin their journey to becoming the world's largest low-cost carrier in the world.
But it wasn't just about low prices; it was also about amazing customer service and loyalty. Which is where you had the opportunity to begin your journey with Southwest. How did this idea of "FUNomenal customer service" come about?
Tony Brigmon:
We had over 300 reservation agents that were clearly under stress. On breaks I would have fun with them and I jokingly called myself The Goodwill Ambassador. We'd have some interactive fun with imaginary scenarios. And it helped relieve some of that workplace stress and put people in a positive frame of mind.
The time we spent on breaks gave me a crazy idea – but I'm not very good at proposals; however, I knew I guy that was. He helped me with a pitch to take to the President of Southwest, who at the time was Howard Putnam.
My friend asked me, what do you know about him? I said I'd heard Mr. Putnam was intuitive and blunt. So we knew we had to catch him off guard. We came up with three questions that I should know the answer to in order for my proposal to be accepted:
Why should we want an Ambassador of Goodwill?
How do you pay for it?
What if I'm not any good at what I do?
The answers to those questions became my proposal.
Transit California:
How did the pitch to Mr. Putnam go?
Tony Brigmon:
I called his office and got his assistant. I asked to speak to the President. I told her: "I've got the answer, but I'm not sure of the question."
I could hear her talk with Mr. Putnam, and the response back from him was: "I'd like to hear the answer. Have him come by after work."
At the end of the day I walked into his office and he says to me: "What's the answer?"
I tell him I have an idea for a unique way to generate PR for Southwest Airlines as a keynote speaker and for creating dynamic ways to present stress management information. The set up would be like a speaker's bureau and it was an external presentation that ended with me thanking them for supporting Southwest Airlines. I always asked the audience for honest feedback on the presentation. We never once received any negative feedback.
My Dad was an entertainer. I was a musician and entertainer. I learned at an early age how to focus on people and to keep things audience-centered. I learned you can either show up to give to an audience or you can take from an audience. If you only want to get something from an audience, they won't respond as well. When I made the audience a part of the show, that's when things changed for me. We avoided the dog and pony show. We made it family-friendly. We never made fun at anyone else's expense.
And that's how I became the "Goodwill Ambassador of Fun" and I was stunned that I could make this a career!
Transit California:
At that point you were doing external programs, when did you become involved more with Southwest employee development?
Tony Brigmon:
After a time, I was asked to look at internal training and employee development. Up until then we did the usual things popular at the time like constructive criticism, but it wasn't really working very well. I came up with the 3 E's where we would engage and tell interactive stories. The 3 E's were Energize, Engage, and Enrich yourself and others to insure important things are accomplished. Employees would share the good, the bad and the ugly. We found that people would support what they helped to create.
Tips From Tony
We are ALL leaders with these three levels of responsibility:
Lead Self with Positivity Questions
Start Your Day in a FUNomenal Way to Put Your Brain in the State of Positive
What reason do I have to feel grateful right now, right here? (Your brain will come up with an answer. Say Thank You.)
What do I have that I would miss if I no longer had it? (Name three things. Say Thank You after each one.)
Who can I praise, wish well, or thank in person or an email? (Do it. Do it.)
What would be great today? (Opens the window of possibility.) Have fun with this. Act immediately on impressions that feel right.
End Your Day in a FUNtastic Way
What was good about today?
What made you smile, laugh out loud or went well?
Write it down in your Smile Journal. Share it.
Lead Others with Shared Goals, Mutual Respect, and Shared Knowledge
Shared Goals
If the Dream is not a Team Dream, you cannot have a Dream Team but what you will have is a nightmare, only this one will be real.
People will support what they help create. Ask and thank them for their input. 'WE did it' is GREAT!
Team Dream Reminder: What is it we're trying to do? Why is that important? What is my part? What is your part?
Accountability Questions: What's your plan? Will you let me know? When's a good time? How did it go?
Mutual Respect
You get a better return with the boomerang of respect than with the hand grenade of disrespect.
Ask: What does this person care about? Ask them about it. Be a There-YOU-Are person. Make it about them.
Ask: "Is there anything you need from me, anything I can do for you? How can I be a better leader?
Shared Knowledge
Tell me what you learned today. I'll tell what I learned. And we'll know and grow twice as much when we both walk away.
Share what you learned from what went well and not so well. Invite others to do the same.
We began to re-invent ourselves quickly. We were even able to get employees to come to trainings on their days off. We did this by using a "FUN Formula" to bring out the best in each other to meet and exceed team goals. It didn't hurt that we also offered two Must Ride tickets, which are the same as regular tickets, not standby or other pass travel, for a friend or family member to use. This made a spouse or someone close to the Southwest employee say, go to training!
We had everyone there, mechanics, reservationists, the pilots, everyone. It was never an us vs. them environment.
Transit California:
So this included all the union employees? I have read that approximately 83 percent of Southwest employees are members of a union.
Tony Brigmon:
That's right. Southwest had more unions than any of the other airlines. We have unions for pilots, aircraft maintenance, customer service agents, reservation agents, machinists, flight dispatchers, flight attendants, ramp agents, and operations agents; we opened our arms to them all.
Part of the training was having employees be on the lookout for and to perform Outrageous Customer Service. It worked like this: If I spot you doing something outrageous, I would send a message about you, but I would also be recognized for recommending you. We would have amazing parties that celebrated that positivity, of people looking at each other and instilling a spirit of fun. That's the fast, friendly, do the right thing company culture.
Transit California:
Southwest's innovative management style created a culture that made Southwest stand out and was captured in a book called The Southwest Way by Jody Hoffer Gittell. How did that book come about?
Tony Brigmon:
Doing research, Jody interviewed employees from three carriers: American Airlines, headquartered in Fort Worth, Texas; Continental Airlines, which at the time was a major airline located in Houston, Texas, and Southwest.
When she received responses that were so different than the other two carriers she decided she wanted to go further to see what Southwest had that the other two did not. It became the book of how Southwest's management style of creating shared goals, shared knowledge, and mutual respect among management, employees, and suppliers is the secret of Southwest's success and why it consistently outperforms its competitors in such a high-pressure, time sensitive industry.
Southwest became known for "Low Fare, High Care" and for having a culture that rewarded humor and creativity. It spread from there. The focus was toward answering: What will lead me toward positivity? I began to ask a set of questions that would send the brain in a positive direction. Simple things like: First email of the day – who can I praise? Who can I thank? At the end of the day – what was good about today? What made you smile, laugh out loud?
Transit California:
When Putnam left to lead Braniff International Airways at the time of its bankruptcy, Herbert Kelleher, became President and CEO of Southwest from September 1981 to June 2001. In a Fortune magazine article from 2001, Kelleher said: "You have to treat your employees like customers. When you treat them right, then they will treat your outside customers right. That has been a powerful competitive weapon for us."
People really were and continue to be Southwest's best asset.
Tony Brigmon:
Good customer service starts internally. How you treat your people is how they will pass it on. Grateful leaders make employees feel more valued and want to do their best. No one wanted to let Herb down. He really made you feel like you were part of a team. Something he loved to do at times was to roll up his sleeves and work with people in their everyday roles, even the ones dumping the toilets. He would say: We appreciate you. That let everyone know they were important.
In addition, a good manager knows what is important to the people that work for him or her. Mutual respect is so important. As a manager, try asking your employees: Is there anything I've said in the past 90 days that makes you want to leave the organization? Anything that makes you want to stay? And then wait two seconds before you say anything back – it helps convince them they have been heard.
It all goes back to leadership. Herb allowed us to flourish and feel confident. I was 30 when I went to work for Southwest Airlines. I had tried lots of different jobs: construction, fundraising, insurance, lots of different organizations and all kinds of environments. I knew what not to do. And what I did want to do I was able to do at Southwest. I was given the chance to make my dreams come true.