Ridership Study Revisited
UCLA ITS Scholars 2018 Report on Falling Transit Ridership Gets a Second Look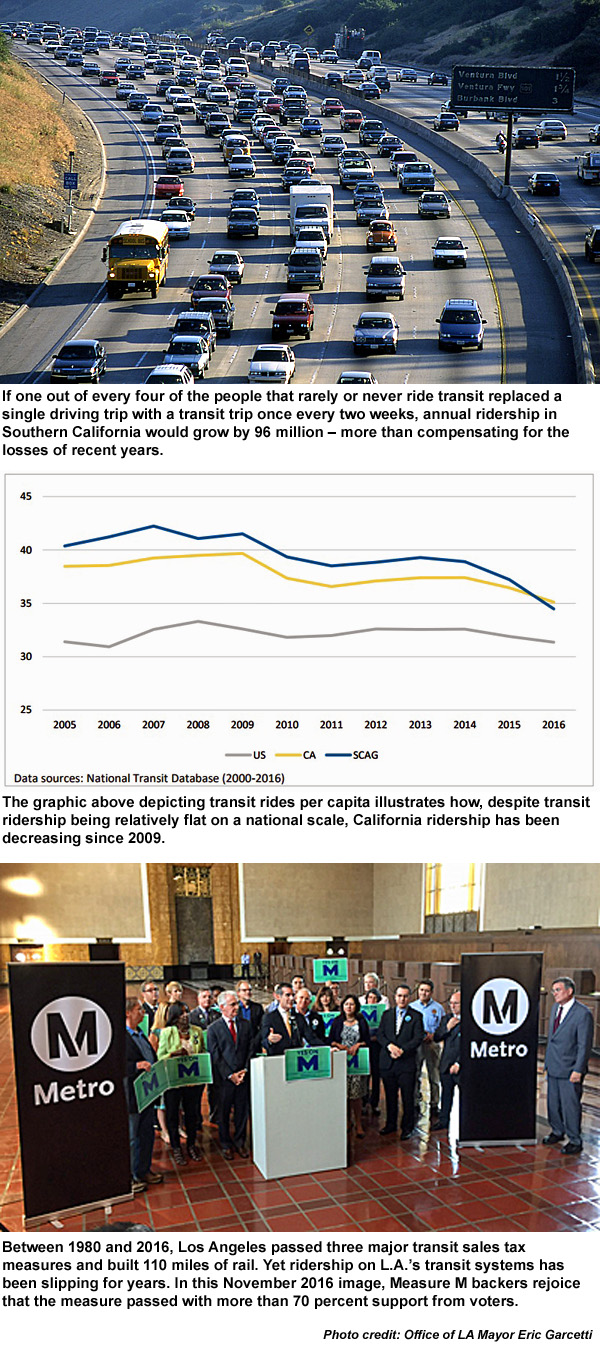 By Stephanie Jordan
Managing Editor
Transit California
Ironically, just as public transportation has been tapped to help solve some of California's most pressing problems, like climate change and congestion; ridership remains in decline for most areas. To investigate the decline happening in Southern California, three UCLA Institute of Transportation Studies (ITS) scholars authored a report in early 2018 for the Southern California Association of Governments (SCAG) in order to better understand the trend and help inform planners and policymakers on how to address declining ridership.
Now more than a year after the report, Falling Transit Ridership, California and Southern California, was published, has the trend changed?
"Transit ridership continues to fall," confirms report co-author Michael Manville, Luskin School Assistant Professor of Urban Planning and ITS faculty fellow. "The data we had for the study was from 2016, however, currently we can see close to real-time data from LA Metro and it tells us we are still in decline. What is different from then to now is that San Francisco has now joined the ranks of ridership in decline, which was not the case when we originally did the study."
When asked if the same reasons for the decline applied to the San Francisco area, Manville says that while he is not surprised by the occurrence, he has not examined the reasons for it. He did speculate that the reasons for the decline in SF could be different from the Los Angeles area.
"The transit ridership decline in the Southern California can be tied to the shift of lower-income riders moving into owned automobiles. The loss of this traditional transit rider is significant," explains Manville. "The demographic and socioeconomic status of Bay Area riders, however, is much more varied, so this explanation can not apply in the same way."
Big Losses
Despite heavy investments in public transportation over the past 15 years, transit ridership, according to the UCLA ITS 2018 report, declined. From 2012 to 2016, California lost 62.2 million annual transit rides, and the six-county Southern California Association of Governments (SCAG) region lost 72 million annual rides, representing 120 percent of the state's total losses.
With such political support and policy stakes invested in transit, why is ridership falling?
In 2016, two years before the UCLA ITS report published, Measure M passed. With this vote, Los Angeles County chose to tax itself to pay for a suite of projects to facilitate transit, driving, walking and bicycling. Measure M will double LA Metro's 100-mile rail system and is expected to generate $120 billion over 40 years to expand rail, rapid bus, and bike networks.
If the measure passed by over 70 percent, and with public transit as one of the beneficiaries, why aren't more people using the system they voted for?
"There are a lot of reasons why people voted for Measure M," believes Manville, citing job creation and traffic congestion relief as two main ones. "A disconnect does exist. The measure appealed to people, but not in a way that would compel them to change their own travel behavior."
The reasons for the decline in transit ridership in Southern California are much the same now as they were over a year ago. According to the 2018 report authors, the key reasons include:
1. Increased car ownership likely explains much of the transit ridership decline in Southern California.
Between 2000 and 2015, private vehicle ownership dramatically increased among households in the SCAG region, from 1.7 to 2.4 vehicles per household. During the 1990s, the region grew by 1.8 million people and 456,000 household vehicles, or 0.25 cars per new resident. But from 2000 to 2015, the region added 2.3 million people and 2.1 million household vehicles, nearly one car per new resident.
2. Car ownership has grown fastest among the most frequent transit riders.
A small portion of Southern California residents take the majority of all transit trips: Less than 3 percent of the region's population rides transit very frequently, another 20 percent rides occasionally, and more than three-quarters of residents ride transit rarely or never. Frequent transit ridership is concentrated among lower-income people, particularly foreign-born residents. And these households have outpaced the average regional resident in new car ownership – the share of foreign-born households without a car dropped by 42 percent between 2000 and 2015.
3. Fuel prices, service changes, and rideshare use are NOT the likely drivers of ridership decline.
Other potential causes do not strongly correlate with the fall of transit ridership in Southern California, unlike the spike in car ownership among heavy transit users. Gas prices have jumped up and down while transit use has declined, and transit fares and service records have not notably changed. While new rideshare services such as Lyft and Uber may play some role, transit use began its decline before rideshare became popular, and research shows that rideshare users are mostly making different trips at different times than regular transit riders.
What to Do?
Here is what NOT to do, say the authors, "Transit agencies should not respond to falling ridership by trying to win back former riders who now travel by auto."
Manville bluntly adds to the advice from a year ago, "We can't depend or model transit ridership on low-income riders. That model falls apart today. It can't be a mode of last resort. Instead, transit has to be built in a way that we expect people to ride it."
Underpriced Driving
Manville also adds that, in Southern California in particular, the area is established overwhelmingly for autos. With no dedicated bus lanes, no highway tolls, no congestion charging, and free parking, there remains little incentive for people to leave their autos behind.
With public transit's traditional riders probably not coming back, a better approach may be to convince the vast majority of people who rarely or never use transit to begin riding occasionally instead of driving.
Note the authors, "The SCAG region, between 2012 and 2016, lost 72 million transit rides annually. That number seems daunting, but the region has a population of 18.8 million, and about 77 percent of those people (roughly 14.5 million), ride transit rarely or never. If one out of every four of those people replaced a single driving trip with a transit trip once every two weeks, annual ridership would grow by 96 million – more than compensating for the losses of recent years. The future of public transit in the SCAG region, then, will be shaped less by the mobility needs of people who do not own vehicles, and more by policy decisions that encourage vehicle-owning households to drive less and use transit more."
Read the full report by assistant professor of urban planning and ITS faculty fellow Michael Manville, professor of urban planning and ITS director Brian D. Taylor, and professor of urban planning and ITS faculty fellow Evelyn Blumenberg.