On Board With...
Doran Barnes, Executive Director Foothill Transit / California Transit Association ZEB Task Force Chair
and Michael Pimentel, California Transit Association Legislative and Regulatory Advocate

Doran Barnes oversees Foothill Transit's 37-route system and manages the private contractors who operate and maintain the agency's 373 buses, which serve more than 12 million customers annually. Doran also serves as a member of the Board of Directors of Access Services, the regional paratransit operator for all of Los Angeles County. He is currently Chair of the California Transit Association ZEB Task Force, past Chair of the American Public Transportation Association and has held a number of leadership positions in the California Transit Association, including a 2009-2011 term as Chair.
Michael Pimentel joined the California Transit Association as a Legislative and Regulatory Advocate in March 2015. Prior to joining the Association, Michael held various legislative positions in the Brown Administration, including Senior Legislative Analyst at the California High-Speed Rail Authority and Legislative Assistant in the Office of Governor Edmund G. Brown Jr. Michael also served as a Researcher and the Media Monitoring Coordinator for the Brown for Governor 2010 campaign. Michael currently serves as a Board Member for the Young Professionals in Transportation – Sacramento.
Doran and Michael recently presented a session, Working Together on Implementation of the Innovative Clean Transit Regulation at the California Transit Association's 2019 Spring Legislative Conference. In this edition of On Board With…we review the regulation and the next steps toward compliance.
---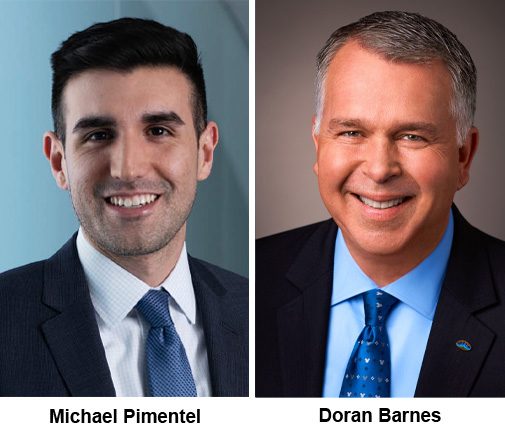 Transit California:
Many transit agencies in California were already on various tracks toward ZEB fleets, but now with the December 14 adoption of the Innovative Clean Transit (ICT) regulation by the California Air Resources Board (CARB) a timetable has been put into play. What is the requirement in a nutshell?
Michael Pimentel:
In a nutshell, the regulation, which reflects years of negotiation between CARB and Association members, requires transit agencies to begin to purchase zero-emission buses (ZEBs), as soon as 2023, with the goal of transitioning all transit buses in California to zero-emission technology by 2040.
Transit California:
At the California Transit Association's Spring Legislative Conference, held in Sacramento this month, you showed a ZEB purchase mandate timetable, which we will re-produce here. What is important for transit agencies to know about that timetable?
Michael Pimentel:
The ZEB purchase mandate timetable shows how the purchase mandate increases over time to achieve a fully electrified transit bus fleet in California by 2040. And when I say, "electrified" I mean propulsion through battery-electric or hydrogen fuel cell technologies. What is not required, at this time, is the purchase of zero-emission articulated, cutaway, or over-the-road coaches until at least 2026. The regulation also makes a distinction between large and small agencies, with small transit agencies – defined as agencies with fewer than 100 vehicles in maximum annual service – afforded more time to comply.

Transit California:
What happens if an agency is unable to comply, despite best efforts?
Michael Pimentel:
There are several off-ramps built-in as a result of a lot of discussion with the CARB. Transit agencies can request a one-year exemption from the purchase mandate to address issues like delays in bus delivery or infrastructure buildout; the unavailability of ZEBs with sufficient range to meet a transit agency's daily mileage needs; the unavailability of ZEBs that meet federal, state or local law, regulation or ordinance; and, importantly, financial hardship at the transit agency.
If the situation calls for it, the one-year exemption can be renewed by CARB's Executive Officer should such issues persist.

Statewide targets may also provide some compliance relief. The regulation includes a mechanism for postponing the 2023 purchase mandate until 2024, if 850 ZEBs are purchased or in service by end of 2020. If 1,250 ZEBs are purchased or in service by end of 2021, the 2024 purchase mandate is postponed until 2025.
Transit California:
Initially the association was pushing for a number of benchmarks that ultimately were not included in the regulation, but there is an inclusion of a comprehensive review. Is that meant to be a reality check of sorts?
Michael Pimentel:
As the regulation was being finalized, a few CARB board members voiced their concerns with the state of today's ZEB technology and available funding. These concerns led to the creation of a new requirement for a comprehensive review of the regulation.
This comprehensive review is to be initiated by CARB staff one year prior to the imposition of any ZEB purchase requirement. The comprehensive review will assess the following issues:
Cost, performance and reliability of ZEBs;
Availability of incentive funding;
Infrastructure necessary to support ZEB deployment;
Extent of job creation resulting from the rule;
Deployment status of ZEBs and related technologies; and,
Barriers to ZEB deployment.
The comprehensive review provides the CARB with an opportunity to adjust the regulation, if necessary, and is another opportunity for us to lobby the rule.
Transit California:
Turning to you, Doran. Why was the ZEB Task Force created?
Doran Barnes:
The ZEB Task Force was created by the Executive Committee specifically to weigh in, as experts, on policy matters related to ZEB funding and financing; Investor Owned Utilities' SB 350 programs; electricity rate design; and workforce training. As the regulation came together, the Association made a huge effort to put this rule in the best possible light. We did not get everything we wanted, but it is a good framework for moving forward.
The ZEB Task Force supports ICT regulation implementation in three primary ways: through advocacy, outreach/education, and compliance. The group will also provide technical guidance to Association staff on a multi-year educational program on ICT regulation implementation, as well as keep track of compliance issues. This is another example of how the Association brings us together to support the great work we do in our communities.
Transit California:
Who is included in the task force?
Doran Barnes:
The group is a mix of 25 Association member organizations that includes north and south, large and small, transit agency and business members. In addition, there are systems that are early adopters and those that have yet to start using electric vehicles. Further, there are systems represented who are using electric power from the grid and others who are using fuel cell technology. This rich mix is important because we know that what will work for some agencies won't work for others. We need to have everyone represented at the table, so the Executive Committee purposely built this task force to reflect the whole membership.
Transit California:
So the regulation is in place, the clock is now ticking. Where do we start?
Doran Barnes:
Planning for the successful deployment of ZEBs is critical. We are going to focus on addressing barriers and challenges to electrification. There are a host of things that we haven't had to work on before.
We will look at capital costs: BEBs, FCEBs, make-ready infrastructure, hydrogen refueling, demand management technologies and resiliency. For example, for vehicles we will pursue ongoing appropriation for ZEBs-HVIP (through the Legislature), we will pursue sales tax exemption for ZEBs (through the Legislature), and we will work on a statewide master contract for ZEBs (through the Department of General Services).
When it comes to infrastructure, we will pursue additional funding for make-ready infrastructure, hydrogen refueling, subsidies for EVSEs (through the California Public Utilities Commission (CPUC)), advise on development of Transportation Electrification Framework (CPUC), and pursue funding for large-scale infrastructure development (through the California Energy Commission (CEC)).
We will look at operating costs, like electricity rates, by urging adoption of PG&E's commercial EV rate (CPUC), by urging continued review of performance of new and proposed rates (CPUC), by urging development of transit-specific rates, supporting submetering (CPUC), by advising on the development of TEF, specifically rate design principles for transit (CPUC), by urging the inclusion of electricity in Alternative Fuels Tax Credit (Congress), and developing the streamlined mechanism for claiming LCFS (Internal).
Workforce training is another area of focus. There are jobs that may need to be created and there are other jobs that might not exist in the future. There needs to be the publication of lessons learned and best practices. Operators need to be trained, so training curriculum needs to be created.
Transit California:
There is so much to learn here. How will the ZEB Task Force help to get that information shared?
Doran Barnes:
The Association already has ongoing education programs planned. We have hosted a webinar on the requirements of the ICT Regulation, and we co-hosted the 2019 ZEB Technology Showcase and Symposium alongside CARB and the Antelope Valley Transit Authority, which included session tracks like Starting a ZEB Project; Fuel Costs; Funding Opportunities; Scaling Up Infrastructure; and Workforce Training. We'll likely do more showcases in the future.
In the near term, next month there will be a joint webinar series with the California Hydrogen Business Council on Basics and Advanced Topics for Fuel Cell Electric Buses. In July there will be a webinar series on Basics and Advanced Topics for Battery Electric Buses.
We have also begun to consider how best to track compliance issues to strengthen our advocacy before the CARB as we move forward.
Transit California:
How do Transit California readers best get involved?
Doran Barnes:
I cannot say it enough – this is where the Association shines. If we each try to solve compliance with the Innovative Clean Transit regulation by ourselves, it is a huge undertaking and potentially less efficient use of resources, as many systems simultaneously try to address similar challenges. Coming together and figuring out complex issues – understanding if routes and services are impacted by the limitations of the technology, creating standards for the infrastructure, figuring out how we control costs, understanding funding streams – and sorting out the best wisdom together is really critical.
We need to ensure that decisions are based on real-world operating environments and we need to help our colleagues at CARB understand the real data. And to do that, we need all the members of the Association to participate in the educational opportunities that are being developed, so we can learn from each other. The goal of clean air is very important. To get there is going to take financial resources, collaboration, and a lot of ingenuity!