Member News Library
The following items are excerpted from news releases issued by California Transit Association members. If you are a member of the Association and would like to submit an item to be considered for inclusion in the Member News Library, please email your press releases to Communications Director Jeff Wagner (jeff@caltransit.org) AND to Managing Editor Stephanie Jordan (sjordan@freelancecomm.com). Photos and cutline information with your news release submissions, when possible, are encouraged.
---
INDUSTRY NEWS
SamTrans Launches Outreach Campaign prior to OnDemand Service Start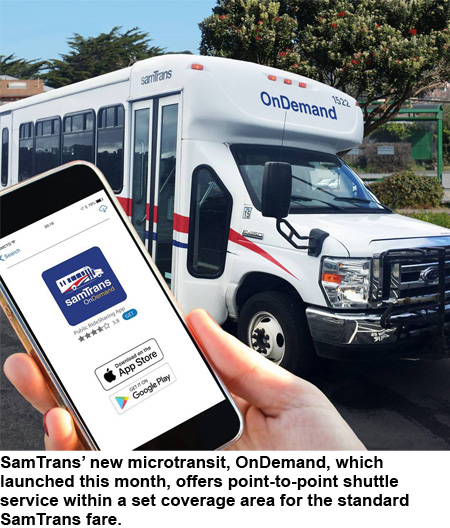 SamTrans launched an outreach campaign to inform residents of Linda Mar of the agency's new OnDemand Service in April. OnDemand, which launched on Monday, May 6, offers point-to-point shuttle service within the coverage area for the standard SamTrans fare.
Outreach efforts included talking to riders on the existing FLX Pacifica Route that the new service will replace, tabling at Terra Nova High School, hosting an Information Day at Pacifica Community Center, and having street teams distribute information at the Linda Mar Park & Ride.
SamTrans OnDemand allows riders to request a trip through a smartphone app or through the SamTrans Customer Service Call Center. Once a trip is booked, a shuttle is routed to the pickup location and can be tracked through the app in real time.
SamTrans modeled the service on a concept known as microtransit, where smaller vehicles are dynamically routed in real-time using a technology platform and passenger app. Services similar to this are being launched throughout California in more low-density areas that do not have the population base to sustain traditional bus routes. SamTrans officials identified Linda Mar and conversion of the FLX Pacifica Route as a good test case to see if microtransit could be effectively implemented as a part of the suite of SamTrans services.

Next-Generation MTS Trolley Cars Begin Service
Before the next generation of trolley cars geared up to begin service on the UC San Diego Blue Line last month, officials with the San Diego Metropolitan Transit System (MTS) unveiled to the public the first vehicle of the new trolley series as part of a 'Trolley Open House' a few days prior. The new trolley cars entered into service as part of the 5000 vehicles series, representing the third generation of modern, low-floor vehicles, which have been in operation on MTS' light rail network since 2005.
For the past seven months, MTS has been steadily receiving new Siemens S700 trolley cars as part of an order of 45 vehicles placed in 2016. The first trolley car was delivered last August, in the iconic red paint scheme of the San Diego Trolley, with the remaining vehicles expected to be delivered over the next two years.
The 45 new S700 light rail vehicles (LRVs) have the same low-floor characteristics as newer models in MTS' current fleet, but feature a redesigned middle section to improve passenger flow and provide door-to-door accessibility for riders in wheelchairs or other mobility devices. To facilitate cleaning and maintenance, train seats will be upholstered standard in vinyl rather than the cloth used in previous models. Additional features include improved interior sightlines for added security and relocated operational equipment to facilitate easier access by maintenance technicians.
"It's important for our transit system to be accessible to everyone, especially members of our disability community," said Georgette Gómez, San Diego City Council President and MTS Board Chair. "These new trolleys are an example of how MTS continues to make improvements to help all of our passengers access the system better."
Siemens, which has provided MTS with its light rail vehicles since the initial launch of the San Diego Trolley in 1981, manufactured the new vehicles. "These next-generation vehicles represent the true partnership that exists between MTS and Siemens", said Paul Jablonski, MTS Chief Executive Officer. "We worked closely over the last three years to ensure that these vehicles meet the needs of our system and our riders." In addition to putting the vehicles into service now, MTS will use the new vehicles to increase service on the UC San Diego Blue and Orange lines beginning June 9.
The vehicles were delivered from the Siemens rail manufacturing hub in Sacramento and bring the total number of LRVs supplied to MTS to 244, making MTS the largest U.S. light rail customer for Siemens. The organization is currently the leading supplier of light rail vehicles in North America.

BART PD Gains Prestigious Accreditation
The BART Police Department is officially accredited by the Commission on Accreditation for Law Enforcement Agencies (CALEA). BART PD is now the 17th internationally accredited agency in California. Fewer than 6 percent of law enforcement agencies in the nation are accredited through CALEA.
"This is a highly prized recognition of public safety professional excellence," said BART Interim Police Chief Ed Alvarez. "Accreditation is a process, not a destination. We look at it as an opportunity to continue to improve, as well as to remain on the cutting edge of law enforcement best practices."
The review team looked at BPD's policy and procedures, management, operations, and support services. All told, BPD had to prove compliance with nearly 400 standards. Accreditation meant meeting or exceeding best practices for law enforcement set forth by the commission.
The accreditation caps a process that extended over many years. Then National Organization of Black Law Enforcement Executives (NOBLE) final report issued in 2010 recommended that BART seek this accreditation. NOBLE conducted a top-to-bottom review of BPD after the tragic shooting death of Oscar Grant in 2009.
The comprehensive review of BPD by CALEA included an onsite review in late January. While onsite, the CALEA team conducted facility inspections, interviewed staff, and gathered public input.

New Bus Stop Amenity Plan Approved by NCTD Board
The North County Transit District (NCTD) Board of Directors approved a staff recommendation at its April board meeting to enter into an agreement with IBI Group to design bus stop improvements and provide construction support for 18 BREEZE bus stops located in Escondido, Oceanside, and Vista. These stops were identified for improvement based on specified criteria, including a need for Americans with Disabilities Act (ADA) improvements, customer usage, and customer feedback.
The agreement with IBI Group and the future construction improvements are part of NCTD's Bus Stop Optimization Program to improve transit system speed, consolidate underutilized stops, potentially improve fuel economy, and improve bus stop infrastructure to enhance the customer experience. NCTD's Bus Stop Optimization Program will be implemented in phases to add amenities and upgrades for compliance with ADA requirements. Future phases of the plan include improvements to stops in other cities within the NCTD service area.
NCTD operates 30 bus routes and has more than 1,800 bus stops throughout San Diego County. Average weekday ridership in FY2018 was over 21,000 with annual ridership being approximately 6.4 million. Improvements to bus stops may vary by stop and phase. All of the 18 stops identified in this phase will be improved with a bench, shelter, and trash can. In addition, advertising panels and solar lighting will be included.
"We believe customer amenities at each and every bus stop are important," said NCTD's Board Chair, Tony Kranz. "It's just as important for our customers to feel comfortable while they're waiting for the bus as it is while they're riding the bus. These design plans will be a step toward the future of continually improving all of our bus stops and transit centers to meet our customers' needs."
It is estimated that the design phase of the bus stop improvement project will be completed by September 2019. NCTD estimates that this project will be ready for a construction bid in January 2020 with a contract awarded in March 2020. The construction schedule will be established as part of the contract award.
Moving forward, NCTD will ask local agencies to improve sidewalks and other city and county owned infrastructure to facilitate NCTD's bus stop improvements. NCTD staff is currently identifying the top 100 bus stops that cities and the county need to improve as part of NCTD's partnership to enhance the quality of life and meet the transportation needs of people in north county. NCTD hopes to expedite improvements for customers by leveraging its resources and efforts with local partners.

Capitol Corridor Ridership Up For 18th Consecutive Month
Capitol Corridor Joint Powers Authority (CCJPA) has announced that March 2019 marked an 18-month streak of consecutive year-over-year ridership growth.
"We received the March 2019 ridership figures," said Capitol Corridor Board Chair Rebecca Saltzman, "and these results indicate a cumulative growth of 7.2 percent over the last year and half."
For March 2019 alone, Capitol Corridor ridership was up 5 percent vs. March 2018, and revenue was up 5.4 percent over the same period.
"For our fiscal year to date since October 2018, ridership growth continues at 5 percent above last year," said CCJPA Managing Director, David Kutrosky. "As well, we've achieved record results in revenue growth at 5.6 percent and the revenue-to-cost ratio is 62 percent. Customer satisfaction is at a near-historic high of 91 percent year-to-date." Kutrosky added.
Capitol Corridor officials attribute the growth in ridership to elevated San Francisco Bay Area housing costs, with many riders continuing to seek more affordable housing in areas such as Sacramento. In a May 2018 survey, results showed that nearly half of Capitol Corridor riders (43 percent) have been riding the service for one year or less.
"Eighteen months of consecutive ridership growth demonstrates that the service is vital to the Sacramento-San Francisco Bay Area region. Looking at Capitol Corridor's top 10 city pairs reveals that cross-regional travel within the Northern California Megaregion represents 51 percent of our ridership in the past 12 months," said Saltzman. "We are excited to welcome so many new riders to our service."

Caltrain Poll Shows Support for Dedicated Revenue
Nearly two-thirds of voters in the three counties Caltrain serves would support creating new investment from local sales tax to expand rail service, according to a recent public opinion poll commissioned by the agency.
The poll was conducted as Caltrain considers options for a dedicated revenue source, something the agency lacks when compared to other public transit systems in the Bay Area. The Caltrain Board of Directors reviewed the results at their May 2 meeting.
Approving dedicated investment in Caltrain from local sales tax is being considered thanks to legislation passed by State Senator Jerry Hill. The legislation allows the Caltrain Board to place a measure on the ballot in all three counties, provided that the transportation agency and board of supervisors in each county concurs. The measure would then require approval from two-thirds of residents that vote in the three counties.
If approved, the measure would provide stable, dedicated funding to operate and maintain the service, and to invest in infrastructure that will be needed to expand service in all three counties. With peak hour trains that are well over 100 percent capacity, Caltrain will need to offer more service to meet current and projected demand. The ability to operate expanded service is made possible by the Caltrain Electrification project, which is currently under construction. The Caltrain Business Plan is evaluating what infrastructure will be needed to operate the system's new electric trains and what service levels will be needed to meet ridership demand that is expected to increase by 300 percent over the next 20 years.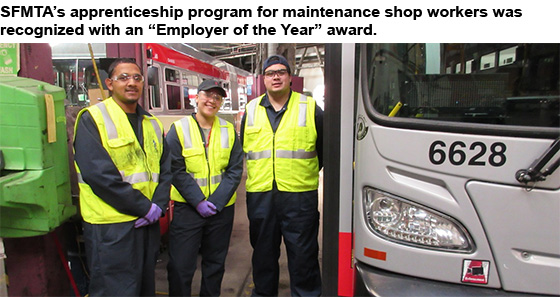 The poll identifies voters' top reasons for supporting a potential measure, with easing highway traffic congestion, reducing air pollution, and improving Caltrain frequency and capacity topping the list.
The poll was conducted in late March by EMC Research.
TRANSIT PEOPLE AND HAPPENINGS

SFMTA Wins "Employer of the Year" Award At Strictly Business Awards Luncheon
Earlier this month the San Francisco Municipal Transportation Agency (SFMTA) was awarded with an Employer of the Year Award during the Jewish Vocational Service's (JVS) Strictly Business Awards Luncheon. The 2019 "Employer of the Year" award was based on an apprenticeship program SFMTA has with mechanics. Partnering with the San Francisco Unified School District's Career Pathways program, students are hosted annually for a five-week career exploration experience in automotive and engineering trades. The event celebrated what's possible when people are able to build skills for in-demand jobs and transform lives.
JVS is a Bay Area job training nonprofit whose mission is to transform lives and strengthen the community by helping people to build in-demand skills and find jobs to achieve self-sufficiency. The group has helped more than 85,000 people since 1973. SFMTA is proud of this program and is looking forward to continuing this great partnership.