Bikes and Transit Celebrate
Transit operators experience at-capacity bike accommodations during Bike Month and beyond.
By Stephanie Jordan
Managing Editor
Transit California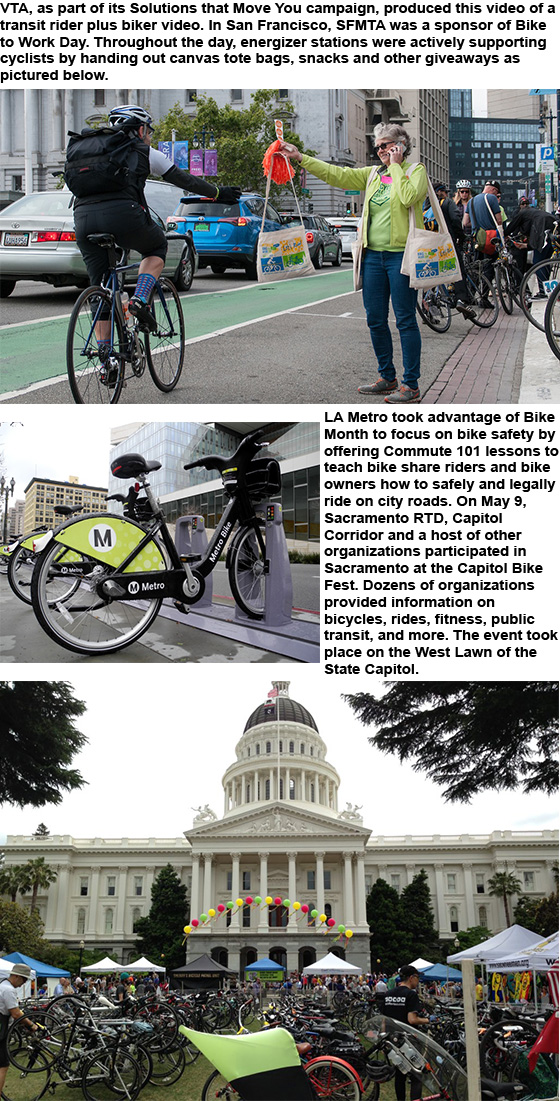 Public transit is a natural companion to bicycling, offering riders the ability to take their pedal power even farther and to reach their longer-trip destinations more quickly. May is National Bike Month and it is a great opportunity to highlight how public transit can support cyclists, both those that have their own wheels and those that take advantage of bike share programs.
What started as a single national Bike to Work Day in May of 1956 has expanded to an entire Bike to Work Week, with additional community bike events happening throughout the month across the nation. According to the national sponsors of Bike Month, the American Bicyclists, this year National Bike to Work Week was May 13-19, with Bike to Work Day designated as Friday, May 17. The American Bicyclists is an organization that was established in 1880 by over 100,000 cyclists from across the United States to advocate for better riding conditions through paved roads.
Many communities do not follow the national schedule, however, with California Bike to Work Day designated events happening on a variety of different timetables in May. For the public transit industry, bicycles are a viable solution to its customers' first-mile, last-mile challenge, and as a result, agencies are actively supporting the celebration of the bicycle. Here are a few examples of activities in recognition of National Bike Month.
Bikes + Transit
To celebrate National Bike Month, Omnitrans offered free rides to passengers with bicycles every Saturday in May. The Saturday free ride offer applied to all Omnitrans 35 bus routes, including freeway express and local bus routes, the sbX rapid line, and OmniGo community shuttles. The agency did require that the free ride offer be subject to bike rack space availability.
Thursday, May 9 was the 25th Annual Bike to Work Day for the Bay Area. Many Bay Area public transit agencies participated in the event through special pricing for riders with bikes, sponsoring energizer stations, and handing out goodies. Santa Clara Valley Transportation Authority (VTA), for example, hosted a very early Energizer Station at the Great Mall/Main Transit Center in Milpitas from 5 to 7:30 a.m., offering snacks, a tote bag, and a whole lot of support and encouragement to the morning biking commuters.
In celebration of Bike Month, several agencies participated in group-ride and tour events. VTA partnered with the City of San Jose, the Silicon Valley Bicycle Coalition, and presenting sponsor, Alaska Airlines in an annual Movers and Shakers Ride, a seven-mile journey along the scenic Guadalupe River Trail. Orange County Transportation Authority (OCTA) sponsored a three-mile recreational group ride at its seventh annual Bike Rally on Thursday, May 16 from 7:30 to 9 a.m. The ride started at the Orange Metrolink Station and ended at OCTA Headquarters, where snacks, a raffle and guest speakers greeted riders upon arrival. The bike riders were encouraged to pledge online to ride bikes anytime during May to receive a coupon to Jax Bicycle Center and be entered to win a Trek FX 2 bike or a Fitbit Charge 2.
Metrolink participated in Bike Month with a Twitter party. The Twitter chat was held on Tuesday, May 14 from 5 to 6 p.m. and featured giveaways including a brand new bike from DTLABikes.
LA Metro took advantage of Bike Month to focus on bike safety. The agency held its LA Metro Bike 2 – Rules of the Road Class, a free two-hour class for adults and teens that wanted to learn how to safely and legally ride on city roads. The class covered rules of the road, how to plan a route, and tips to make bicycling for everyday travel safe and convenient. At its El Monte Metro Bike Hub, the agency also offered a one-hour bike repair clinic with free bike inspections, air and lube for bikes, and Commute 101 lessons with the basics of riding safely and legally on LA streets.
During Bike to Work Week, on Wednesday, May 14, Yolobus joined in a Bike to Work Block Party, held in celebration of biking, with the City of Davis and U.C. Davis. Attendees that signed-up for MayisBikeMonth.com to log miles received a t-shirt and free lunch at the event, Yolobus gave away swag and shared information on how to combine bikes with Yolobus to travel even farther.
With so many bike enthusiasts that use its service regularly, Capitol Corridor participated in a number of Bike Month and Bike to Work Day activities. Perhaps one of the most eagerly-anticipated, and publicized as the only in-transit Bike to Work Day Happy Hour, is the train's annual Bike to Work Day Cappy Hour, this year held on May 9. Bike riders enjoyed discounted drinks on all trains between 3 and 8 p.m. that day. On Train 538 (which travels San Jose to Martinez) and Train 545 (Sacramento to Jack London Square) Capitol Corridor had complimentary food and official Bike to Work Day messenger bags for riders that rode their bikes to work, play, or wherever the day took them. During the Cappy Hour, Capitol Corridor staff was on hand to talk with riders about bikes, trains, and anything else related to Capitol Corridor service.
Bringing bikes onboard commuter trains is very popular all year long, perhaps too popular, with limited bike space being available. On Caltrain, every train is equipped with at least two bike cars. Due to the popularity of the onboard bike program, capacity for bicyclists is often a challenge. During Bike Month, cyclists were encouraged to choose local trains with lighter ridership to ensure that they would be able to board if they wanted to test out biking to work for the first time. Some express and limited stop trains normally operate at or near capacity for onboard bikes throughout the year. Each weekday, approximately 6,000 bicyclists take a bike on Caltrain, more than any other rail service in the country, says the agency. While biking and taking public transit can work well together for first-mile, last-mile connections, as well as getting people out of their cars and off freeways, cyclists bound for trains were warned several weeks in advance that onboard capacity was expected to be at its limit on Bike to Work Day.
Dealing with the Overload
Knowing bus bike racks could be at capacity, especially during Bike Month, many agencies were encouraging riders to consider bike share or storage as an option instead of bringing an owned bike onboard.
Caltrain, in addition to warning of at-capacity bike cars, actively announced that bikes could be rented at kiosks located at Caltrain Stations to promote bike share use. Customers with their own bikes were encouraged to park them whenever feasible at Caltrain stations, most of which offer bike racks, lockers and shared-access parking facilities.
Similar to Caltrain, Capitol Corridor is often at capacity with its bike-friendly accommodations, with 1 in 10 Capitol Corridor riders using a bike as part of their travel. More recently, the agency has expanded convenient bike storage at stations as well, to help alleviate the overcrowding of bikes onboard.
In the Bay Area, not only are bus and train bike accommodations stretched to capacity, so too is the Golden Gate Bridge, Highway and Transportation District ferry service. Most morning and afternoon Larkspur commute trips operate at capacity. The agency encourages its riders to instead use secure bike racks located inside the paid waiting area (which can accommodate up to 80 bikes), or use storage located outside the waiting area that accommodates an additional 60 bikes. Cyclists are also encouraged to ride the Sausalito or Tiburon Ferry, both of which have the capacity to accommodate more bikes onboard.
In 2017 the San Francisco Municipal Transportation Agency (SFMTA) launched GoBike. At that time over 400,000 rides were taken in San Francisco. In 2018 the expansion of GoBike and the addition of JUMP resulted in approximately 2 million rides and 501 bike racks installed. With thousands of people riding to work, the streets of San Francisco are constantly evolving as the City applies best practices and pilots different safety features. In 2018, 10 miles and 30 intersections were added or upgraded on the city's bikeway network. Of these, 5.5 miles received protected facilities, which are facilities that use a variety of methods for physical protection from passing traffic. Types of physical protection can include a parking lane, concrete/landscaped buffers or flexible soft-hit posts. As higher volumes of people riding bikes was expected on Bike to Work Day, a campaign was launched to make sure people understood how to interact with the newer street treatments, whether for traditional bikers, bike share, or autos.
Beyond Bike Month
The advancement of active transportation has become much more than a month-long celebration of the bicycle. As local events throughout California demonstrate during National Bike Month, bicycling and transit are a natural extension of one another and ever-increasing efforts are being made by both cycling organizations and transit agencies to improve and expand local bikeway networks.