TDA Revisited
Association Task Force Reviews 1971 Transit Funding Act with an Eye Toward Possible Changes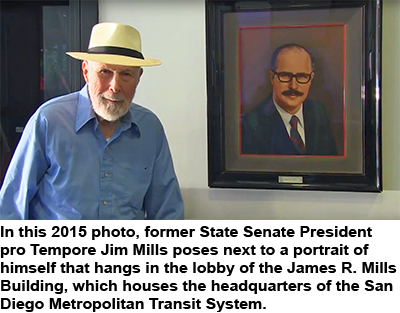 By Joshua W. Shaw
Executive Director
California Transit Association
Among the California Transit Association's top legislative priorities for 2019 is the review of a bill that was signed into law more than four decades ago, forming the foundation of state funding for public transit.
The Transportation Development Act (TDA), authored by then-Senate President pro Tem Jim Mills (D-San Diego) and signed into law November 4, 1971 by then-Governor Ronald Reagan, created the Local Transportation Fund (LTF), derived from 1/4 of 1-percent of the state sales tax on all goods (except gasoline), and allocated based on population in each county.
Today, the TDA provides two different funding streams and programs for which transit is eligible: the LTF (available for transit in every county, these dollars may be used for streets and roads purposes in certain rural counties, if it is deemed there are no unmet transit needs that are reasonable to meet), and the State Transit Assistance (STA) program (created in 1979), which is allocated on a formula basis to transit operators and regional agencies, and is now funded by a portion of the state's sales tax on diesel fuel.
While the TDA has evolved over the 48 years since its adoption, many observing the state's 21st century transportation landscape have raised the question of whether the law is due for an overhaul. That prospect entered the conversation formally last August, when the chairs of the legislative transportation committees, Senator Jim Beall (D-San Jose) and Assembly Member Jim Frazier (D-Antioch) requested the Association to spearhead a policy task force to examine the TDA.
In a letter to the Association, the transportation chairs specifically requested that the task force fully examine TDA's performance measures applicable to the state's public transportation systems, and produce a legislative recommendation for any reforms or changes to the current programs the task force chooses to recommend.
Spring Legislative Conference Program
To Provide Insight and Updates
on TDA Reform Task Force Work
Attendees at the California Transit Association's Spring Legislative Conference will get a first-hand update on the work of the TDA Reform Task Force. The conference takes place May 22 at the Citizen Hotel in Sacramento.
A panel presentation featuring task force members will report on the group's charge, as requested by legislative leaders, key points framing their deliberations, progress to-date, and what comes next in the process as they aim to complete their report this fall for possible legislative consideration in 2020. (This report will include updates on work achieved after the writing of this article.)
The Spring Legislative Conference agenda will also include a look at what the Air Resource's Board's Innovative Clean Transit regulation means for the future of transit fleets, an examination of the relationship between public transit and various housing proposals circulating in the Legislature and the Administration, and an overview of the Association's legislative priorities for the current year.
Register online to secure your spot at the Association's annual exploration of the most important legislative, funding and regulatory issues facing transit agencies today. Register by April 22 to take advantage of early discount rates.
Accordingly, the Association's Executive Committee authorized a subset of the members of the Association's State Legislative Committee to comprise the task force, as supplemented by representatives from selected agencies or regions that had sponsored legislation in 2017 to amend TDA statutes. A cross-section of public transit operators and regional transportation planning agencies, the organizations represented on the TDA Reform Task Force are:
Central Contra Costa Transit Authority
Golden Empire Transit District
LA Metro
Long Beach Transit
Metropolitan Transportation Commission
Monterey-Salinas Transit
Orange County Transportation Authority
Riverside Transit Agency
Sacramento Regional Transit District
San Diego Metropolitan Transit System
San Mateo County Transit District
Santa Clara Valley Transportation Authority
Santa Cruz METRO
Santa Monica's Big Blue Bus
Stanislaus Council of Governments
San Diego Association of Governments
Victor Valley Transit Authority
Aiming to complete its report this fall, for possible legislative consideration in 2020, the task force has met twice to date. At its February kickoff meeting, the group adopted principles to guide its work. Among them is the intent to use this conversation about TDA and public transit to focus not only on how to improve the current TDA performance measures – farebox recovery ratio for LTF; and operating cost per hour operator eligibility criteria for STA Program funds – but also to educate and engage state policymakers on the question of how the state, transit agencies and other stakeholders could collaborate to understand and begin to work towards breaking down the barriers to greater public transportation use in California.
The task force also identified a "critical path question" that must be addressed through this process: should the existing performance measures simply be amended, or replaced entirely?
At its March meeting, the task force invited a transit planning consultancy, Jarrett Walker + Associates, to present an overview of the various trade-offs facing transit governing boards, policymakers and communities – any one of which makes it difficult to pre-determine one performance metric that could be used to measure an agency's progress towards its community's (often disparate) goals.
For instance, when determining how best to allocate its limited resources, a transit agency's leadership and community stakeholders are often faced with the question of whether to fund services that aspire to maximize ridership, versus services that provide lifeline or minimal service to everyone in the community (often referred to as the "ridership" vs. "coverage" dichotomy). While one performance metric may tell the community a lot about whether the agency is achieving its ridership goals, that same metric may ignore or mask the agency's efforts to (and the cost of service to) maintain coverage.
The March meeting also included input from a variety of state-level stakeholders – including associations representing cities, counties, rural planning agencies, and councils of governments; the California State Transportation Agency; Caltrans' Division of Mass Transportation; and, legislative transportation committee consultants staffing Chair Beall and Chair Frazier. The task force also heard presentations from agencies in two regions where local transit operators are facing particularly acute challenges complying with TDA's performance measures.
To support the task force's work, the group also reviewed the request of legislative leaders who've asked the UCLA Institute of Transportation Studies to gather and analyze data that could be useful to the effort and to policymakers considering the task force's (future) recommendations. The task force heard an update on two distinct research projects by UCLA ITS:
A survey of public transit agencies, with input from regional transportation planning agencies, to determine which agencies face challenges in complying with either or both of TDA's performance measures, and some qualitative assessment of the nature of the challenges and possible solutions.
A survey of transit funding performance measurement systems utilized by other states, accompanied by a qualitative assessment of any particular system's possible fit with California's transit environment and different state policy goals.
The UCLA ITS reports are expected to be finalized this summer.
The task force concluded its March meeting by directing staff to set up and run two different but parallel processes:
A "nuts & bolts" examination of how TDA's performance metrics currently work, and how different statutory iterations of the same basic measures apply differently to agencies in different circumstances (e.g. rural vs. urban; rail vs. bus; older agencies vs. newer agencies; etc.). The result should be a more uniform understanding by all task force participants of the challenges and opportunities inherent to the current system, which may, in turn, inform the "amend vs. replace" question facing the task force.
Development of some alternative concepts the task force could consider for possibly replacing the current TDA performance metrics, should that turn out to be the decision ultimately derived from the task force process.
The juxtaposition of these two processes and products is expected to help illuminate for the task force the advantages and disadvantages of walking down either the "amend" or the "replace" path. We will continually report to you on the task force's progress (see sidebar).
Tackling the complexities of the Transportation Development Act, and going about crafting recommendations for possible future legislative action, is a monumental undertaking. It is not yet clear whether the task force will even be able to generate consensus amongst its own membership for the changes that could or arguably should be made – much less that unanimity of opinion will be obtained amongst the wider California Transit Association membership, once the task force's initial draft recommendations are finalized and released.
This effort is already as much about politics as it is about transit funding policies. With these challenges squarely in mind, and suspecting it's likely that every single public organization participating in the California transit funding process wants to be involved in (or at least hear more about) this TDA reform effort, one element of the task force's adopted work program calls for a more thorough process of receiving and vetting Association member input; look for announcements later this summer, after the task force has had a chance to dive deeper into the TDA thicket, for possible webinars and/ or face-to-face workshops to which all members will be invited to participate.
In the meantime, please direct any questions about the task force process to me or the Association's advocacy team.