Reimagining Rail
Metrolink's Vision for Train Travel in Southern California is Moving Closer to Reality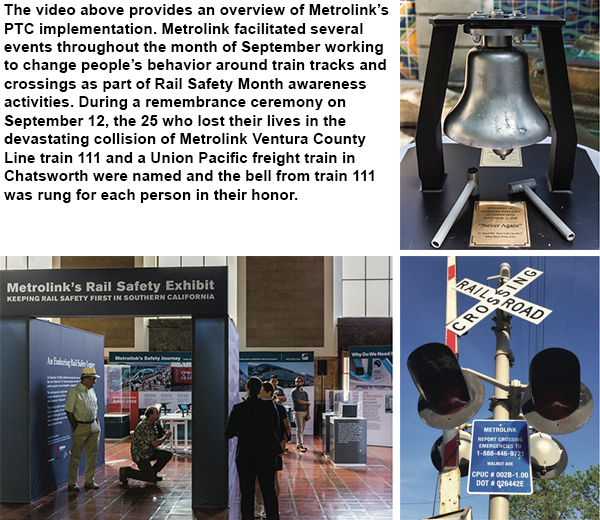 By Stephanie Jordan
Managing Editor
Transit California
According to Operation Lifesaver, Inc. a non-profit organization providing public education programs on rail safety, about every three hours a person or vehicle is hit by a train in the United States. Tragically, California had the highest number of trespass fatalities and casualties in 2017 in the country, while ranking second in the nation in crossing incidents. It is because of such statistics that September is California rail safety month. Trains today are bigger, faster, and quieter than ever before, and there are many tragic stories of lives forever changed by accidental or purposeful collisions with trains.
September 12 marked 10 years since the devastating collision of Metrolink Ventura County Line train 111 and a Union Pacific freight train in Chatsworth. Twenty-five people lost their lives and another 135 were injured. In remembrance of the lives lost and forever changed, Metrolink leadership, staff, elected officials, industry leaders, first responders and family members and friends gathered at L.A. Union Station last month to share how the tragedy changed their lives and the impacts it made to Metrolink and the rail industry. The 25 who lost their lives were named and the bell from train 111 was rung for each person in their honor.
"Metrolink vowed to take all steps to be the safest railroad in the nation to ensure an incident like that didn't happen again," states Art Leahy, Metrolink Chief Executive Officer. "Over the past 10 years, we have been a leader in rail safety and creating a culture of safety throughout the agency – where every employee and contractor are committed to the highest levels of safety possible."
Leahy notes that Metrolink has led the nation in the implementation of many life-saving technologies including Positive Train Control, the installation of inward and outward facing cameras and collision-absorbing Crash Energy Management technology on both its passenger cars and the new Tier 4 locomotives.
"We will never forget the 25 people who lost their lives in the incident, the victims who suffered injuries or others who were impacted by this tragic incident," promises Leahy. "Their memory propels us to be the safest railroad possible."
Looking Forward
Earlier this year, Metrolink introduced a new vision for the future of the Southern California Rail System: Southern California Optimized Rail Expansion (SCORE).
SCORE is a $10 billion, 10-year program that will improve the L.A. region's rail system which also eases the region's worsening traffic on the nation's busiest freeways, reduces emissions and helps freight move more freely on local freeways and rail corridors to support local economy and jobs. Southern California is a growing region with affordable housing moving further from dense job centers, forcing more people to commute daily.
By improving the rail system, Metrolink can provide more frequent, reliable and faster passenger rail service throughout the region, providing a viable alternative to crowded freeways, while allowing Metrolink and Amtrak to steer enough drivers off crowded freeways to ease congestion and reduce emissions.
An estimated 3.4 billion vehicle miles traveled will be removed, as drivers switch to trains and 51.6 million metric tons of greenhouse gases will be avoided. Dedicated track for freight trains also will be added in key corridors where track is now shared by commuter trains. This will clear bottlenecks, which cause delays for freight trains that pass on costs to customers. It also enhances safety and saves lives.
"Metrolink has been awarded $876 million in grants from the State's Transit and Intercity Rail Capital Program (TIRCP) to make the Southern California Optimized Rail Expansion (SCORE) program a reality," says Leahy. "Of this $876 million grant, we have received $6.5 million from the California Transportation Commission to begin designing, rail operations modeling and start environmental assessments on the first projects to kick off the SCORE program. These projects include improvements at L.A. Union Station, dedicated passenger tracks between Los Angeles and Fullerton, platform and station upgrades and better train-to-train transfers."
All counties in the Metrolink system will benefit from targeted investments, such as major track additions, new signal and switch improvements, station upgrades and maintenance facility enhancements. These will allow all day, bi-directional service with 15-30 minute frequencies across the region not just to Los Angeles, but also between suburban areas connecting Orange County to Riverside and San Bernardino counties. Among other SCORE benefits, safety enhancements at crossings will enable Quiet Zone designations, where horns are not routinely blown at rail crossings throughout Southern California.
Nearly $1.2 billion in regional rail improvements are already approved by the state. These funds can be leveraged to secure other local, state and federal dollars to fund the entire SCORE program. The projects chosen in the first round were recommended by the state based on a regionally focused goal of a quick increase in service levels for critical areas across the system.
SCORE is a joint vision of LOSSAN, Amtrak, Metrolink, California High Speed Rail and freight railroad interests for rail operations in Southern California. Passenger, intercity, freight and future high-speed rail operators all came together to create the vision. Without targeted investments, the rail system will not be able to meet the expected demand in future years, risking slowed freight and passenger services and more congestion.
TIRCP grant funding comes from the Greenhouse Gas Reduction Fund and Senate Bill 1 to fund transformative capital improvements that will modernize the state's transportation infrastructure. It is anticipated that SCORE will improve rail safety and service in time for the 2028 Los Angeles Olympic Games.