On Board With... Jennifer M. Granholm
Former Governor of Michigan,
and California Transit Association 53rd Annual Fall Conference & Expo Keynote Speaker
Governor Jennifer Granholm served two terms as Governor of Michigan, leading a state with a $40 billion annual budget and over 55,000 employees. After leaving public office, Granholm began teaching courses in law and public policy at University of California, Berkeley, where she continues to serve as faculty. Granholm is currently a Managing Partner of RIDGE-LANE LP, where she leads the firm's Sustainability practice. She also teaches policy at the Goldman School of Public Policy at the University of California, Berkeley, is a Senior Research Fellow at the Berkeley Energy and Climate Institute and a Senior Fellow at the Berkeley Center for Information Technology Research in the Interests of Society.
In addition to her work at Berkeley, Granholm is a member of the advisory board at The University of Chicago's Institute of Politics. Granholm is a Senior Political Contributor to CNN and serves on the board of directors of Proterra and Marinette Marine Corporation.
---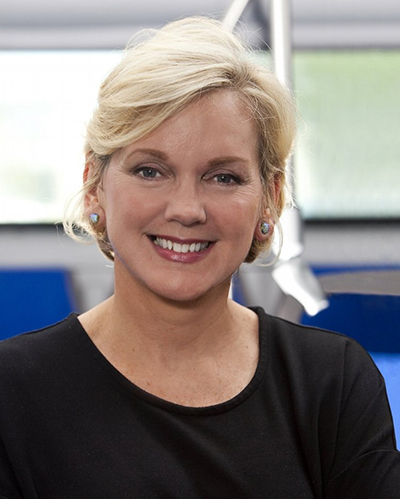 Transit California:
You were the first female governor of the State of Michigan, where you served two terms from 2003 to 2011, right at the height of the 2008 recession and during auto industry bankruptcies. What was your focus during that time?
Jennifer Granholm:
Michigan is the home of the American auto industry, and it has suffered horribly over the past 50 years due to changes in technology and international trade. As governor, I pioneered clean energy innovation, economic development, and led the state through the national crisis in the turn-around of the American automotive and manufacturing sectors. I helped to lay the ground for the improvement in Michigan's economy after the auto industry bankruptcies with bi-partisan efforts that engaged the private sector, fostered critical partnerships between industry, government, and researchers, and created economic incentives in battery manufacturing, bio-energy, solar and wind power.
Transit California:
Energy is an area of keen interest to you. When do you predict renewable energy will be more economical than fossil fuels?
Jennifer Granholm:
I see it today. Installed wind power today is cheaper than stuff powered by coal or even than natural gas in many cases, the price of natural gas having bumped up a bit. When you think about it, wind is free, the sun is free; it's just a question of how you get the technology in the ground and how you pay for those upfront costs of the turbines or the solar panels. But the cost of solar, the cost of batteries to store energy, and the cost of wind has dropped so dramatically in the first decade of this century that today it is cheaper than fossil fuels.
You're going to see that economics, in many cases, will cause this flip to happen, just because it's cheaper. The reason why it hasn't gone below fossil fuels in every case is often because of geographic barriers – maybe there's not enough wind, maybe it's too far removed from the grid. But the bottom line is we're going to get there. I don't know that everything is always going to be powered by 100 percent renewable. That's probably unrealistic. But I think by 2030, maybe 2040, you're going to see a huge leap in energy powered by renewables.
Transit California:
At the 53rd Annual Fall Conference & Expo, you spoke about driverless cars and a not-too-distant future where gasoline-powered engines disappear and we all travel in electric, driverless cars. It is an exciting time, but also one of a lot of change and concern for how these changes might impact today's workforce.
Jennifer Granholm:
In the last decade, there has been a lot of talk about robots and automation and how much displacement has occurred. According to a recent MIT study, 670,000 manufacturing jobs have been lost to robots in this century so far. I understand there is fear we are going to see massive unemployment as a result of automation.
But I want to give some hope.
The classic example of automation being introduced and replacing jobs was the automated teller. Since ATM's were widely deployed in the late '90s, are there more or fewer bank tellers? It would make sense that there would be fewer, right? But since 2000, the number of full-time bank tellers actually increased 2 percent per year. Meanwhile, the entire labor force grew at a rate of just 0.6 percent per year. It means MORE bank tellers are being hired! How can that be? It is obviously cheaper to have an ATM than a bank teller. But what happened is banks saved money on the ATM and were able to reinvest that money by opening up more bank branches. As for the tellers, they are able to do more sophisticated operations than deposits and withdrawals. Today, there are more bank tellers than there were before the advent of the ATM.
Another good example is the barcode reader. From 1980 through 2013, full time equivalent jobs for cashiers have grown at an annual rate of 2.1 percent. We see more cashiers as a result of the advent of the technology rather than less.
Transit California:
You have been known to liken our current technology revolution to the first industrial revolution and the changes that came with it.
Jennifer Granholm:
In the 19th Century, power looms automated 98 percent of the labor needed to weave a yard of cloth. Did the loom put weavers out of work? No. Before the power loom, fabric was super expensive. Most people had one or two suits. It was all that they could afford. There was great fear that the factory loom was going to eliminate hand-weaver jobs. Instead what happened was the number of factory weaving jobs increased by 400 percent over this period. The cost of clothing dropped significantly, allowing the demand for clothing to increase.
I do take these examples as a bit of hope when we consider automation and jobs, because these are not isolated instances. James Bessen at Boston University studied the impact of computers, software, and automation on 317 occupations from 1980-2013. He found, in most cases, each one of those jobs saw employment grow significantly faster in occupations where technology was introduced into the profession.
Transit California:
As you say, Michigan is the home of the automobile industry. The people of Michigan must have concerns about the driverless car. What do you think will be the outcome?
Jennifer Granholm:
There is concern for what driverless cars (or autonomous vehicles) mean to those particular players in the auto industry and the people that work in the industry. One of the things I have been talking to people about is what are the opportunities that will come with the advent of the driverless car? Parking issues could change, because autonomous vehicles could be a part of a service, so you won't need to park right in front of your house. Streets could become much less congested as a result of car sharing. Maybe there will be less of a need for insurance? There are a lot of positives that could come as a result of the driverless car.
Transit California:
What about people who are making their living as drivers?
Jennifer Granholm:
There has been a lot of speculation about what autonomous cars will do for drivers. There are about 5 million people that make their living driving (taxi, truck drivers, public transit operators, etc.). It's about 3 percent of the workforce. It has been described as about the same size as the decline in manufacturing jobs since 2000 and about as comparable of potential shock. That is really significant; it is a huge deal. And it is already starting to happen.
More than a year ago, Otto, which is owned by Uber, drove their first beer truck without a driver at the wheel. The trucking industry loves this idea, there is no need to pull over to sleep, make stops, etc.
Transit California:
But what of the worker?
Jennifer Granholm:
Enrico Moretti, who is the Michael Peevey and Donald Vial Professor of Economics at the University of California, Berkeley, estimates that every new job in the tech sector has the potential to generate five complementary jobs elsewhere. We don't know what those jobs are. In fact it is hard to imagine what those jobs are.
Again, here is some hope for workers. The Gutenberg Printing Press is an example. Who could have foreseen that the press would cause the need for another product: eyeglasses! The mass publication of books and printed material meant that people wanted to better see the pages. Eyeglasses then led to the invention of the telescope and the microscope.
Transit California:
So you believe there will be more opportunity, and not less, if history repeats itself. What complementary need do you think we'll see with the driverless car?
Jennifer Granholm:
Who knows what might be the autonomous vehicles complementary need? Think about all the products that will go into the autonomous vehicle. What's going to happen in jobs like logistics, charging, networking, or construction? There is a whole realm of unknown possibilities, because it is not here yet. But they will come.
Transit California:
Transit California readers can learn more about Governor Granholm and her thoughts on driverless cars, renewable energy and more by visiting her website, jennifergranholm.com.