On Board With... Victoria Stackwick
Principal Legislative Analyst, San Diego Association of Governments
Victoria Stackwick is the Principal Legislative Analyst in the Office of Government of Relations for the San Diego Association of Governments (SANDAG). She serves as a liaison for the agency and the federal government. Prior to her work at SANDAG, Victoria served as a policy advisor on Capitol Hill in both the House and Senate. Victoria holds a Bachelor of Arts in Political Science from Virginia Wesleyan College and a Master of Arts in Government from the Johns Hopkins University. She's been working for SANDAG for 12 years, lives in Scripps Ranch with her husband Mark and three-year-old son George.
---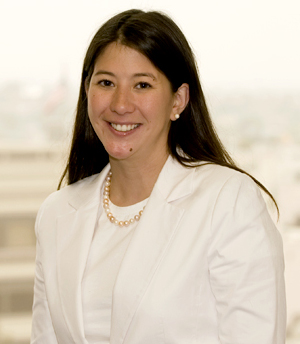 Transit California:
What is SANDAG and what is the organization's purpose?
Victoria Stackwick:
A regional agency that leads planning and transportation efforts, the San Diego Association of Governments, or SANDAG, is comprised of 18 cities and county governments. This public agency serves as the forum for regional decision-making. SANDAG builds consensus; makes strategic plans; obtains and allocates resources; plans, engineers, and builds public transportation, and provides information on a broad range of topics pertinent to the region's quality of life.
SANDAG is currently leading an effort to develop a plan for our region that will support future population growth, jobs, housing, and infrastructure. This vision will connect neighborhood centers with real transportation choices, giving people the option to walk, bike, or take transit in addition to driving a car. The decisions we make now will be critically important for the next generation. Working with our communities, SANDAG will create the framework to guide future investment to support a healthy environment, a vibrant economy, and a high quality of life for all.
Transit California:
What is your role at SANDAG and what is your current focus?
Victoria Stackwick:
I manage the Office of Government Relations. We act as the agency liaison to other government bodies for issues confronting the region. My office provides strategic direction to inform agency decisions.
What makes us unique is the large binational component to our operation. We work very closely with our counterparts in Mexico. San Diego is home to the busiest land port of entry in the world – San Ysidro. Due to severe traffic congestion at the border, the region is losing about $7.2 billion annually in economic activity. Governing bodies on both sides of the border are actively looking for solutions.
SANDAG and Caltrans, along with a number of key local, state, and federal agencies in the United States and Mexico, are working aggressively to expedite the construction of an innovative port of entry in the San Diego-Baja California region with the objective of dramatically reducing border wait times.
The SR 11/Otay Mesa East POE is a flagship border infrastructure project that will enhance sustainability and binational prosperity. More than 90 percent of total trade between California and Mexico is transported by trucks, which seek the greater reliability and predictability that the new POE will provide. The POE would utilize a dynamic tolling system – similar to the highway FasTrak Managed Lanes program.
The project is one of many collaborative initiatives between SANDAG and Mexico.
Transit California:
What major projects are included under TransNet, the voter-approved countywide half-cent sales tax for local transportation projects, first approved by voters in 1987 and then extended in 2004 for another 40 years?
Victoria Stackwick:
TransNet is funding the $2.1 billion Mid-Coast Trolley Extension project. In 2016, the FTA authorized a Full Funding Grant Agreement for half the cost. Once that happened, major construction began along the entire 11-mile extension. This includes freeway crossovers and an elevated guideway through the heart of San Diego's second largest business corridor. This 11-mile extension is one of the highest priorities for SANDAG in its TransNet Early Action Program. Primary construction started in fall 2016, and service is anticipated to begin in 2021.
South Bay Rapid is the latest route to the San Diego Metropolitan Transit Syst5em (MTS) bus rapid transit network that is slated to open later this year. It's a $128 million TransNet project that includes 12 stations and spans 26 miles. South Bay Rapid will connect the Otay Mesa border to downtown San Diego. It will also serve the rapidly growing communities in the border region. At the heart of the project is the dedicated transit guideway – a nearly six-mile-long transit-only lane being constructed in the roadway median.
In March, we celebrated the grand opening of San Diego's two freeway-level bus stations called the Centerline stations. The $65 million TransNet-funded project provides a 2.5-mile dedicated bus lane on State Route 15. So far feedback has been positive. It has helped MTS' on-time performance during the peaks and has made trips quicker for passengers.
Transit California:
How many other TransNet projects are shovel ready or underway currently?
Victoria Stackwick:
We have more than 200 other projects totaling $3.3 billion, currently under construction.
Transit California:
SB 1 could bring about $100 million to the San Diego area per year. What opportunities are being pursued with this funding?
Victoria Stackwick:
SB 1 couldn't have come at better time. SANDAG has worked hard to use TransNet investments to get projects ready. Because of this, we are poised to be able to use SB 1 dollars to start construction in the coming months on major transportation improvements to our region.
The San Diego Region has been awarded more than $555 million as a result of SB1 with another $311 million pending approval from the California Transportation Commission.
$220 million for Caltrans projects, including fixing bridges and repaving
$336 million as of March, primarily for the extension of HOV lanes on Interstate 5 between Manchester to the 78 and bike paths adjacent to the freeway, plus environmental and design work for connector projects throughout the region
$101 million for double tracking along Lossan Corridor and other North County Transportation District transit improvements along that route
$14 million for bike lanes and sidewalks in Vista, Imperial Beach, Chula Vista, El Cajon, Encinitas, National City, Chula Vista Elementary School District, and the County
$47 million for basic road maintenance and safety projects on local streets spread out throughout all cities and the county. ($35 million from formula local streets and roads plus $12.5 million competitive funds Escondido is recommended to receive for Citracado Parkway)
$50 million for local public transit systems run by MTS, including upgrades
$89 million for improvements at the border, most notably to support the construction of the new port of entry at Otay Mesa and new state Route 11
$5 million for environmental upgrades at the 10th Avenue Terminal, including efforts to electrify cargo handling equipment
$2 million for the Freeway Service Patrol (FSP) program, a free service of privately owned tow trucks that patrol designated routes on congested urban California freeways for the expeditious removal of disabled/stranded vehicles from the freeway as rapidly as possible, which has shown to have a positive impact on traffic volume
Lastly, $2 million for Planning Grants.
These investments, totaling $866 million, will allow San Diego region to maximize ongoing local and federal investments to deliver projects that balance transportation, environmental, and community enhancement improvements to reduce congestion and GHG emissions, improve access to transit and jobs, and create opportunities for neighborhood enhancement.
Transit California:
If SB 1 were to be successfully repealed, what would that mean to these, or TransNet, or other SANDAG projects?
Victoria Stackwick:
The projects that were considered for receiving SB 1 funds are priority projects for San Diego. Repeal of the gas tax would delay resources to fund these critical projects and as a result it could take longer to deliver the improvements.
SB 1 also is important new source of formula funds both for local jurisdictions and transit operators. Cities are anxious to use these dollars. Taking them away now could cause local streets and roads projects to be delayed.
Transit California:
What did the 2016 Measure A failure, which received support from "only" about 57 percent of voters in the region, mean to SANDAG? Is there a plan to try another half-cent sales tax to fund public transit and freeway projects in the near future?
Victoria Stackwick:
The 2/3 vote threshold necessary for tax measures to pass can be a very difficult hurdle. Measure A, as proposed, included billions for transit and highways. The defeat of Measure A allowed the region to have an honest dialogue about the long-term needs of our infrastructure system. As a result, the transit operators, MTS and NCTD, are now able to consider levying taxes based on service area. This provides an additional tool for the region to generate new resources.
MTS is in early stages of planning for a 2020 ballot measure. Some informal estimates predict the agency could generate $200 billion in revenue annually and add substantially to its current $280 million budget.
Transit California:
If Transit California readers would like more information about you or SANDAG, what is the best way to reach you?
Victoria Stackwick:
I look forward to connecting with my colleagues. Please do not hesitate to contact me by email at victoria.stackwick@sandag.org or call (619) 699-6926.