OCTA 360°
Orange County Agency Addresses Declining Ridership From Every Angle
By Darrell E. Johnson
CEO, Orange County Transportation Authority
The Orange County Transportation Authority, faced with several years of sharply declining transit ridership similar to trends experienced throughout the county and especially in Southern California, faced a crossroads: We could either shrug our shoulders and keep doing business as usual, hoping ridership trends would reverse. or we could dig deep and work hard to better understand and address the problem to better serve existing riders and attract new people to public transit.
With the leadership of our 17-member board of directors, OCTA chose the latter approach in an ongoing effort we call OC Bus 360°. In other words, we are exploring the issue of declining ridership from every angle, to determine what makes the 34 cities with a population of 3.1 million people that we serve unique, and to make substantial – sometimes difficult – changes.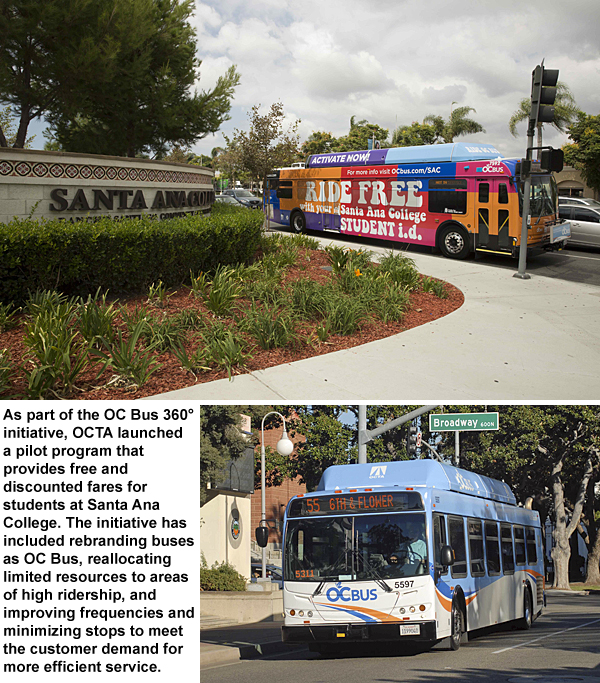 We haven't discovered a panacea, but OCTA has begun to see positive results from the changes being made, seeing a slowing in the overall ridership declines and strong ridership gains in the areas where we've improved service.
The problems OCTA experienced in declining ridership date back a decade. Between 2008 and 2016, OCTA lost more than 20 million boardings, a reduction of about 30 percent of our overall bus ridership.
Through OC Bus 360°, we surveyed existing riders, non-riders, and former riders, and held community meetings throughout our county to solicit feedback. What we heard repeatedly is that buses need to run more frequently and get riders to their destinations faster.
In the summer and fall of 2016, OCTA implemented the first major changes under the plan, which included:

• Putting limited resources where they're most needed
• Reallocating service from the least productive routes
• Adding service where there is the highest demand
• Increasing bus frequencies
• Improving travel times
• Creating a more efficient and cost-effective transit system
Under the plan, 92 percent of riders saw improved service or no change to their existing service. But this also meant making some difficult decisions to reduce or eliminate service in some areas throughout Orange County where buses had low ridership.
It didn't make sense in some places in South Orange County, for instance, that aren't as densely populated to continue running buses that were nearly empty. So OCTA has worked with those communities affected by reduced service to find alternatives, including working with ride sharing companies and implementing smaller shuttle buses to still get people where they need to be.
At the same time, OCTA implemented more bus service in communities where the bus system is highly used – core ridership communities such as Santa Ana and Anaheim.
In June 2016, OCTA implemented Bravo! Route 560, from Santa Ana to Long Beach. It mirrored the route of one of OCTA's most popular, Route 60, but made it an express bus route with more frequent service during peak hours and fewer stops along the way. A bus trip that once took 90 minutes from end to end became up to 15 minutes faster.
Frequencies were improved on at least seven other core routes.
Other measures included: delivering service in the most efficient way – whether that meant a full-size bus, providing community circulators and vanpools, or matching people with carpools.
We adjusted the fare structure, added real-time passenger information, rebranded our OC Buses and implemented mobile ticketing to make purchasing fares easier. Since the OC Bus mobile-ticketing app was introduced in summer 2016, more than 76,000 riders have downloaded it, with 300 new app users on average per week. Mobile-ticketing readers were activated on all fixed-route buses in February, eliminating the need for coach operators to visually approve each pass, which speeds up the boarding process.
While overall ridership continues to be a challenge, OCTA has seen positive gains in areas where the agency has focused on improving service through the OC Bus 360° program.
The next year in Orange County, overall bus ridership declined 3 percent compared to the same period a year earlier. But that's a slower decline than the nationwide average of a 4.2 percent ridership drop.
More specifically, OCTA saw bus ridership increase nearly 20 percent (19.6 percent as of September 2017 compared to a year earlier) on routes in core areas of the county where service was improved. As of March of this year, the improved routes collectively had 11,700 average weekday boardings – about a 15 percent increase over the same period a year earlier.
Other elements of the OC Bus 360° plan also are showing positive results, including the introduction of additional transportation options.
In August 2017, OCTA introduced a pilot program at Santa Ana College, located near several of our busiest routes, that allows all students with a valid student ID to ride the OC Bus system for free for the first year and for a minimal fee ($6.75 for full-time students and $5.75 for part-time students) the second and third years of the program. So far, the program has proven to be a strong success. In the first four months of the program, there were 10 OC Bus routes running near the college that recorded an average of more than 100 weekday boardings through the Santa Ana College pass program.
On several of those routes, college pass users make up a good portion of the route's overall ridership. For instance, on Route 60 (from Long Beach to Tustin), there were an average of 1,100 college-pass boardings each weekday, which was nearly 10 percent (9.4 percent) of the route's overall ridership.
We are also excited about other innovations. This summer, OCTA will launch a microtransit pilot program – called OC Flex – in two regions of our county where fixed-route bus service was reduced or eliminated. Through that program, which will operate in areas of Huntington Beach, Laguna Niguel and Mission Viejo, smaller vehicles than the traditional 40-foot bus will provide on-demand transit services, allowing people to share the ride to their destinations.
Through the county's half-cent sales tax for transportation, known as OC Go, OCTA will solicit interest from local cities to provide shuttle services to serve specific transportation needs to special events, and to popular retail and employment destinations in their area.
At the same time, OCTA continues to develop its first modern electric streetcar, providing the county's residents, workers, and visitors with another exciting transit option. Known as the OC Streetcar, six streetcars will operate on 4.2-mile route through Santa Ana and Garden Grove. Located in one of the most densely populated cities in the nation, the OC Streetcar will connect riders from the train station serving the county seat, making stops in Santa Ana's thriving downtown and at popular employment and retail destinations along the way.
OCTA, as with transportation agencies everywhere, will no doubt continue to face steep challenges to attracting riders. But we believe that with continued focus and hard work toward providing convenient, affordable service and innovative changes, we will meet those challenges and can keep Orange County moving aboard public transit.