No on Prop 6!
Join the Coalition to Defeat the Attack on Public Transit Funding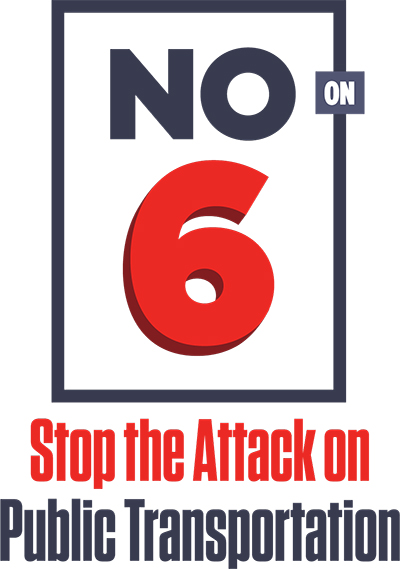 By Matt Robinson
Legislative Advocate
California Transit Association
The California Transit Association and its members were part of a large coalition of transportation stakeholders that successfully worked for the passage of Senate Bill 1 (Beall and Frazier) in April of 2017. Passage of SB 1 was long overdue – California's public transit agencies specifically, and transportation system in general, are woefully underfunded – and passing this legislation was nothing short of monumental.
From the public transit perspective, SB 1 will provide more than $700 million annually in new funding for transit programs and services, allowing transit operators to expand services and operations. Some SB 1 funds are dedicated exclusively to public transit purposes; transit agencies are eligible to compete for other, multi-modal SB 1 funds. Of the $5.4 billion generated by SB 1 annually, about 20 percent is dedicated to or available to California's public transportation agencies, per these funding programs: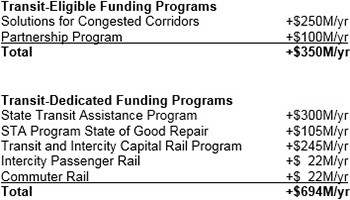 As you can see, SB 1 is literally a game changer for public transit agencies and the businesses that support them, as well as for millions of Californians that rely on public transit services for their mobility, access to jobs, medical care, and overall quality of life.
We Could Lose It All
Unfortunately, we risk losing all this progress unless we defeat Proposition 6 on the November 2018 ballot. The truth is partisan politicians placed Proposition 6 on the ballot to help them win electoral seats. The measure is shortsighted and dangerous, jeopardizes the viability of public transportation, and threatens the safety of California's roads, bridges and transportation infrastructure for decades to come.
Unless we defeat Proposition 6 this fall, we are facing a bleak future. Funding for public transit and transportation will once again be put on the back burner, and public transit riders and California motorists will pay the price through a transportation system that continues to crumble, with roads, bridges, and freeways that are less safe and more congested.
No On 6 Campaign
A broad coalition of more than 230 organizations, ranging from the California Transit Association to the California Professional Firefighters, the Sierra Club to the California Chamber of Commerce, have come together to defeat this attack on the safety of our transportation system.
The coalition has come out of the gates swinging – announcing a strong, well-funded effort to defeat Proposition 6 by educating the voters of the perils of its passage. The coalition is grateful to have the leadership of Governor Jerry Brown, Lieutenant Governor Gavin Newsom, and many other elected state and local leaders, as well as community leaders committed to ensuring its defeat.
In his January State of the State address, Governor Jerry Brown made a strong commitment to protect the new transportation improvement package: "I will do everything in my power to defeat any repeal effort that may make it to the ballot. You can count on that!"
The message to the voters is simple: Do we want to take our state backward, and do we want to jeopardize the safety of our bridges, roads, and public transit systems?
According to the California State Transportation Agency, there are more than 6,500 local transportation improvement projects currently underway in every California community, including:
more than 400 improvements to public transportation operations and services including buses and rail,
3,000+ projects fixing potholes and repaving crumbling, unsafe roads,
hundreds of projects relieving traffic congestion, and
repairs or replacement of more than 500 bridges and overpasses.
If Proposition 6 passes, construction will come to a grinding halt in hundreds of cities and counties, wasting money and making road conditions even worse.
According to Joshua W. Shaw, Executive Director of the California Transit Association: "Prop 6 would stop public transportation improvements, including projects expanding urban light rail, commuter and intercity passenger rail lines, and new bus service. The measure would also make it harder for California public transit agencies to purchase new, cleaner-fueled busses and rail cars. This measure hurts hard-working families that depend on public transportation, as well as all Californians by making traffic congestion worse and degrading air quality."
Join the Fight
Voters overwhelmingly passed Proposition 69 in June, preventing the Legislature from raiding transportation funds and ensuring these funds are only used for transportation improvements. Proposition 6 would eliminate transportation revenues that are accountable to taxpayers, that can't be diverted, and that voters overwhelmingly dedicated to fixing our transportation infrastructure. It is an affront to the will of the voters.
Defeating the attack on SB 1 will take substantial resources and a well-executed campaign to educate the voters. We need the active participation of public transit advocates, as well as partners from labor, the environmental community, local governments and many others.
The No on Proposition 6 campaign is working hard with our many coalition partners to wage a strong campaign to stop this measure. We need your support.
Visit the campaign website at www.NoProp6.com and the California Transit Association's Proposition 6 – Senate Bill 1 Repeal web portal to learn more and get the latest information and materials to help defeat Proposition 6.
We cannot and will not let Proposition 6 pass. We must stop this attack on the viability and safety of our roads, bridges, and public transportation system.
---
EDITOR'S NOTE:
As a reminder, public agencies are NOT allowed to use any public resources to advocate in support or opposition to ballot measures. Public agencies MAY take a position for or against ballot measures, and public agency staff may communicate those positions to the public, as well as describe the impact of a measure's passage or defeat. We advise that public agency representatives please exercise caution when visiting websites or using materials associated with the campaign against Proposition 6. We suggest that you do not forward this article or publish it on any public site or interface. As always, we encourage you to check with your own legal counsel.
Get more information regarding public agency participation in a ballot measure campaign.