Consensus and Transparency
Transit Agencies Use Both Modern and Old-Fashioned Strategies to Engage Communities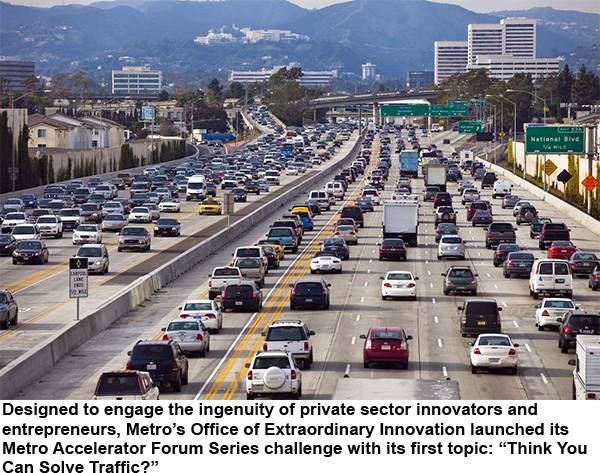 By Stephanie Jordan
Managing Editor
Transit California
Over the past few years, California public transit agencies of all sizes have been re-imagining and redesigning public transit networks through comprehensive operational analysis (COA). Typically a COA will include an analysis of the route network and recommend short-term and long-term modifications including:
Adjustments to running times, departure times/locations, transfer times, and stop spacing to improve schedule adherence and customer satisfaction
Removal of minimally used bus stops and/or consolidation of bus stops
Appropriate vehicle type and service characteristics, including fixed- and flex-route, local, limited, and express service
Capital needs, including improvements to passenger facilities
Staffing and customer recommendations
Implementation phasing plans
But to be fully successful in such changes, participatory democracy is required. Riders and community stakeholders should be given the opportunity to have their opinions and concerns heard. Likewise, agencies can encourage people to buy-in on COA directions and other changes that can impact riders well ahead of any implementation.
Public Engagement
In TransitCenter's report Untangling Transit, Bus Network Redesign Workshop Proceedings, authors Joelle Ballam-Schwan, Kirk Hovenkotter, and Hayley Richardson stress that agency leaders have been most successful at building public support when they were able to communicate the need for the redesign.
"Rather than approaching the public with a fully cooked plan, agencies will be better received if they approach the public to better understand perceived deficiencies in the current network, and introduce the idea of a network redesign conceptually," say the authors in the comprehensive recap report of over 30 transit agency representatives that gathered last year to share the successes and challenges in redesigning their city's bus networks. "Every interaction with the public must be documented. When pushback on the new networks arises, staff and leaders can point to the record of numerous public events and instances of public comment to show the process was responsive."
To achieve this heightened level of communication and transparency, transit agencies are using a variety of tactics to engage with their local communities.
Livestream Board Meetings
In an effort to increase public access to meetings and to keep riders better informed, SamTrans, Caltrain and the San Mateo County Transportation Authority all live-stream their board of director meetings.
At the time of the implementation last year, SamTrans General Manager/CEO Jim Hartnett commented, "As our world is becoming increasingly interconnected, it is our responsibility to make it easier for the public to stay aware of the work we do. We hope that by live-streaming our board meetings, we enhance government transparency and encourage more public participation."
The meetings are live-streamed by a cloud-based system serviced by Granicus. "Better engagement translates into better outcomes for organizations and their priorities, such as program adoption, participation in public meetings, or voter turnout," believes Granicus CEO Mark Hynes.
Further, all meetings are video archived on each of the agency's websites and can be viewed at a later time.
Comprehensive Public Meetings
The Golden Gate Bridge, Highway and Transportation District (Bridge District) has recently embarked on a multi-year process to develop a new transit center for San Rafael because the current transit center site will be affected by the extension of Sonoma Marin Area Rail Transit (SMART) system to Larkspur. This will impact how buses and people will be able to access and travel through the site, as well as the amount of space available for buses and riders.
Today's center serves local and regional bus service from Golden Gate Transit, Marin Transit, Sonoma County Transit, airporter services, Greyhound Bus Lines, ride hailing/taxi services, Golden Gate Transit customer service, bike parking and retail. In the near future, all of these services will need to be placed in another location in downtown San Rafael.
Several government agencies are partnering to identify a new transit center site and configuration that will provide for the current and future mobility needs of San Rafael and Marin County. With this opportunity to create a more accessible transit facility for all users and improve both connectivity and safety, comes the need for public input.
The Bridge District outreach strategy leverages a variety of in-person and online forums to obtain broad input about transit center needs and the alternatives under consideration, including a series of public meetings to gather input and comments from public agencies and the community. Because of the complexity of the project, the public meetings were broken down into manageable parts and progressed in the following manner:
Public meeting one held in March:
Purpose: Introduce the situation, identify and engage stakeholders.
Materials: meeting flyer, 16-slide presentation, and a 15-minute video.
Individual topical stations covering:

Why Are We Here?
Who Are You?
Where We Have Been
Transit Design
Priorities
The Current Transit Center
Public meeting two held in June:
Purpose: Provide an overview of the preliminary concepts under consideration.
Materials: meeting flyer, 28-slide presentation, a 27-minute video.
Individual topical stations covering:

Purpose & Need, Design Considerations
Concepts Removed from Consideration
Who Are You, What Transportation Services Do You Use?
Potential Urban Design Element Examples
Two-Story Concept
Across the Freeway Concept (w/ Hetherton Shift Option)
4th Street Gateway Concept
Whistlestop Block Concept

Post-Meeting Outreach Summary and Results
Public meeting three held in October:
Purpose: Notice of Preparation of Draft Environmental Impact Report (EIR) and Scoping
Materials: A 14-slide presentation
Individual topical stations covering:

Project Information
Purpose & Need
Design Requirements
Scoping & Environmental Process
4th Street Gateway Concept
Across the Freeway Concept
North of 4th Street Concept
Two-Story Concept
Whistlestop Concept
Another communication tool for public outreach is a dedicated project website. Here the public can read, download and print a project fact sheet, and sign up for project news and updates. There is also a list of 12 frequently asked questions as another opportunity for the transit agencies to share approaches and plans.
To further extend the opportunity for community voices to be heard, the website also directs people on how to get in touch directly with the project team via phone message or email.
Public Involvement Plan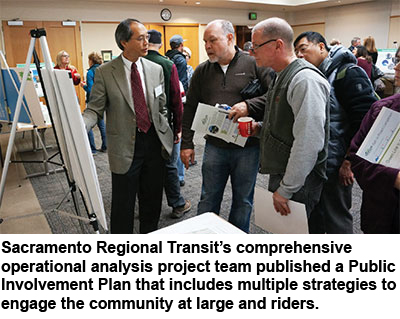 Sacramento Regional Transit (SacRT) is in the midst of a 15-month initiative, which it began in January, to involve the public in its purpose and design review of the agency's entire transit network. Under the project title SacRT Forward, the agency is developing a new network of bus routes that improves connectivity and is based on community input and data analysis.
As part of SacRT Forward, the project team developed a public involvement program that has multiple strategies including pop-up workshops, virtual community workshops, and a community open house. The Public Involvement Plan articulates the timelines, deliverables, and the roles and responsibilities for how the project team will interact with stakeholders and the community at large.
The project development team also developed and regularly updates a SacRT Forward website, hosted separately from the SacRT Forward website. The site offers information about the project, a public involvement timeline, collateral materials, a list of project team members, and ways for people to participate and provide input. To ensure accessibility of SacRT Forward communications, the team provides key information and notifications about the project and public involvement opportunities in English, Spanish, Chinese, Vietnamese, Russian, Hmong, and Punjabi.
Tapping the People
The trend of involving the community went one step further in November when Los Angeles County Metropolitan Transportation Authority (Metro) announced a series of open forums designed to harness the ingenuity of private sector innovators and entrepreneurs to solve some of L.A. County's most pressing transportation challenges and to help transform its transportation network.
The first challenge topic for the Metro Accelerator Forum Series, as the initiative is known, asked "Think You Can Solve Traffic?" The forum included panel discussions on using incentives and/or fees to get more people to consider alternatives to driving or to avoid driving during peak periods. Among the topics is how to use congestion pricing (tolled highway facilities) as one possible way to ease L.A.'s infamous traffic congestion.
"Los Angeles' rush hour traffic is a unique problem that requires unique solutions," said L.A. County Supervisor and Metro Board Chair Sheila Kuehl in a prepared statement. "We want to tap private sector brain power and ingenuity to encourage innovative thinking outside the box."
The forum was accompanied by a call for solutions from across private-sector industries and disciplines – technologists, startups, inventors, scientists, urbanists and transportation wonks, to name a few. Solutions for the challenge topic "Think You Can Solve Traffic?" are to be submitted online by January 31, 2019. All submittals will be reviewed by Metro's Office of Extraordinary Innovation and an internal panel of Metro experts as part of Metro's Unsolicited Proposal program. Proposers may be invited to present to Metro executives and external experts by Spring 2019 and may have opportunities to advance toward a proof of concept, formal procurement or other next steps.
Metro created its Unsolicited Proposals program in 2016 to propel innovation through the promotion of private-public partnerships and other private-sector engagement that would not have been possible through the normal procurement process. More than 110 proposals have already been submitted and 18 are undergoing rigorous examination in a Phase 2 analysis, including a proposed privately funded aerial tram from Union Station to Dodger Stadium.
Building Public Support for Transit
While every bus network redesign is unique to the agency's service delivery area and makeup, there is a growing pool of best practices and lessons learned, as agencies bring their new networks online and see results. Including rider participation early on in the process, through community outreach, public comments, and collaboration with key stakeholders is proving to be a vital component to not only launching a successful redesign, but also for building strong public support for transit.