On Board With... Public Transit Trends in 2017
Along with a brand new year come prognostications about what is expected to unfold in the coming months. In this first of a two-part installment, we have gathered public transit predictions that California Transit Association business members and various others in the industry are saying about 2017. This collection includes a few excerpts from The 9 transit trends that will move us in 2017, produced by Trapeze Group.
---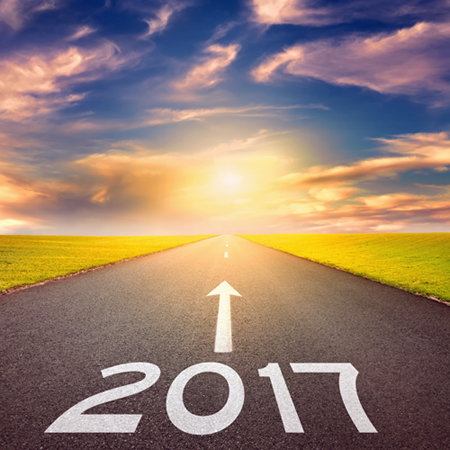 Transit California:
Associate Professor Ahmed El-Geneidy, along with PhD candidate Dea van Lierop, from the School of Urban Planning at McGill University anticipate new and unexpected markets will help improve ridership in 2017.
Ahmed El-Geneidy / Dea van Lierop:
Public transit markets are becoming more volatile as Millennials move towards adulthood. New segments of users are emerging in public transit markets such as "captive by choice" riders (individuals who can afford to purchase a vehicle, but choose not to do so and use public transit). As new market segments emerge, so do new challenges for transit agencies, which must strategize to serve new user groups as well as other previously identified groups, such as captive riders (those with no choice but to use transit) and choice riders (those who have other options, but chose transit). Ridership will increase in 2017 only in regions that can understand the dynamics of the new markets and provide tailored service that increase satisfaction and loyalty among all user groups. Agencies that fail to understand the needs and desires of new markets are expected to notice a decline in ridership.
Transit California:
Jarrett Walker, international consultant in public transit network design, author of Human Transit, and 2013 California Transit Association Fall Conference keynote speaker, expects cities will take a fresh look at their public transit networks.
Jarrett Walker:
The bus may not be sexy, but it's incredibly useful and liberating, if networks are well designed. Many cities are rethinking their bus services from scratch. Confusing tangles of infrequent service, often designed in response to overly specific customer demands, are being replaced by rational frequent networks that maximize usefulness for as many people as possible. The 2015 redesign of Houston's network has helped many other cities see the need to be sure their bus network is right for the city of today.
Transit California:
Many predictions are swirling around autonomous or driverless vehicles, with statements that 2017 will be "the year of self-driving cars". The significance of the technologically advanced vehicle is clear to Steve Ross, Senior Vice President and General Manager of Ecolane.
Steve Ross:
Autonomous vehicles will be on the roads and running transit routes. With the appointment of Elaine Chao as the Transportation Secretary for the Trump administration, the autonomous vehicle industry is very excited about the future. Her support of the ride-sharing industry and soft approach to regulations is driving that excitement. The addition of autonomous vehicles to sectors of public transit, such as paratransit and ride-sharing, could ultimately cut costs and give agencies the ability to adopt modern demand response software which will, in turn, boost organizational efficiency.
Transit California:
Dave Fulton, Industry Solutions Manager, Planning, Scheduling, and Operations with Trapeze Group, believes autonomous vehicles are viable, but will remain in testing and development in 2017.
Dave Fulton:
2017 and beyond is a great time to be in public transit. Technology to improve the way we move people is ever changing and new vehicle technology and autonomous buses are the buzz words today. In my opinion, a fully autonomous bus is years away; however, a further intelligent "connected" bus is right around the corner. Connected buses and vehicles are those that communicate with the road network and other vehicles to help drivers and controllers understand the prevailing congestion and traffic conditions in their service area that affect service reliability and on-time performance. Improvements in this technology will help controllers predict issues in advance and allow them to implement effective resolution strategies to keep service moving before the service deteriorates.
Transit California:
Technology in general will continue to be of deep interest in 2017 with an anticipated increase in partnerships and deployment of new technologies expected. Steven Polzin, Director of Mobility Research at the University of South Florida, believes public transit agency adoption of technology will not slow its pace, which could lead to potential risk and challenges.
Steven Polzin:
Many transit agencies are embracing new technology and new business models, such as TNCs, bike-share, and car-share to support public transit fixed-route and paratransit services. 2017 will see increased partnerships and deployment of new technologies. This will include pilot and demonstration programs as both the technology providers and agencies seek to identify changes that benefit the customers, transit agencies, and the technology providers. These initiatives will help pave the way for understanding how to leverage technology to the benefit of all.
The path forward, however, will not be without risks and challenges. Transit agencies will need to ensure they have adequate technical support, ensure procurement and risk treatment are appropriately handled, and help employees and customers learn to use and accept these new technologies and business models. These technologies are exciting and offer promise, but the bottom line will be the extent to which they can help provide affordable safe mobility.
Transit California:
Paul Supawanich, co-founder of Remix Software, forecasts that transit agencies will be even stronger advocates for better streets in 2017.
Paul Supawanich:
We know that small improvements in the street can have monumental benefits to transit riders. For example, transit priority lanes on San Francisco's Church Street helped improve travel time reliability by 20 percent. Other improvements, such as queue jump lanes, transit signal priority, and bus bulbs can also ensure schedule reliability and improve the competitiveness of transit versus driving alone.
Unfortunately, only a few agencies across the United States both operate transit and have control of the streets under their vehicles. In the past year, the NACTO Transit Street Design Guide was released, providing a compilation of best practices for designing streets with riders and transit operations in mind. As a result, transit agencies such as Tri-Met, King County Metro, Miami-Dade Transit, and the SFMTA in San Francisco have joined as NACTO members, which has otherwise traditionally been seen as member organization for city Departments of Transportation. This trend of working more closely with city DOTs will hopefully continue into 2017 to improve the experience for transit riders and improve operations at the same time.
Transit California:
Transit Center's Jon Orcutt, as reported by Next City, believes there will be a rise in "tactical transit" – a faster path to transit infrastructure – that will find favor in 2017 with quick-build pilot projects that can be enacted to improve service as the next big thing.
Jon Orcutt:
More agencies will experiment with tactical transit. Taking cues from the low-cost, fast-acting ethos of tactical urbanism, some agencies have been experimenting with quickly implemented transit improvements. In the Bronx, NYC DOT is testing lower-cost rubber bulb-outs at bus stops. Albany, California, is building a parklet and bus bulb-out combo using low-cost materials. There will be more low-cost bus stops, bus bulbs, bus lanes and quick-build sidewalk extensions on the horizon.
Transit California:
And what of federal transit funding in 2017? Orcutt has this forecast:
Jon Orcutt:
The country's major transit plans could come screeching to a halt or at least be scaled back significantly, if federal transit funding gets slashed by the new administration. But for the time being at least, it'll be the Federal Highway Administration and Federal Transit Administration on autopilot and business as usual. But after that it's a total black box — anyone's guess.
Transit California:
Stay tuned for more projections about 2017 transit trends – this time provided by Association members from public transit agencies – in the February edition of Transit California.