On Board With... Charles Anderson
General Manager, Western Contra Costa Transit Authority
Charlie Anderson began his career in transit in 1986 as a "Rent-A-Planner" for the Metropolitan Transportation Commission. His first assignment was a six-month project to assist the Western Contra Costa Transit Authority (WestCAT) in designing a new fixed-route system to replace the agency's general public dial-a-ride program. At the completion of this project, Charlie joined the WestCAT staff, where he served as Assistant General Manager until taking over as General Manager in 1993.
Charlie served six terms on the California Transit Association Executive Committee. He has also been a member of the California Association for Coordinated Transportation (CalACT) Board of Directors since 2002, and currently serves as that association's Vice Chair. Charlie has participated on the board of the California Transit Indemnity Pool (CalTIP) since its creation in 1988, serving as Chair since 2005.
Charlie received his undergraduate degree from the University of California, Santa Cruz with majors in Environmental Design and Architectural History. He holds master's degrees from the University of California, Berkeley in City and Regional Planning and Transportation Engineering.
Charlie has concluded that he is one of the few people in the industry that intentionally and deliberately planned a career in public transit.
---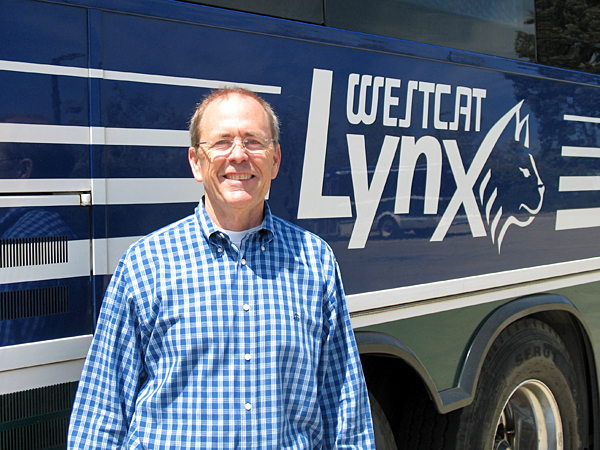 Transit California:
Western Contra Costa Transit Authority (WestCAT) is celebrating its 40-year anniversary this year and has been collecting rider stories, giving away gift baskets, and offering free rides in July among other things. Why is celebrating an event like this important?
Charlie Anderson:
We see this as an excellent opportunity to reflect on where we have come from, and to share our story with those who may not be as familiar with our history and contributions to our community. It's also a chance to remember the many wonderful individuals (drivers, board members, staff, and our riders) who have been responsible for WestCAT's success over the past four decades.
In response to the anniversary, we have received a number of heartwarming notes from our current or former passengers about the importance of WestCAT in their lives; often citing how difficult it would have been for them to get to school or to their jobs had our service not been available.
WestCAT was founded by a tenacious group of local citizens and political leaders who understood the importance of improving mobility within their communities, and who pushed the region and the funding agencies to establish a transit system that would deliver it. At the time, the low-density development patterns were not optimal for transit operation, and the agency served lifeline needs for those without other options and gaps in the transportation system, such as the lack of home-to-school bus service.
Over time, as the service area has grown and as congestion has become a major impediment to mobility throughout our region, the wisdom of WestCAT's founders has been confirmed many times over. Our service structure and our role within the community has evolved and expanded to meet the changing conditions.
Transit California:
You have spent 30 years at WestCAT, of what achievements are you most proud?
Charlie Anderson:
The overarching theme and my personal goal at WestCAT has been to make the limited funds that WestCAT receives go as far as they possibly can to provide service to our community. As you know, funding for public transit has never been sufficient to meet the many diverse needs of our residents. One of my personal achievements is that for many years WestCAT was the lowest cost operator in the nine-county MTC region, allowing us to deliver a higher level of service for each dollar of support we received. This was particularly critical for Joint Powers Agencies like ours that lack direct taxing authority.
A good example of this was the transfer of the responsibility for the operation of the BART feeder bus services from BART to WestCAT in 1998. We were approached by BART staff asking us to assess the feasibility of operating the Interstate 80 corridor services that were contracted out at that time.
For WestCAT, this would mean an immediate doubling of our workforce and vehicle fleet, and it would require an expansion of our operations facility. We successfully negotiated the terms for the transfer of operating responsibility, and after securing financing through a bond issue coordinated by the California Transit Finance Corporation, we procured the necessary vehicles and completed the facility improvements. By BART's own estimates, this resulted in an annual savings of more than $1 million, while delivering better coordination between WestCAT local routes and the express routes to the BART system, and improved service quality to our passengers.
Transit California:
In your long career in public transportation, in your opinion, what is the biggest thorn in the side of transit?
Charlie Anderson:
The simple answer (unchanged across the 30-plus years of my career) is that there has been a societal ambivalence in this country about the value of transit. This has in turn led to a piecemeal investment strategy and a fragmented funding landscape. Legislators still have a hard time allocating money for operating support, though they may be willing to fund capital projects that require new money to operate. When operating support is offered, it is frequently for a narrowly defined purpose, and conditions may limit ongoing support to a three-year startup period under the assumption that the service will become self-sustaining within this time. The changing funding landscape is a persistent problem that vexes even the most seasoned transit professionals, from the metropolitan planning organizations trying to program the funding, to the front line staff at the smallest transit agency.
Interestingly, with the emergence of Transportation Network Companies (TNCs), the question of whether transit should be funded at all is reemerging from the local to the federal level.
With the passage of the Transportation Development Act in 1971, there was a stable source of funding to support new or expanded public transit services. Introducing these services, however, particularly in areas that had not previously had them, required transit to fit into an existing transportation network structured around the needs of private automobiles. A combination of local resistance to buses on residential (and sometimes commercial) streets, objections to removing parking for bus stops, and the street networks themselves often created routing inefficiencies for transit, and limited convenient access for many prospective passengers.
Although this is starting to change with recent efforts to coordinate transit and land use, and with targeted transit infrastructure investments (queue jumps, signal priority, freeway drop ramps), retrofitting an existing network is a slow and costly endeavor. I often think that we could resolve our environmental and congestion problems if we had the opportunity to design our network from the ground up, building in the infrastructure that will create travel time savings for transit in applications where it is the best mobility option, and facilitating other mobility options where transit is not competitive.
Transit California:
When it comes to things like congestion management, sustainability and other key issues of the day, do you think public transit is still thought of as an isolated single issue, or is the industry making progress in becoming more connected in peoples' minds with economic growth, urban revitalization, environmental protection and other related public good issues?
Charlie Anderson:
I have recently had the opportunity to participate in the Metropolitan Transportation Commission's Managed Lanes Implementation Plan discussions, which are focused on maximizing the numbers of people who can be carried through the congested freeway corridors in the Bay Area. Among the broad spectrum of stakeholders in these discussions are representatives of the business community, congestion management agencies, Caltrans, and the CHP, along with transit operators. Not surprisingly, expanding transit capacity and making operational improvements in the HOV lanes to provide transit travel time advantages are emerging as key tactics in accomplishing the program goals. This work has already funded two projects to develop new park-and-ride facilities on transbay transit lines, and the purchase of higher capacity double-decker buses for use in the Bay Bridge corridor.
Interestingly, business community representatives from major firms in San Francisco suggested that the growing congestion in the region is creating a crisis for employers who cannot get their employees to work, and some are considering relocating out of the region. Clearly, transit is recognized as an investment that is important to avert the consequences of an employer exodus from the Bay Area. Many of the tech firms in the region have already seen the business case for transit, and have established their own luxury coach fleet for their employees, which they fund as a business expense.
Transit California:
You just mentioned double-decker buses as a congestion management approach. WestCAT and Alameda-Contra Costa Transit are jointly looking to purchase seven double-decker buses for commuters. How does the double-decker option further the solution? How many of the buses will be WestCAT's and when will they be placed into service?
Charlie Anderson:
Due in large part to the success of our transbay LYNX service in relieving congestion on the Bay Bridge, MTC awarded $2 million to WestCAT toward the purchase of three double-decker buses, which will arrive in April 2018. These buses offer 50 percent more seated capacity on each vehicle than over-the-road coaches, which are currently the largest of our transbay buses. AC Transit will be taking delivery of its first double-decker buses several weeks before ours arrive. We are currently looking at a zero emission electric double-decker vehicle that can seat up to 99 passengers. It is our long-range plan to continue to increase capacity in the Bay Bridge corridor, where we continue to see double-digit ridership increases each year as long as we have sufficient seats.
Transit California:
Giving back to the community is a priority for WestCAT, what kinds of activities does WestCAT do?
Charlie Anderson:
I am pleased to say that WestCAT has a long history of giving back to the community, with many of the activities initiated early in the 20-year tenure of Electra Jeter, a former project manager for MV Transportation at our location. One of Electra's first efforts was the annual preparation of Thanksgiving meals for distribution to families in need in our service area. This was funded by voluntary contributions from MV and WestCAT staff. She also accepted donations of socks and blankets to distribute to local homeless persons and others in need during the cold winter months. To continue this work throughout the year, she established a means for employees to make regular contributions via payroll deductions, and she secured matching contributions from MV's corporate office. The money she raised was given to a foundation assisting veterans and the homeless in the community.
I am proud of the commitment that is evident throughout WestCAT's and MV's workforce at our agency, and at the level of support from the employees themselves. Annually, we conduct a Stuff-a-Bus food drive to support the Food Bank of Contra Costa and Solano, and for the last four years, we have coordinated this effort with the CHP's CHIPS for Kids holiday toy drive. The event is a great way to interact with the residents of our area one on one, and the volume of both food and toys collected has been growing each year. Just this month, we concluded our second very successful back-to-school program initiated by our Administrative Services Manager Yvonne Morrow. The backpacks and supplies collected are distributed through the local school district's homeless youth assistance program.
Transit California:
Contributing outside of WestCAT is important to you too, as you have a history of being active in the California Transit Association and you are currently on the 2017 Board of Directors for CalACT as Vice Chair. Why is it important to you to be a part of associations like ours?
Charlie Anderson:
On a personal note, I have had a lot of fun, and I have learned a great deal through my active participation in this Association, CalACT, and CalTIP over the course of my career. I have been exposed to some truly amazing people in the leadership positions of each association, and have seen very creative approaches to solving difficult problems. I have particularly enjoyed the experience of participating on the conference committees of both the California Transit Association and CalACT, and think the educational and networking aspects of the annual conferences have been of increasing value to the membership, as the problems our industry faces become more complicated.
Aside from the personal benefit, I feel that the associations do necessary work on behalf of operators throughout the state, and I've been grateful to be part of that effort. I do think each association has a different role, and offers a different set of benefits to its members.
The California Transit Association amplifies the voice of individual operators who would otherwise have little ability to influence policy or legislation. While that larger voice has too often been necessary to prevent bad things from happening in the legislative process, such as challenges to TDA funding (diversion of STA to the General fund), the Association has also been very successful in getting transit included in new funding initiatives and passing legislation to provide regulatory relief when necessary.
CalACT, while performing a similar advocacy role for smaller and rural agencies, has been a critical resource for training and professional development and more recently for joint procurement through its cooperative purchasing program.
CalTIP was originally established to provide liability coverage for transit at a time when commercial markets were hardening and withdrawing coverage. CalTIP has since broadened its focus to become a valuable resource for safety and risk control services and best practices.
Transit California:
Do you ever think about retiring from public transit, and if so, what would you like to do?
Charlie Anderson:
Although I have spent a lot of time in transit, I still enjoy coming to work everyday. I feel like I get paid to spend time with my friends both on the WestCAT site and in the larger transit community. There is a lot to be optimistic about in transit right now and I am looking forward to seeing how the industry transitions over the next decade, particularly with the advent of new technologies, such as collision avoidance systems, that will make our industry safer. Besides, my wife says if I retire, I will have to help her clean the garage, so I expect to be working as long as possible!