On Board With... Henry Li
General Manager and Chief Executive Officer, Sacramento Regional Transit District

Henry Li is a visionary and transformational leader with a proven track record of strategic innovations. During his 20-year transportation career, he has successfully led a variety of industry cutting edge initiatives in highly political, complex and dynamic communities. Henry has a history of building strong alliances both internally and externally while being a diplomatic negotiator to promote multi-modal transportation options.
Since becoming Sacramento Regional Transit District's (RT) General Manager and Chief Executive Officer in July 2016, Henry has been credited for the solid, rapid and comprehensive transformation/overhaul of RT that has been highly praised by the Sacramento community, city officials, business leaders, news media, RT riders, and the transit industry nationwide.
---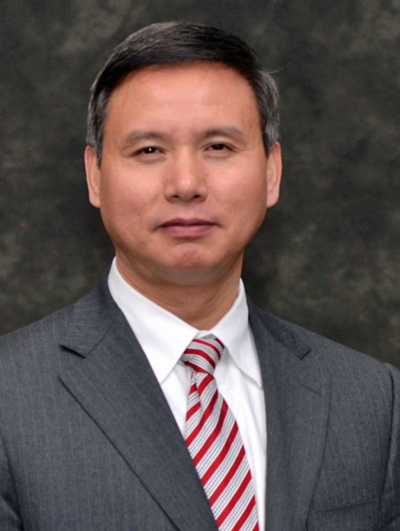 Transit California:
In your over 20 years as a transit professional, how do you think the transit landscape has changed the most?
Henry Li:
The way people get around is constantly changing with innovations to various modes of travel such as Zipcar auto-sharing services, small bus neighborhood circulators, bike-share and the like, which has provided the transit industry with some new and exciting changes. These new mobility alternatives are broadened with private ride-share companies such as Uber and Lyft, and when added all together, it definitely enhances the transit landscape.
As such, in September, Sacramento Regional Transit launched an innovative program called "Station Link." Sacramento RT's Station Link program is a new initiative that allows passengers who take Uber, Lyft or Yellow Cab to or from any of Sacramento RT's designated light rail stations to receive up to $5 off their ride each way. For the recent opening of Golden 1 Center, Sacramento's newest entertainment and sports venue, this has been a successful transportation collaboration that has added new Sacramento RT riders. Our regional partners were instrumental in the success of the Station Link program, which was executed with grant funding from our MPO, the Sacramento Area Council of Governments and the Sacramento Metropolitan Air Quality Management District.
Transit California:
In what way has the transit landscape changed the least?
Henry Li:
We need to continue to elevate public transit issues for more meaningful impact in order to close operational funding gaps that still have not changed for the transit industry during the last couple of decades. This includes highlighting funding needs for aging infrastructure and leveling the state/federal funding by applying similar rules required of transit agencies to obtain financing for investments that support entire transportation infrastructures.
Transit California:
Coming from Jacksonville Transportation Authority (JTA) in Jacksonville, Florida to California, do you see a difference in the way the general public perceives/approaches transit from coast to coast?
Henry Li:
There is a difference in perception regarding transit from the East Coast to the West Coast, but I believe it stems from one demographic having more experience with transit service than the other. In Florida, a good majority of the population have moved south from an eastern seaboard city with legacy systems and long history of daily transit use as a regular transportation mode. In California, which is typically known for being "car-centric," I have noticed a positive shift in views about transit due in part to the focus on climate change, carbon footprint and "smart-growth" land use – all closely tied with economic incentives such as Cap and Trade. At the same time we are enjoying these shifts in perception, there are also multiple advocacy groups with different positions or agendas about transit issues, which can be a challenge when trying to build consensus to move issues forward rapidly.
Transit California:
It is an exciting and busy time at Sacramento RT with new projects like the Streetcar service that will connect Sacramento and West Sacramento, and the Green Line light rail extension that will connect Sacramento through the Sacramento International Airport. Did these projects influence or entice you to come to Sac RT?
Henry Li:
Yes, those were a few of the projects that drew my attention to Sacramento. I've had success in the past with big regional transportation projects that require multi-agency coordination on numerous fronts comparable to the coordination efforts needed to realize the Sacramento Downtown/Riverfront Streetcar. My experience in executing similar transit projects will be helpful to Sacramento RT in working with our regional partners to manage the construction of the streetcar and move forward to construct and operate the Green Line light rail extension to the Sacramento International Airport.
Transit California:
Sac RT also has to work on its State of Good Repair, as the initial rail system and fleet turns 30 years old. What investments and upgrades are on the horizon?
Henry Li:
For the Sacramento region, critical transit investments and upgrades at this point will be determined by the outcome of the November 8 election. This year, the Sacramento Transportation Authority moved forward with a transportation funding ballot measure that, among other transportation investments, would provide approximately $952 million over a 30-year period to Sacramento RT to invest in capital and operations. This would be a good start and I'm ready to work with all my transit colleagues and the California Transit Association to advance stable and consistent state funding on a State of Good Repair program for all our agencies to maintain our respective bus and light rail vehicles.
EDITOR'S NOTE: Measure B, the Sacramento transportation funding measure on the November 8 ballot, failed to garner the two-thirds support necessary for passage, though it did receive 64.7-percent support from voters.
Transit California:
The last issue of Transit California features a story titled "Event Access" that highlighted the opening of Golden 1 Center, a multi-purpose indoor arena located in downtown Sacramento and the return of the Rams in Los Angeles. You have been reported to have called the new Sacramento arena a "golden" opportunity. Why do you feel that way?
Henry Li:
For Sacramento RT, the opening of the Golden 1 Center (G1C) is undeniably a golden opportunity to spotlight transportation alternatives. So far, we have had record-setting ridership increases to the G1C events and it is exciting to see all the positive feedback and comments from customers, the majority of which are new riders. The opening of the G1C presents a unique opportunity for Sacramento RT to introduce public transit to many people who would normally drive.
In preparation for the opening, Sacramento RT upgraded the 7th & Capitol light rail station – and other impacted downtown stations – to create the flagship station for G1C service that is located less than one block away. To assist new passengers during events, more than 2,000 volunteer hours were filled to provide on-the-ground wayfinding services at key park-and-ride and downtown stations. Sacramento RT's initiatives for station and on-board vehicle cleanliness, increased security and promotional efforts, including newly-wrapped light rail trains, signage and advertising during the last couple of months have been a huge success. At the first G1C event, Open House and Fan Fest, 10,000 passenger trips were taken (compared to 1,000 average ridership in the past), with transit ridership for events thereafter averaging 10 percent of G1C event attendees. This surge in ridership has provided a renewed confidence in Sacramento RT's ability to exceed the regional mobility needs of the Sacramento community and be a valued transportation partner.
Transit California:
You will be among a handful of California transit leaders on stage in Oakland as part of the California Transit Association's 51st Annual Fall Conference & Expo session Transit Executive Roundtable: Rising to the Challenge. What are you looking forward to most while you are at the conference?
Henry Li:
"Transit Rising" is the title for the upcoming Association conference and the roundtable in which I will participate. California is the sixth largest economy in the world and as such, transit in California should be rising above others. This conference is a premier opportunity to showcase and share ideas, challenges and opportunities we are facing throughout the country, I'm looking forward to meeting my transit colleagues and teaming up to discuss best practices for industry reform that will help us rise above others and make transit in California the best in the nation.
Transit California:
Congratulations on your new position with Sac RT. We look forward to checking back with you on the progress of the initiatives discussed here.
If anyone would like to learn more, what is the best way to be in touch with you?
Henry Li:
Transit California readers can contact me at TellHenry@sacrt.com and I will respond quickly. I highly value this dialog with Sacramento RT staff, customers, and the community so that they feel free to ask questions, raise concerns, and receive a direct reply from me. This is one of the initiatives I established in order to gain insight that will help provide the Sacramento region with a world class transit system. I also keep a suggestion box and conduct one-on-one ride-alongs with our customer transit ambassadors who provide a wealth of information on transit service from their perspective. Thus far, I have received thousands of very straightforward communications from employees, customers and the community, and am very encouraged by their feedback, constructive criticism and compliments … all of which will improve RT.