Tech Revolution
Redefining Mobility Summit Showcases a Bright Future for Transportation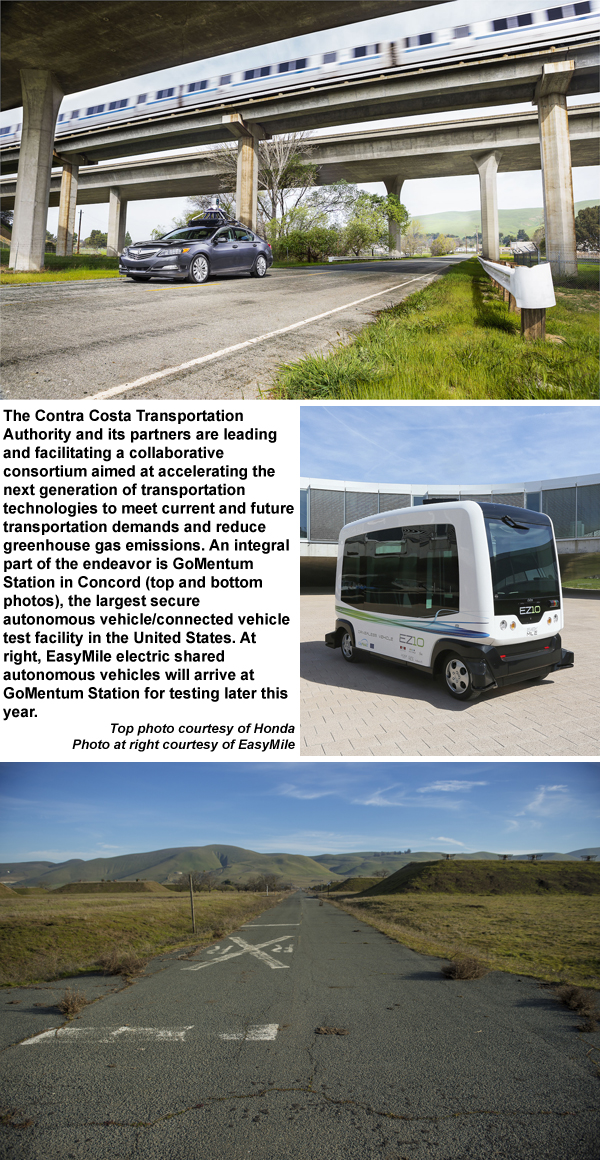 By Jack Hall
ITS CV/AV Program Manager
Contra Costa Transportation Authority
American cities have always emerged near transportation hubs: the places where people and goods could most easily come and go. First, we saw development around ports, then railroads, and then the interstate.
Transportation will play an equally important role in shaping the cities of the future. Connected vehicles – those that "talk" to each other and share data about the environment they travel through – have arrived. Paired with advancements in autonomous vehicle technology and smart infrastructure, we are gearing up for a dramatic change in how we navigate cities – and, by extension, our lives.
The second annual Redefining Mobility Summit, held in Concord on April 21 by the Contra Costa Transportation Authority (CCTA), explored how innovative research and cutting edge technology is revolutionizing transportation.
"The Redefining Mobility Summit is an opportunity for government and industry leaders to share unique perspectives on the future of transportation and shine a light on the path forward for everyone," explains Randell Iwasaki, Executive Director of CCTA.
The anticipation of future transportation and the eagerness to meet it with ingenuity were recurring themes of the day. "Don't be afraid of change, be afraid of not changing," was a message stressed by Dr. Chris Luebkeman, Director of Global Foresight, Research, and Innovation for Arup, during the panel on Smart Cities. Dr. Luebkeman's words certainly stressed the collective sense of urgency and excitement about the changes to transportation that are on the horizon. According to many Summit speakers, the way we get from place to place in the future is poised to be smarter, safer, and greener than any transportation innovation the world has yet to see.
One hallmark of the new era of transportation will be increased communication capabilities between vehicles and infrastructure. Already, this new connectivity is being applied in myriad ways. Traffic signals now can be embedded with a dedicated short-range communications (DSRC) chip that allows cars to communicate with them, and allows signals to "talk" back to traffic. It may not be long before the single vehicle waiting for the red light to change at an otherwise empty intersection becomes a thing of the past. DSRC signals also will have the ability to sense if a vehicle is not going to stop in time for a red light and will stay red for cross-traffic until the intersection is clear, greatly improving safety for other nearby drivers, bicyclists, and pedestrians.
Other applications for connected vehicle technology abound. In San Francisco, connected buses can now "hold" a green light to get through an intersection and travel their route more efficiently. Highways are using real-time traffic data to control metering lights, and drivers are getting accurate information about backups from their navigation systems, allowing them to select a better route. In Contra Costa County, the City of Walnut Creek has installed test DSRC units and acquired the FCC license to operate them. One potential future application of the technology Walnut Creek is deploying is giving emergency vehicles priority. Imagine, with this technology, the traffic signal system could clear the path for an ambulance by initiating signal timing changes ahead of the emergency vehicle, shaving potentially life-saving minutes off its trip.
Perhaps more interesting is considering how this technology will reshape cities in the future. Timothy Papandreou, Chief Innovation Officer of the San Francisco Municipal Transportation Agency described the future as being one that "changes the focus of [the infrastructure] from 'moving transportation' to connecting people." Ashley Z. Hand, Transportation Strategist Fellow for the Los Angeles Department of Transportation, reiterated this sentiment by noting that the infrastructure should support the type of transportation technology that we as a society want to promote. For example, if the aim is to decrease emissions, then creating an infrastructure with opportunities for people to charge electric cars is necessary for those vehicles to gain market share.
How to proactively engage with, and prepare for, future transportation technologies is a challenge CCTA is addressing through GoMentum Station. Launched in 2015, GoMentum Station in Concord is the largest secure autonomous vehicle/connected vehicle test facility in the United States, featuring 20 miles of paved roadway; two 1,400-foot tunnels; curbs, gutters and sidewalks; railroad crossings; potholes; and a mini-city. There, CCTA and its partners are leading and facilitating a collaborative consortium aimed at accelerating the next generation of transportation technologies to meet current and future transportation demands and reduce greenhouse gas emissions.
Reducing greenhouse gas emissions by encouraging transit ridership, carpooling and mobility-as-a-service was a prominent theme of a first-and-last mile solutions panel moderated by Rick Ramacier, General Manager of County Connection. EasyMile co-founder Gilbert Gagnaire piqued the audience's interest with his presentation on the electric shared autonomous vehicles that will arrive at GoMentum Station for testing later this year.
The shift away from privately owned vehicles is an indication of the coming era of transportation. With the arrival of on-demand services, such as Lyft and Uber, more people are reconsidering the necessity – if not the desirability – of private car ownership. The onset of subscription-based services and shared autonomous vehicles that can provide first-and-last mile transportation connections to transit centers will further revolutionize how people get around – and dramatically reduce congestion and car accidents, while cutting the amount of space needed for parking in the process.
"It is an exciting time to be involved in transportation," says Iwasaki. "We are very excited about the technology being tested in our backyard, and are pleased to play a role in bringing it to market as soon as possible. I firmly believe that it is going to have a transformative and positive effect on our transportation systems, our cities, and our lives."
Save the date for next year's Summit, planned for March 30, 2017.