Push to the Finish
Priority Transit Bills Still Pending as Legislature Nears the End of 2015-16 Session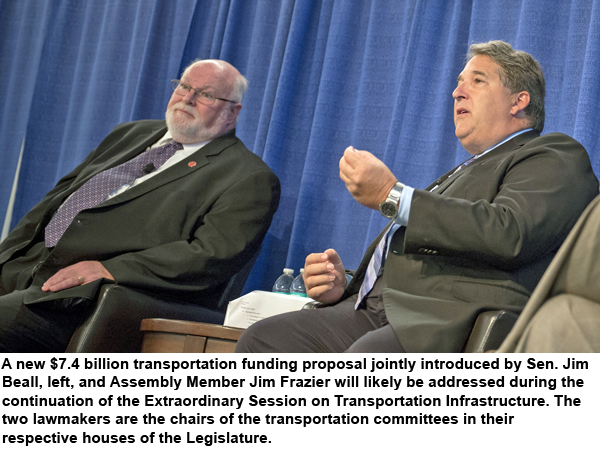 With less than two weeks to go before the Legislature concludes its 2015-16 session, the fate of several of the California Transit Association's priority bills is still pending. These bills, which touch on issues including climate change, California's Cap and Trade program, polling accessibility, bus rapid transit and commuter benefits, are essential to preserving, strengthening – and in some cases, expanding – California's public transportation network.
In the days leading to the end of the session, the Association's advocacy team will continue to do its part to ensure that these bills make their way to the Governor's desk. Simultaneously, all Association members are encouraged to emphasize to their legislative delegations the importance of this legislation.
Below is a summary of the Association's priority bills. As of August 18, all have advanced out of policy committees and are awaiting a full Assembly floor vote.
SB 824 (Beall) – Low Carbon Transportation Operations Program: This bill would authorize a recipient public transit agency that does not submit a project for funding under the Low Carbon Transit Operations Program in a particular fiscal year to retain its funding share for expenditure in a subsequent fiscal year. The bill would allow a recipient public transit agency to loan or transfer its funding share in a particular fiscal year to another recipient public transit agency, or to apply to the department to reassign, to other eligible expenditures under the program, any savings of surplus moneys from an approved and completed expenditure under the program or from an approved expenditure that is no longer a priority, as specified.
The bill would also allow a recipient public transit agency to apply to the department for a letter of no prejudice for a capital project or component of a capital project for which the department has authorized a disbursement of funds, and if granted, would allow the recipient public transit agency to expend its own moneys and to be eligible for future reimbursement from the program, under specified conditions.
SB 32 (Pavley) California Global Warming Solutions Act of 2006: Emissions Limit: This bill would set an enforceable greenhouse gas (GHG) emissions target of 40 percent below 1990 levels by 2030 that would create certainty for markets and consumers.
SB 450 (Allen) Elections: All-Mailed Ballot Elections: This bill would significantly overhaul California's elections system, with the goal of boosting voter participation, by authorizing counties to opt-in to an all-mail ballot election that prioritizes convenience. This bill would require counties that choose to opt-in to an all-mail ballot election to meet certain accessibility requirements, including locating polling centers near established public transportation routes.
SB 998 (Wieckowski) Vehicle: Mass Transit Guideways: This bill would bolster the effectiveness of bus rapid transit projects statewide by prohibiting motorists from operating, stopping, parking, or leaving idle, a vehicle in a dedicated bus-only lane.
SB 1128 (Glazer) Commute Benefit Policies: This bill would indefinitely extend the statutory authorization for a successful Bay Area commute benefit ordinance, which has reduced single-occupancy vehicle trips, greenhouse gas emissions and air pollution, while delivering economic benefits to employers and employees.
STA Fix, New Funding Proposal
In addition to the bills highlighted above, the Association continues to monitor the status of AB 1610 and SB 838, the transportation budget trailer bills, which contain identical versions of the Association's State Transit Assistance (STA) program fix language. These bills "hit the pause button" on recent changes made to the STA formula and allocation methodology by the State Controller's Office and compel the SCO to return to its long-understood methodology for any remaining unallocated funds in FY 2015-16 and all quarters of FY 2016-17 and FY 2017-18. Both are still pending approval in the Legislature, and ultimately signature by Governor Brown.
Finally, while the Legislature will begin its Final Recess on August 31, calling to a close the 2015-16 Regulation Session, the Extraordinary Session 1 on Transportation Infrastructure is expected to continue into the fall. Up for discussion during the Extraordinary Session 1 will likely be the recently-unveiled $7.4 billion transportation funding proposal put forward by Senator Jim Beall and Assembly Member Jim Frazier. The proposal, much like the proposals that preceded it in the Extraordinary Session I on Transportation Infrastructure, includes a combination of new revenues, additional investments of Cap and Trade auction proceeds, accelerated loan repayments, Caltrans efficiencies and streamlined project delivery, accountability measures, and constitutional protections.
The Association's advocacy team will continue to fight to ensure that the transit funding remains an integral component of this proposal.