Member News Library
The following items are excerpted from news releases issued by California Transit Association members. If you are a member of the Association and would like to submit an item to be considered for inclusion in the Member News Library, please e-mail your press releases to Communications Director Jeff Wagner (jeff@caltransit.org) AND to Managing Editor Stephanie Jordan (sjordan@freelancecomm.com). Photos and cutline information with your news release submissions, when possible, are encouraged.
---
INDUSTRY NEWS

CalSTA Awards $390 Million in Cap and Trade Grants to Transit Projects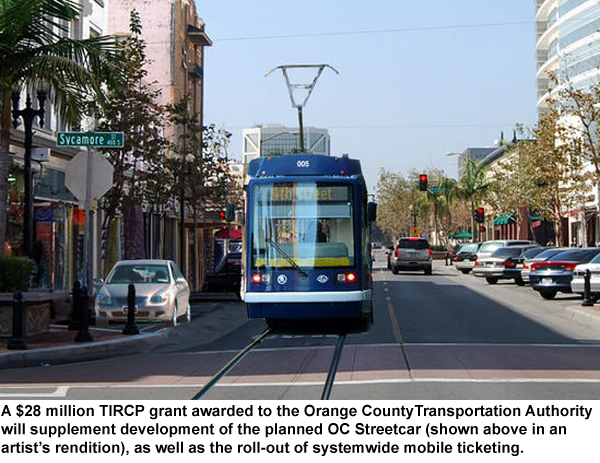 On August 16, the California State Transportation Agency (CalSTA) announced 14 recipients for the 2016 Transit and Intercity Rail Capital Program (TIRCP) grants. The group of projects moves forward the Brown Administration's focus on reducing harmful greenhouse gas emissions while advancing the state's public transportation system. This year's awards total $390 million in competitive grants made possible through the state's Cap and Trade auction proceeds.
"This investment of Cap and Trade dollars is really about transforming this state's transportation system to create jobs, reduce harmful emissions, and expand mobility options so Californians can get around as efficiently and conveniently as possible," said CalSTA Secretary Brian Kelly.
A total of 41 applications for funding from around the state were submitted for consideration this year. The 14 projects selected, valued at more than $3.8 billion, will reduce more than 4.1 million tons of CO2 statewide and 13 of the 14 recipient projects directly benefit disadvantaged communities.
Looking ahead, through Senate Bill 9 (Beall, 2015) CalSTA will be adopting a 5-year program of projects by July 1, 2018. The 5-year program calls for larger, more transformative projects to be funded. With that, the state anticipates being a long-term funding partner to see transformative projects come to fruition, for example:
The BART Silicon Valley Phase II Extension to San Jose Diridon and Santa Clara stations
Commuter and intercity rail projects in northern California, such as expanded ACE, San Joaquin and Capitol Corridor service, that will link the high-speed rail project to millions of Californians through shared stations in the Bay Area and the Central Valley
Expanded capacity for Los Angeles Union Station
Commuter and intercity rail projects in southern California, such as expanded Metrolink, Amtrak Pacific Surfliner, and Coaster service that will link the high-speed rail project to millions of Californians through shared stations in the south
Street car, light rail, and high-frequency bus projects all around the state that expand transit ridership with zero-emission vehicles well suited to the achievement of climate goals
Investments in stronger integration between local transit and the statewide high speed, intercity and regional rail network, such as those underway in Fresno, that grow ridership and increase the utilization of existing services
Expansion of the intercity rail network into new markets, such as the Coachella Valley and the Central Coast, and development of zero emission services on the intercity feeder bus network
CalSTA will hold workshops in late 2016, continuing into 2017, to receive public input on guideline development for the 2018 program.
Project funding for the 2016 awards will be supported by Cap and Trade auction proceeds from eight anticipated auctions in fiscal year 2016-17 and 2017-18, so cumulative auction proceeds are more important than the amount of revenue received from a single auction.
If the Legislature directs additional funds to the TIRCP in this legislative session, CalSTA may increase funding for announced awards and/or fund additional projects submitted as part of the 2016 program.
See a list of this year's recipients, or view a detailed project award summary.

AC Transit Launches the "Tipnow-AC Transit" App
The Alameda-Contra Costa Transit District (AC Transit) recently announced the implementation of TipNow-AC Transit. The app encourages AC Transit riders to be an extra set of on-board eyes and ears helping to promote rider safety and system security. Using simple icons, the TipNow-AC Transit app enables riders to report disruptive behavior, theft, suspicious activity, vandalism or unattended packages. TipNow-AC Transit is a one-year pilot program. The TipNow-AC Transit program is not intended for emergency situations. Riders are being encouraged to remember that events requiring the immediate attention or assistance of police or fire should still be reported to the bus operator or 911 services.
"As California becomes increasingly interconnected, it is imperative that AC Transit adopt technology that keeps pace with our advancing society," said AC Transit Board President H. E. Christian Peeples. "And with a smartphone in the hands of two-thirds of adults, it's the most convenient tool to keep our buses clean and our riders and operators safe."
The software behind TipNow-AC Transit saw its genesis in the aftermath of the 2007 Virginia Tech shootings. Santa Clara-based Resiligence, Inc. – the software developers – envisioned not only an anonymous reporting system, but also one that would compile crowd-sourced information about suspicious activity. The software that ultimately morphed into TipNow-AC Transit connected those dots.
In fact, the AC Transit app was specifically engineered for anonymity. Riders need only download the free app at either Google Play or Apple's App Store. Once downloaded, AC Transit riders are hyperlinked to a tip screen that asks for:
The route number (i.e. Line 14, 72, NL)
The bus number (centrally located, on-board most coaches, above the front windshield)
A description of the event
Riders may also anonymously upload photos and even video attachments with each reported tip.
"We will neither compromise safety nor security, so a proven track-record was essential in adopting new technology," said AC Transit General Manager Michael Hursh. "TipNow's operating success at U.C. Berkeley, California State University, Fresno and the Fresno County Sherriff's Department offers sound assurance. Now our goal is to seamlessly meld the TipNow-AC Transit app with Homeland Security practices already in place within our district."
The U.S. Department of Homeland Security (DHS) adopted the "If You See Something, Say Something" public awareness campaign in 2010. Since that time, AC Transit has employed a variety of advertising and outreach efforts to educate staff on the importance of being vigilant in reporting suspicious, illegal or inappropriate behavior and activities, as well as unattended packages.

Short COASTER Train Set Part of Positive Train Control Testing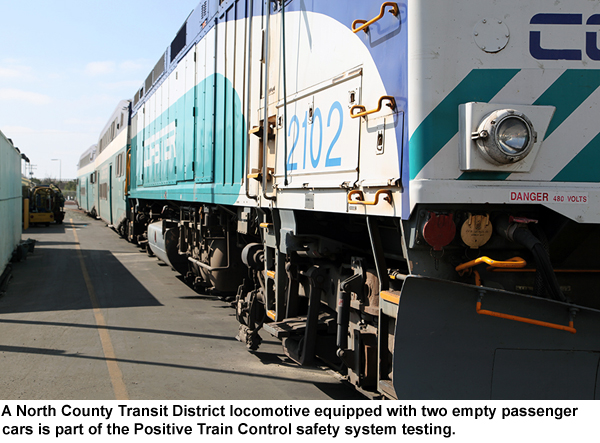 North County Transit District (NCTD) customers may be surprised to see a short, two-passenger-car COASTER train pass through or stop at their station. This train, consisting of an NCTD locomotive and two empty passenger cars, is part of the Positive Train Control safety system testing and is not a passenger-carrying train.
"We have had instances of people trying to get on this test train when we ran it during the day," said NCTD Deputy Chief of Rail Operations, Eric Roe. "Future testing will mostly be at night, but we want customers to know what it is in case they see it again at a station."
NCTD is in the process of implementing Positive Train Control (PTC) that will enhance the safety of train operations on the coastal corridor. PTC helps to prevent accidents from human error. When a potential hazard is identified it has the capability of stopping a train if an engineer fails to do so.
The current testing of PTC on this train is part of the rigorous process of ensuring proper functionality of the technology and is a necessary step for full implementation on the coastal rail corridor. The PTC implementation process for NCTD began in 2008 and is expected to be completed in 2018.

Customer Satisfaction Improves Among Monterey-Salinas Transit Riders
Every two years Monterey-Salinas Transit (MST) solicits the opinions of riders and the community as a whole to gauge performance and satisfaction. Respondents were asked to rate MST's service attributes as "excellent," "good," "fair," or "poor." In every category the vast majority of responses ranked MST as "excellent" or "good."
This year's survey also showed that since the last survey customer satisfaction increased by approximately 10% to 15% in each of the following categories:
MST Overall – 88% responded "Good" or "Excellent"
Safe driving – 94%
Friendliness/helpfulness of driver – 88%
Bus cleanliness – 85%
Friendliness/helpfulness of customer service – 81%
Bus stop amenities – 80%
Riders also rated the value or contribution of various aspects of public transit to the community, responding to the statements "Public transit service …"
is good for the community – 98.9% agree
reduces traffic – 97.2%
is good for the environment – 95.9%
is a good use of public money – 95.8%
saves me or my family money – 94.2%
Demographic information collected from the survey shows that MST's riders are employed (48.2%) in sectors that dominate the local economy, including retail/sales (24.2%), tourism/hospitality/food service (17.5%), education (16.1%), and agriculture/agribusiness (16.1%), or are students (23.5%).

MTI Researches New Directions for Caltrans Modeling
The California Department of Transportation (Caltrans) is in the process of exploring ways to improve its approach to transport modeling. In a new Mineta Transportation Institute (MTI) study by Matthew Holian, PhD and Ralph McLaughlin, PhD, the possibility is raised that Caltrans should revise its modeling to take into account changes in demand when roads are improved – and that it should analyze transport projects across more modes. Structural changes within the agency might also facilitate better information-sharing.
The study, "Benefit-Cost Analysis for Transportation Planning and Public Policy: Towards Multimodal Demand Modeling" outlines actions that Caltrans could take to increase the effectiveness of its transport projections.
Dr. Holian explains how, "In addition to focusing on models for planning, we also carried out an improved retrospective public policy analysis that assesses past investments in rail transit across the United States. In our public policy analysis that integrates highway and transit data, we provide a stark example of how simple it can be to account for multimodal travel in benefit-cost analysis (BCA), and that doing so can significantly affect the conclusions of the analysis. Using this simple approach as inspiration, we turn to BCA for planning and again find that simple but powerful approaches hold promise for advancing practice at state DOTs as well. We think our study will be of interest not only to staff and decision makers at DOTs, but also to academics, public policy analysts, policy makers, students, and members of the public."
As an example of a simple planning solution identified through this research, the investigative team pointed out that "Caltrans might be able to undertake more integrated analysis by simply analyzing highway and road projects as transit projects, as transit project analysis in Cal-B/C is already multimodal, while highway and road project analysis is not. This possibility should be explored, and if feasible, well documented."
Overall, says Dr. Holian, "We hope that some of these recommendations prove to be worthy of adopting, but we will consider this report to be a success even if it only sparks conversations that lead to smarter spending. With billions of dollars on the line, even a small success in improving BCA could add considerable value to society."
TRANSIT PEOPLE AND HAPPENINGS

Caltrain Celebrates Signing of Electrification Contracts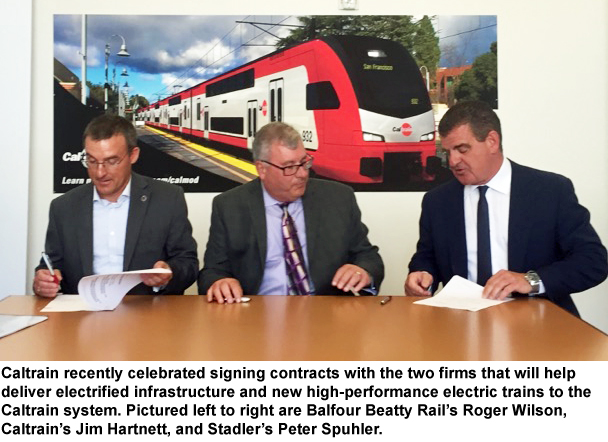 Caltrain recently celebrated the signing of contracts with Balfour Beatty Infrastructure Inc. and Stadler U.S. Inc., two firms that will help deliver electrified infrastructure and new high-performance electric trains to the Caltrain system. Caltrain also inaugurated the opening of its Community Outreach Office.
Last month, Caltrain's Board of Directors approved $1.25 billion worth of contracts with Balfour Beatty and Stadler related to the Peninsula Corridor Electrification Project (PCEP). The two contracts are the centerpiece of the $1.9 billion undertaking. At the August signing, Congress members Anna Eshoo and Jackie Speier were on-hand to provide a status update on Caltrain's federal CORE capacity funding request for the electrification project.
When completed, the PCEP will help address rapidly growing ridership by allowing the operation of more service that will accommodate more riders. The project will also significantly decrease vehicle-miles traveled and greenhouse gas emissions throughout the Peninsula corridor.
Additionally, the project lays the foundation for the eventual operation of high-speed rail service that will connect the Bay Area to the rest of the state.
Speakers at the event included Jim Hartnett, Caltrain Executive Director; Peter Spuhler, CEO, Stadler; Roger Wilson, Vice President, Balfour Beatty Rail; U.S. Representatives Anna Eshoo and Jackie Speier, and various Caltrain Board Members.

Big Blue Bus Sustainability Program Earns APTA Award
The American Public Transportation Association (APTA) recently announced that it is recognizing Big Blue Bus (BBB) with a Silver Status Award for its sustainability program at the APTA Sustainability Conference in Austin, Texas.
First started in 2009, 133 public transit agencies and businesses have signed on to the APTA Sustainability Commitment Program. Currently, 38 of these signatories have received recognition from APTA. The APTA Sustainability Program recognizes outstanding sustainability achievements that have met specific criteria through the APTA Sustainability Commitment program. Public transit agencies and businesses that voluntarily participate in the APTA Sustainability Commitment program commit to implementing processes and actions that create continuous improvements in environmental, social, and economic sustainability. Depending on the level of accomplishments, organizations are presented Platinum, Gold, Silver, and Bronze Level certifications.
Big Blue Bus has long been recognized as a national leader for its sustainability practices. Since the 1990's, BBB has utilized alternative fuel buses to reduce its carbon footprint.
BBB Director Ed King adds, "Big Blue Bus' long-term commitment to sustainability and environmental stewardship is demonstrated over decades of proactive choices in fuel and engine type, as well as continued greening of its facilities. BBB is honored to be recognized by APTA with this prestigious award for its sustainability program.

Big Blue Bus, in its Sustainability Commitment Statement submitted to APTA's Sustainability Program, identified 16 sustainability actions that it has completed to date, and committed to achieve six new short-term action items as well as four "stretch" items to be completed over the next few years. A few of the projects the agency is most proud of include:
The construction of LEED certified Maintenance Facility.
The use of Renewable Natural Gas (RNG), a bio-gas derived from harvested landfill methane, to fuel BBB's LNG and CNG fleet.
Retrofitting 30 buses by replacing the existing Cummins ISL G engine that produced 0.2 NOx and installing the ISL G Near-Zero emission engine that is certified at only 0.01 of NOx. The NOx emissions in these 30 buses will be reduced by 95%.
Procurement of 25 new 40-foot buses with the Cummins ISL G Near-Zero emission engine in 2016.