Federal Funding
FTA Selects Five California Transit Agencies to Receive Low-No Grants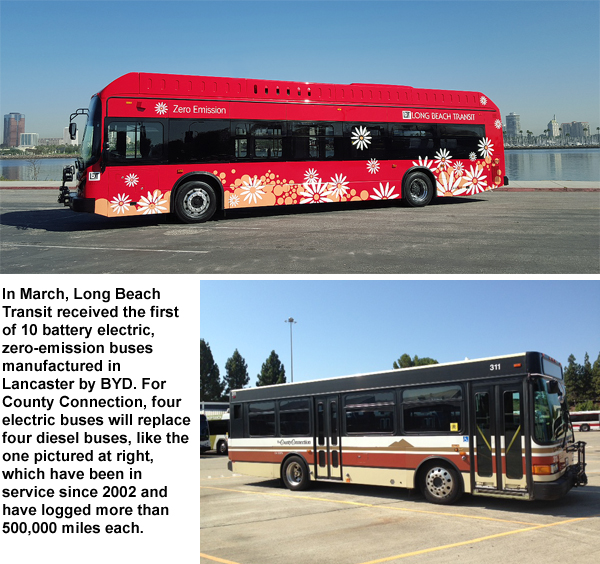 By Stephanie Jordan
Managing Editor
Transit California
In July the U.S. Department of Transportation's Federal Transit Administration (FTA) announced selections for an expanded Low or No-Emission (Low-No) Bus Competitive Grant Program. The Low or No Emission Competitive program provides funding to state and local governmental authorities to deploy the cleanest and most energy efficient U.S.-made transit buses that have been largely proven in testing and demonstrations, but are not yet widely deployed in transit fleets. In addition, funds can also be used in the acquisition, construction, and leasing of required supporting facilities. Under the FAST Act, $55 million per year is available until fiscal year 2020.
"By placing more modernized, non-polluting buses on the roads, we are improving the rider experience and continuing to extend ladders of opportunity to people who take public transportation every day," said U.S. Transportation Secretary Anthony Foxx in a statement.
This year, 20 transit providers were selected, of which five were California public transit agencies. The selected projects represent strategic investments to help reduce air pollution, train employees in maintaining new technology buses, and connect people to jobs and services through efficient bus transit networks.
"Our Low-No grant projects represent the latest and greatest bus services running on state-of-the-art technology, resulting in cleaner air and lower costs in the long run," said FTA Acting Administrator Carolyn Flowers. "By investing in new technology bus fleets, we help transition an industry that many depend on to be a model of green, efficient service."
Among the five California agencies is County Connection (Central Contra Costa Transit Authority) with its award of $2.68 million to purchase four 29-foot wireless all electric battery powered buses that will use wireless power transfer technology enabling both depot plug-in charging and en-route fast-charging that can extend battery life and support a greater range for each bus between depot visits. The electric buses will replace four diesel buses, which have been in service since 2002 and have logged more than 500,000 miles each. The diesel buses consume a combined 9,000 gallons of diesel fuel each year. The new buses will prevent just over 300 metric tons of CO2-equivalent (CO2-e) emissions and 0.090 metric tons of fine particulate matter (PM2.5) from being emitted into the atmosphere each year. In addition, the annual amount of 2.042 metric tons of nitrogen oxides (NOx), 0.156 metric tons of hydrocarbons (HC), and 1.107 metric tons of carbon monoxide (CO) emissions will also be prevented, as a result of the new buses.
"County Connection is very pleased to be one of 20 transit agencies in the United States to be selected through a competitive process to receive this project grant," said County Connection Board Chair and Town of Danville Mayor and Council Member Robert Storer. "Battery-electric buses are much quieter than diesel buses and can help County Connection reach its goal to integrate a new generation of advanced, non-polluting transit buses into our fleet and reduce diesel emissions."
The anticipated cost of the entire County Connection project of four buses, four depot chargers and one on-route charger is $4.9 million. The balance of the project will be funded through a mix of public transit grants through state and federal sources. The first of the new buses will be in service by mid-2017.
The grant will enable County Connection to implement its second all electric vehicle project and continue to deliver on the agency's long-term plan to provide reliable transit service in efficient vehicles that eliminate diesel emissions. The first project includes the replacement of four diesel-powered downtown Walnut Creek trolleys with four wireless electric trolleys. The first of the new trolleys is expected to be in service by early November 2016.
FTA awarded the FY 2016 funds after a competitive review of more than 100 applications. The other selected projects from California include Long Beach Transit, Santa Clara Valley Transportation Authority (VTA), Santa Cruz Metropolitan Transit District (METRO), and SunLine Transit.
Long Beach Transit will receive $1.2 million in funding to purchase zero- emission, battery-electric buses and associated charging equipment that will replace hybrid gasoline-electric buses that have reached the end of their useful life of 12 years. The project will reduce greenhouse gases, improve energy consumption and support the deployment of technologically advanced, U.S.-made transit buses.
VTA will receive $2.5 million in funding to purchase battery electric zero-emission buses and fast-charging stations, upgrade a maintenance facility to service electric buses and provide workforce development on new technology buses. VTA says this project represents smart, strategic integrated investments to help reduce carbon pollution and strengthen the economy while maximizing returns on public investments.
METRO will receive the largest share of California's competitive Low-No competitive grant funding, $3.8 million to purchase zero-emission battery-electric buses and an inductive charging system to operate on METRO's Highway 17 Express connecting Santa Cruz residents with jobs in the high-tech industry in Silicon Valley. The buses are the first to help fulfill a local electric bus implementation strategy.
"This grant could not have come at a better time," remarked Santa Cruz METRO CEO Alex Clifford. "Our agency has been facing a fiscal crisis that has prevented us from replacing our aging bus fleet and last year the Board directed us to seek opportunities to add electric buses to our fleet in an effort to reduce greenhouse gas emissions. Thanks to Congressman Sam Farr's (D-Calif.) efforts, we will use the federal assistance to address both of those challenges."
SunLine Transit will receive $1.5 million in funding to construct a state-of-the-art maintenance facility designed specifically for zero-emission buses. The facility will house and maintain SunLine's 20 zero-emission buses and provide an interactive learning center for workforce development for transit agency staff on new technology bus maintenance.
FTA's Low or No Emission Vehicle Grants Program has evolved from a research and deployment program that was established under the Moving Ahead for Progress in the 21st Century Act (MAP-21) into an annually funded grant program. The Fixing America's Surface Transportation (FAST) Act more than doubled the amount of funding available and moved the Low-No Program under the existing Bus and Bus Facilities Program.
See a complete list of the Fiscal Year 2016 Low or No-Emission (Low-No) Bus Program Projects.