Member News Library
The following items are excerpted from news releases issued by California Transit Association members. If you are a member of the Association and would like to submit an item to be considered for inclusion in the Member News Library, please e-mail your press releases to Communications Director Jeff Wagner (jeff@caltransit.org) AND to Managing Editor Stephanie Jordan (sjordan@freelancecomm.com). Photos and cutline information with your news release submissions, when possible, are encouraged.
---
INDUSTRY NEWS

Three Nonprofits Receive Holiday Train Donations
Through the generous donations collected from the annual Holiday Train event, Caltrain and Silicon Valley Community Foundation will direct a total of $30,000 to three local nonprofit organizations. Larkin Street Youth Services, based in San Francisco, Second Harvest Food Bank of Santa Clara and San Mateo Counties, and Youth United for Community Action of East Palo Alto each received a $10,000 gift this month.
Each year, Caltrain and Silicon Valley Community Foundation partner for the two-day Holiday Train event, where a special train emblazoned with thousands of lights travels from San Francisco down though the Peninsula, accompanied by entertainment groups performing songs of seasonal cheer. As part of the event, the public is asked to donate money and toys for children who might otherwise not receive gifts. Last year, more than 3,000 toys were collected, along with thousands of dollars, which allowed Caltrain and Silicon Valley Community Foundation to identify three organizations that could benefit from those proceeds.
"Caltrain Holiday Train presented by Silicon Valley Community Foundation is a wonderful tradition that fosters a spirit of community during the holiday season," said Mari Ellen Loijens, chief business, development and brand officer for SVCF. "We are proud to extend that community spirit throughout the year in the form of grants to these important organizations."

Muni Riders Get More Space, More Frequency & More Connections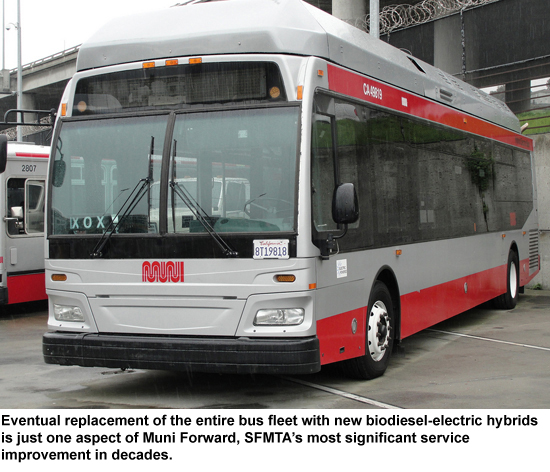 Mayor Edwin M. Lee and the San Francisco Municipal Transportation Agency (SFMTA) announced the second round of sweeping service improvements starting September 26th through the Muni Forward initiative. The improvements include greater service frequency on nearly a dozen Muni routes, replacing some smaller buses with brand-new larger buses along the heaviest traveled bus routes, and redesigning several routes to improve travel times while adding new connections to more destinations and major transit stations.
"Our Muni Forward initiative is the most significant service improvement in decades, and riders will see better service, reliability and cleanliness as a result," said Mayor Lee. "Muni is making good on its promise, having already added 19,850 hours of increased service with 116 new buses on the street, with even more service and new environmentally friendly 60-foot buses on the way."
There are a total of 37 new vehicles headed for San Francisco streets this month. The first delivery includes 30 60-foot hybrid motor coaches and seven 60-foot trolley coaches. Already Muni has 116 new buses in service, with continued shipments of new vehicles planned every week for the next 18 months.
"A key commitment of Muni Forward is reducing crowding on Muni's heaviest used routes," said SFMTA Director of Transportation Ed Reiskin. "By replacing 40-foot buses on the 1AX California Express and 14/14X Mission with 60-foot buses, we are increasing the capacity from 54 to 80 people per bus, which allows us to move more people more comfortably."
All 37 buses out-class traditional diesel propulsion and are environmentally "green". Manufactured by New Flyer, these "green" buses will lower fuel consumption while simultaneously lowering harmful emissions. The new buses represent a continuation of the complete overhaul of Muni's fleet.

Metro Ramping Up Security Through Three Es: Engineering, Education and Enforcement
To further enhance safety and security on the transit system, the Los Angeles County Metropolitan Transportation Authority (Metro) recently announced acquisition of three significant technologies to be deployed countywide in the coming weeks.
One of the most innovative technologies is LexRay Systems that allows sheriff's deputies and other law enforcement officials to immediately access real-time imaging from Metro's extensive system of CCTV cameras to a smartphone. This allows first responders to see inside the bus or train car that is in need of assistance.
"Metro has been investigating practical technologies that can help enhance the safety and security of the riding public and our employees," said Metro Chair and Los Angeles County Supervisor Mark Ridley-Thomas.
To augment CCTV coverage, especially near parking lots at Metro Rail and Orange Line stations, Metro will begin deploying SkyWatch security towers as mobile "eyes in the sky." SkyWatch towers are elevated and movable systems that use real-time and remote video surveillance to multiply remote security presence. Metro received a grant to purchase four SkyWatch towers and their deployment will begin in late September.
Security kiosks will also be installed in nine subway plazas at high volume rail stations, enabling sheriff's deputies and other security personnel to access computers and other law enforcement tools where they have not been available beforehand.
These technologies follow only a few months after Metro introduced the installation of polycarbonate barriers on buses to protect operators from assaults, and the deployment of CCTV monitors on buses to help reduce assaults and other crimes on buses.
"Since last March, Metro has been moving forward with the purchase of security barriers and video monitors on all new buses," said Metro CEO Phillip A. Washington. "To those who are inclined to commit crimes on our system: we will be watching you and are ramping up enforcement to catch you."
Metro will also be increasing its education to the traveling public empowering them to be an extension of Metro's eyes and ears on the system. The rate of serious crime on Metro's system is four per one million boardings. On an average workday, Metro has about 1.4 million bus and rail boardings. If compared to a comparably sized city, the Metro system would be the safest city in the nation.

How Does Neighborhood Crime Influence the Way We Access Transit? Mineta Report Updates Findings
How does neighborhood crime influence the way riders access various transit modes – or if they will ride transit at all? In a third-phase report, researchers have further refined the investigative techniques and results from their first two studies, which had some inconsistent results. Neighborhood Crime and Transit Station Access Mode Choice – Phase III of Neighborhood Crime and Travel Behavior, published by the Mineta Transportation Institute (MTI), uses the new data to recommend several collaborative ways for transit agencies, police, and public officials to help reduce crime and make non-motorized travel safer. Principal investigator was Christopher E. Ferrell, PhD, working with Shishir Mathur, PhD, and Bruce S. Appleyard, PhD.
"Most public policy strategies can take years to show results," said Dr. Ferrell. "But improved crime intervention strategies can reduce residents' safety concerns much more quickly, even when they live in high-crime neighborhoods. In turn, this can encourage more walking, biking, and riding transit as a way to accelerate reduced automotive emissions and improved health. This new report shows even more reliable evidence to support that idea."
Further, crime can be prevented when transit agencies, local governments, and emergency service providers collaborate on crime prevention through environmental design methods, such as with transit-oriented development (TOD). This will help maximize the beneficial effects of TOD over the long term, the authors say, because it will help create safe, transit- and pedestrian-oriented communities around transit stations.
Dr. Ferrell said, "The third phase of this research has successfully confirmed our hypothesis that high levels of neighborhood- and corridor-level crimes discourage transit use, walking, and bicycling while encouraging driving. Automobiles may benefit many, but they also bring social ills, such as obesity, emissions, sprawl, and the like. Improved crime prevention strategies can make non-motorized travel more attractive, and they should be considered as part of a larger package of short-term and long-term measures to reduce auto dependence."

District Studying Feasibility of Assuming Tiburon Commuter Ferry
The Golden Gate Bridge, Highway and Transportation District (District) is studying the feasibility of assuming operations of commute ferry trips between Tiburon and San Francisco. Blue & Gold Fleet, which currently operates the service, approached the District about taking over the morning and evening commute trips. Given the public interest in continuing a ferry service for commuters in these regions, as well as to reduce automobile commute traffic on the Golden Gate Bridge, the District Board of Directors recently authorized staff to explore this possibility. Resources currently supporting Golden Gate Transit Route 8, on which ridership has declined over the past decade, could be redirected to partially support a replacement ferry service.
The study phase is expected to last a few months. Blue & Gold Fleet estimate their passengers currently take about two hundred thousand commute trips a year. For more information, read the related staff report here.
TRANSIT PEOPLE AND HAPPENINGS

AVTA Receives Top Advertising Award
For the fourth consecutive year, the Antelope Valley Transit Authority (AVTA) has been honored for its marketing and communication efforts with a first-place AdWheel Award from the American Public Transportation Association (APTA). AVTA received the award for its "Have Bus, Will Travel" poster, created for the third annual AVTA Bus Roadeo held in March. The APTA AdWheel awards recognize public transportation systems throughout the nation for excellence in advertising, communication, marketing and promotions.
"The innovative visual designs and concepts of our marketing and communications team are a key element in the success of our outreach in the community," stated AVTA Board Chair Marvin Crist. "This acknowledgement of their skill and expertise is well-deserved."
AVTA's design was awarded first place in the category of Print Media-Poster, in the group of public transportation systems with four million or fewer annual passenger trips. Hundreds of entries competed this year in six categories: print media, electronic, campaign, special event, social media, and special recognition. AVTA's first place entry will advance to compete for a Grand Prize, which will be announced at the AdWheel Award ceremony at APTA's 2015 Annual Meeting in October.
AVTA has won previous AdWheel awards in 2012, 2013 and 2014 for print ads, television ads and a travel training video. The agency also won an AdWheel Award in 2007 for its colorful transit map. The television ad "Feel Like Ridin" was a Grand Prize winner in 2013 in the category of Electronic Media.
"We're thrilled to again be honored by APTA for the creative talents of our marketing and communications team," said Executive Director Len Engel. "We're always extremely proud of the work they do, and to have their efforts recognized nationally by our industry peers is very special."

Metrolink Hires Elissa Konove to Become Deputy Chief Executive Officer
Elissa Konove, the chief financial officer at the Federal Highway Administration (FHWA), has agreed to serve as the deputy chief executive officer at the Southern California Regional Rail Authority (Metrolink).
"We had some of the most talented people in the nation apply for this position and Elissa was the clear choice," said Metrolink Chief Executive Officer (CEO) Art Leahy. "Elissa's experience at the FHWA, the White House Office of Management and Budget, and with Congressional leaders in Washington D.C. will be invaluable as Metrolink continues to be a national leader in rail safety and passenger service."
As the agency's deputy CEO, Konove will provide leadership and support on budget, finance, and other Metrolink policies, while achieving the agency's goals and objectives to improve the system for riders. She will also work with external audiences and stakeholders to continue Metrolink's path in becoming the safest railroad in the nation.
In 2008, Konove was selected as the chief financial officer for the FHWA where she was the senior executive responsible for Federal highway budget, financial, and acquisition matters. She was responsible for a $40 billion annual budget, which included audit, accounting, and grant management, along with procurement operation activities. She oversaw a professional staff of 100 analysts, accountants, and contract specialists. Konove also managed $27.5 billion appropriated to the FHWA in the American Recovery and Reinvestment Act of 2009.
Konove initially came to the FHWA in 2006 as the director of its Office of Budget after serving as a program examiner and budget preparation specialist for the Executive Office of the President's Office of Management and Budget (OMB). At the OMB, she oversaw the formulation and execution of U.S. DOT agency budgets and coordinated surface transportation bill reauthorization and appropriation activities.
In 2005, Konove served on an assignment to the Senate Budget Committee, where she was responsible for the transportation function during development of and negotiations on the Congressional budget resolution.
UPCOMING EVENTS
October 4 – 7, 2015
Hilton San Francisco Union Square
San Francisco, California
Engage in educational sessions, workshops, tours, and network with colleagues at APTA's Annual Meeting being held in San Francisco this fall. Keynote speakers discuss strategy and leadership. Educational sessions explore creating transit oriented communities, investing in infrastructure, asset management, innovating funding and financing, managing emerging technologies, safety, workforce issues, and big transportation projects worldwide.
October 20 – 22, 2015
Double Tree Hilton, Sonoma Wine Country
Rohnert Park, California
The California Association for Coordinated Transportation's Autumn Transit Camp & Professional Development Conference is fast approaching. Registration and hotel room block reservations are now available. For more information, visit calact.org.
November 18 – 20, 2015
Pasadena Convention Center
Pasadena, California
Save the date to attend the Association's biggest event of the year and to be a part of the celebration as we commemorate half a century of achievements by the Association and its members. More information and online registration will be available beginning next month.