50 Years of Leadership - Larry Jackson
Among the features launched in commemoration of the California Transit Association's 50th anniversary is the Gallery of Leaders, featuring interviews with some of the people whose vision has nurtured and bolstered public transportation in California to date, and in some cases has established a blueprint for the future.
This month, we feature Laurence W. Jackson, the former longtime leader of Long Beach Transit. Jackson began his career in public transit in 1973. Hired by Long Beach Transit in 1975, within five years he was named president and general manager, a position he retained until he retired in 2013, making him, at that time, the nation's fifth-longest-tenured president of a transit agency in the United States. Jackson is a past president and chairman of the board of the American Public Transit Association (APTA), member of APTA's Legislative and Membership Committees, APTA secretary/treasurer, and chair of APTA's Nominating, By-Laws and Site Selection Committee. He also was president of the American Public Transit Foundation (APTF) and was the North American executive committee representative for the Union International of Public Transportation Officials from 2008 to 2009, representing mass transit systems from the United States, Canada, and Mexico. In 2012, APTA named Jackson its Outstanding Transit Manager, considered to be the industry's highest award.
Jackson was a long-time member of the California Transit Association's Executive Committee and the latest to be inducted into the Association's Gallery of Leaders.
---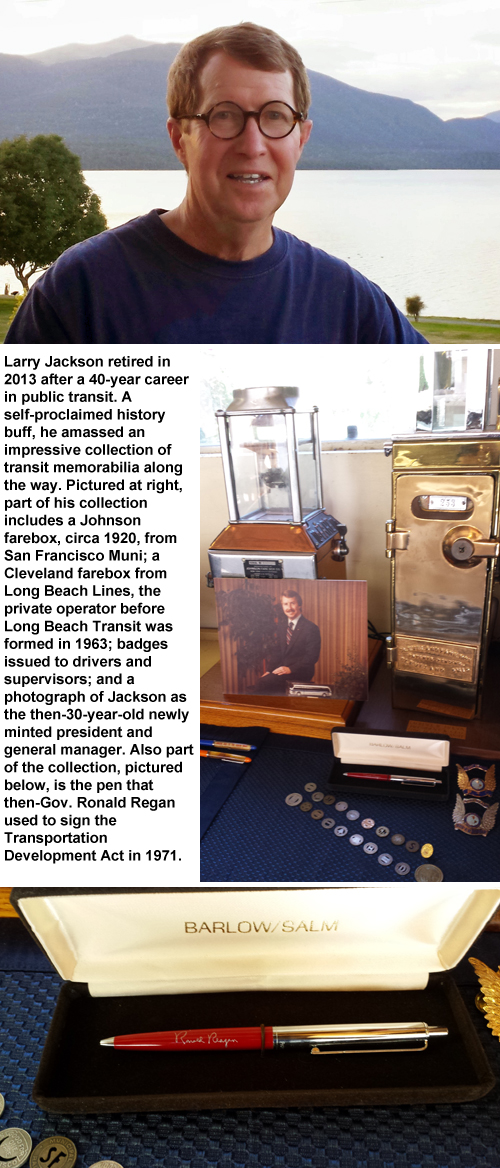 Transit California:
How did your public transit career start?
Larry Jackson:
I grew up in a small town in northern Michigan, went to college at Michigan State, and after graduation went into the Marine Corp during the Vietnam War. When I was discharged, I was at the El Toro Marine airbase in Orange County. That's what brought me to California. I was soon hired by a consulting engineering firm working mainly on transportation projects -- that was in the early and mid-70s.
One of my projects was in Long Beach, which ultimately resulted in a job offer with the City of Long Beach, working with the transit system to help straighten out some grant problems. This was during the time that federal and state funding for transit systems was new. Long Beach Transit had three sets of books and they got into some trouble because both the feds and state wanted the other to be its primary funding source. My predecessor, Bill Farell, who was with Long Beach Transit since its inception in 1963, had gone to the feds and asked them for all the money he could possibly have. He did the same thing with the state, leaving both of them upset with Long Beach Transit and decertifying them from receiving any money. I was asked to fix the situation and smooth things over with the state and the feds. I did that as an employee with the City of Long Beach. By 1975, I was working directly with Long Beach Transit as Manager of Grants and Intergovernmental Relations.
So really, my entry into the industry was just by happenstance.
Transit California:
In those early days, did you work with the California Association of Publicly Owned Transit Systems, better known as CAPOTS, the precursor to the California Transit Association? Do you have any specific memories of that group?
Larry Jackson:
What stands out in my mind was when we were looking to broaden CAPOTS, and Terry Cooper, who headed up Monterey-Salinas Transit, and I both hated acronyms. We thought CAPOTS sounded like a toilet or something. At that time, the plan was to call the Association: CTA. Terry and I said, "Over our dead bodies! If we are going to be something, why can't we just be the California Transit Association?" We stood up and fought and ultimately the acronym-ites were beaten down. We wanted to be identified with who we are and not be mistaken for California Teachers or Truckers or whatever.
Transit California:
You are one of a few that can connect us back into the CAPOTS days. What was the reason for forming the Association in the first place? Who got it started?
Larry Jackson:
The transit industry was virtually dead and the private operators were gone by the early-to mid-1960s. Post-World War II, everyone wanted an automobile, freeways were being built, and public transit that was owned by the private sector was disappearing. So cities and county transit districts were formed and local government was infusing money to try to keep buses operating. The only benefit they received from the private side was not having to pay taxes.
From my perspective, Long Beach Transit was barely holding on. There was no money to replace buses. You just struggled to keep the old ones going. I remember Bill Farell saying they would have a bus breakdown and instead of replacing four pistons, they'd only do one sleeve, because they didn't have enough money to properly do an engine job. It really was desperation times.
Bill was a founding member of CAPOTS in the mid-60s. He along with San Diego Transit Corporation General Manager Tom Prior, AC Transit General Manager Al Bingham, Director of Santa Monica Municipal Bus Lines Jack Hutchison, Golden Gate Bus Transit Division Manager Don White, and some other larger system managers were all original members of the Association. They came together and said: "We've got to do something at the state level." They knew they could not go to Sacramento individually -- Los Angeles couldn't, San Diego couldn't -- they all just pulled together and said, "Let's put in a little money and hire a lobbyist," which was John Wells. Together they worked to get some public money coming in. The Association, unlike today with all the big conferences, speakers, and various committees, used to be just 20 old guys trying to figure out how much they'd have to kick-in for a lobbyist that could help get funding out of Sacramento. I'm over simplifying things, but basically that's what CAPOTS was.
Transit California:
When did the Association start to look more like it does today?
Larry Jackson:
In the early days, Bill used to have everyone come to his house in Palm Springs for the original CAPOTS meetings. He probably expensed it to the company. Those good ol' boys would party in Bill's home in the desert and talk about what they could do to get money to keep their systems running.
Their big breakthrough was getting Governor Reagan to sign SB325 (the Transportation Development Act or TDA) into law. Senator Mills was really the guru that pulled together a fixed source of funding for transit in the state. In fact, I have the original pen, with Governor Reagan's name on it, used to sign the TDA. John Wells, who was also Long Beach Transit's lobbyist, one day said to me: "I've got something for you" and gave me this little case with the pen inside.
By the time I came along in the 70s, Ed Gerber was running the meetings and was instrumental in changing CAPOTS from a seat-of-the-pants organization that it was in the 60s. He really was responsible for the modernization of it. In fact, one of the first meetings that I attended in the 70s was held in Long Beach and that's when it was decided to make CAPOTS a more professional organization. Everything was to go to Ed Gerber -- prior to that time, the Association had two leaders: Ed Gerber on the advocacy side and Phil McGuire handled the administration. That's when we started having the more formal fall and legislative conferences. It really grew beginning in the mid-70s to what we have now.
Transit California:
How do you see the evolution of the Association between the 70s and now?
Larry Jackson:
It has been a series of small, meaningful, and incremental changes over many, many years with the bar constantly being set higher and higher. The Association grew from people just getting together to having meaningful meetings and conferences. Originally, you just raised your hand to host the conference and whole thing was done by that agency. You had to get the sponsors, figure out the program, everything. The transit system just ran it. As a result, there was a huge fluctuation in quality in the conferences -- depending on how large a staff, and how much money, they had to put it on. It wasn't until 2005 that the Association itself took the lead in the planning and execution of the conference and invested in the conferences.
Transit California:
Turning back now to you personally, you were named President and General Manager by the Long Beach Transit board of directors just a handful of years after you came to the system. You must have been a young man at the time.
Larry Jackson:
It is important to understand that before those state and federal funds became available, this industry was primarily private. As I said before, it was steadily shriveling up and dying. In the cities in the 1950s and 1960s, there wasn't much hiring happening into the industry. Many of the people working in public transit were getting old at that point. I'm in my late 20s and all around me many of those founding CAPOTS members and their employees were retiring. By the time I was 31 years old, I was the CEO of a lot of people that were older than me. It was a weird time in the industry and unusual that someone that young would be heading up a corporation like that. Jerry Haugh, who later went on to run San Mateo Transit District for nearly 25 years, was the immediate successor to Bill, but he only stayed on for a short time. I then replaced Jerry, first as acting General Manager and then permanently in May of 1980.
Transit California:
You then headed up the agency for the next 34 years. In 2013, the year you retired, Long Beach Transit celebrated its 50th Anniversary. How did Long Beach Transit celebrate that milestone?
Larry Jackson:
We created a really nice History webpage on the Long Beach Transit site along with a 50th Anniversary book that has a lot of tremendous pictures of Long Beach and Long Beach Transit, not only from its inception in 1963, but all the way back to the late 1800s. It gives a historical perspective of early Long Beach and shows everything from horse-drawn carriages up through the millennium. I was really the sole link to Long Beach Transit's inception and Bill Farell's time. There's lots of great pictures of Bill Farell, who originally came from Santa Monica, prior to Jack Hutchison taking over Santa Monica Municipal Bus Lines.
Transit California:
Why do you think it is important to follow an organization's history?
Larry Jackson:
To me, history is fascinating. It's important to understand where a person or organization has come from, in order to have a feel for where they are today or what their potential might be. For us, putting together a really good quality 50-year book was an attempt to archive the history of the community and the contributions that transit has made in developing Long Beach and the cities around us. Plus, the community really wanted it.
It is a personal thing with me. I'm a history buff and like to understand where people or organizations have come from. It's a great sense of pride for all of our employees to see the great strides and the achievements they have been able to make over a period of time. It was always part of my philosophy that the organization annually and periodically every two or three years would step back and see all the changes and progress that we had made. If you don't do that, you get lost in the frenzy of the day-to-day running of an organization. Otherwise, you might not know or appreciate where you are going and where you have come from.
I also wanted it for the future employees of Long Beach Transit, so that they could have a sense of pride in the organization and see the accomplishments for the years that I was there, and the early years when it was a struggle to keep the organization together.
The future in my mind of what public transit can do is almost limitless, depending on the evolution that is going to happen in terms of fossil fuels, water, and other resources. Public transit today is poised to change and to figure out what the community is going to need. Can we get into individual neighborhoods? Can we do more than fixed-route services? Organizations like Uber are revolutionizing the industry and changing the sort of stodgy way the organizations had become. We are having to modernize and take advantage of technology that will drive our industry for the next 20 or 30 years.
Transit California:
What do you think will be one of the biggest challenges to transit in the future?
Larry Jackson:
One of my greatest disappointments is that the United States didn't take seriously the need to look toward the future in terms of the role that public transit could play in cities and urban areas. If you go to Europe, gasoline prices are two or three times what they are here and its been that way for a very long time. France, UK, Germany, they all made the conscious decision that they were going to put a big tax on fuels and use that to build the rail system. In the U.S. and California, it has been relatively miniscule. That's the big challenge that is out there. I don't know that there is the political will to do something until a crisis happens. We can't get bridges and roads fixed now, but one day there will be an overpass or something that will collapse. People will wring their hands and say, "How could this happen? Why haven't we done something about this?" At some point, the aging infrastructure will catch up with us.
Transit California:
There is a mass exodus happening in public transit systems, as many long-time employees are near to or are already retiring. How do you see the situation that faces the industry in that regard?
Larry Jackson:
When the transit systems regained their hiring strength in the 70s, at the time when I came on, those people are all now retiring. Today, there is a great interest in transit and all the good things that are done. The problem is, it's like riding a rollercoaster. When I came on the scene no had been hired and they were just holding on. There were a lot of people retiring and it brought us into the industry and gave us opportunities. That same thing is going to happen again. There are some tremendously talented people out there that are in the third and fourth hierarchy in organizations that have been working hard for years and they will get a chance to move forward – just like it happened before.
One of my biggest senses of accomplishments are all the transit heads that have came up through Long Beach over the years. Carl Sedoryk (Monterey-Salinas Transit), Karen King (Golden Empire Transit District), Ed King (Santa Monica's Big Blue Bus), Jack Gabig (Gardena Municipal Bus Lines), Larry Rubio (Riverside Transit Agency), Tom Narrigan (Pioneer Valley Transit Authority) and Art Ida (Culver City) all worked with me at Long Beach Transit. That's what happens in the industry. People work and, if they work hard and are really good, you give them more and more responsibility. It's like being the mother bird that says, "Now, go fly." That's what happened with so many of the people that I worked with. It's a big sense of pride to see people that got started at Long Beach still around California and the country running transit systems.
No one is indispensable. After my 37 years in the industry, other people came in. If the organization is well run, as people leave, others come on, and the system never skips a beat.
Transit California:
Our thanks and best wishes go out to Larry Jackson for sharing his memories of the early days of the Association and for taking time to talk with us.
As part of the retrospective of the California Transit Association's 50th Anniversary, this interview of Larry Jackson will also be included in the Gallery of Leaders on the California Transit Association's website. Be sure to check the Gallery to view videos and read more about some of the people that have shaped public transit in California. The Association is working on its own 50th Anniversary book, soon to be published online.