50 Years of Leadership
Among the features launched in commemoration of the California Transit Association's 50th anniversary is the Gallery of Leaders, featuring interviews with some of the people whose vision has nurtured and bolstered public transportation in California to date, and in some cases has established a blueprint for the future.
Prior to joining President George W. Bush's administration as U.S. Secretary of Transportation, Norman Mineta served as U.S. Secretary of Commerce under President Clinton, becoming the first Asian Pacific American to serve in the cabinet of a U.S. President. He is the first Secretary of Transportation to have previously served in a cabinet position. From 1975 to 1995, he served as a member of the U.S. House of Representatives, representing the heart of California's Silicon Valley.
Mineta and his family were among the 120,000 Americans of Japanese ancestry forced from their homes and into internment camps during World War II. After graduating from the University of California at Berkeley, Mineta joined the Army in 1953 and served as an intelligence officer in Japan and Korea. He joined his father in the Mineta Insurance Agency before entering politics in San Jose, serving as a member of the city council from 1967 to 1971 and as mayor from 1971 to 1974, becoming the first Asian Pacific American mayor of a major U.S. city.
---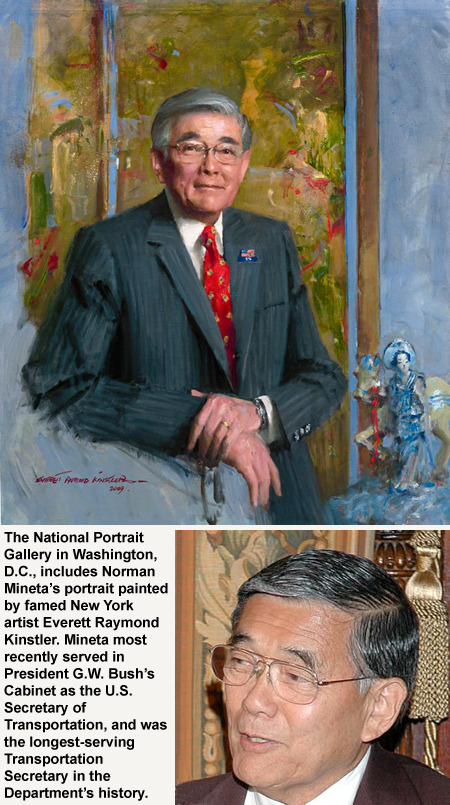 Transit California:
How did you become associated with or become interested in transportation?
Norman Mineta:
While attending the University of California at Berkeley, I majored in Business Administration and minored in Transportation, which at that time focused primarily on the Public Utilities Commission (PUC) and rail. When I graduated, the Korean War was underway and then I went into the Army and served as an intelligence officer in Korea (1953) and in Japan (1954-56).
In terms of transit involvement, it wasn't until I was back in California and elected to the San Jose City Council in 1967 that I began to see how transit could play a role with city, land use planning, and as an alternative to automobiles.
Transit California:
Being in San Jose at that time, were you involved in public transit and the precursor of today's Santa Clara Valley Transportation Authority?
Norman Mineta:
When I was mayor of San Jose in 1971, there was only the San Jose City Bus Lines and it was owned by General Motors. Prior to becoming the mayor, I started the process to buyout General Motors and I completed that transaction as mayor of San Jose. There was a train system too, also owned by General Motors, but they started to shut down the commuter rail service. This is what would later become BART. But before that time, General Motors was buying up the transit services to then later take it out of business to promote the reliance on cars. So we acquired the San Jose City Bus Lines and then, working with Rod Diridon, we worked to expand into Santa Clara County to include local areas beyond the City of San Jose.
Transit California:
When did you begin to become involved with public transportation nationally?
Norman Mineta:
In 1975, I was elected to the U.S. House of Representatives representing the Silicon Valley area. I served until 1995. In 1991, I sat on the Committee on Public Works and Transportation (what is known today as the Committee on Transportation and Infrastructure) and did the first re-write of Eisenhower's Federal-Aid Highway Act of 1956 -- the law that authorized the construction of a 41,000-mile network of interstate highways that would span the nation.
The result was known as the Intermodal Surface Transportation Efficiency Act of 1991 or ISTEA, (pronounced 'Ice-Tea') and it posed a major change to transportation planning and policy. In that legislation, there were a number of things I did, including introducing public transit and also the establishment of regional councils of governments (COGs). We used San Francisco Bay Area Metropolitan Transportation Commission (MTC) as a model for a regional transportation coordinating body. This would be where all the federal grant money could be coordinated. Larry Dahms (MTC Executive Director 1977-2000) did a terrific job of maximizing federal grant monies coming into the SF Bay Area to really benefit the users of public transportation.
ISTEA was really significant legislation because it was the first time that a surface transportation bill became multi-modal and had a COGs component. It was a new way of thinking of public transit, which has now evolved to become today's transit oriented development (TOD).
Transit California:
That wasn't the only 1991 bill that you helped to revamp that furthered the cause of public transit. Would you tell us about your involvement with the Federal Transit Administration?
Norman Mineta:
The Urban Mass Transportation Administration (formed in 1964) provided capital grants for up to 50 percent of the cost of large-scale transit improvements. But the federal support only focused on big cities. I felt that we should look at the needs of rural and suburban communities too, much to the chagrin of some urban areas. To that end, the Federal Transit Act Amendments of 1991 changed the Urban Mass Transportation Administration to today's Federal Transit Administration (FTA) expanding the planning capabilities into rural and suburban counties and tying into urban centers.
The whole idea of being able to provide a spectrum of services for seniors, or alternative transportation, and meet expanded transportation needs for all transit providers, not just the urban providers, was the goal.
Transit California:
Do you have a consequential game-changing (good or bad) moment for public transit that you witnessed during your career?
Norman Mineta:
I was honored to help work on the transportation portion of the American's with Disabilities Act in 1991. In that legislation, we were very fortunate to have Justin Dart, a long-time disabilities advocate and chair of the Commission on People with Handicaps. There was considerable pressure from the business community against the ADA and we knew that President George H.W. Bush might not sign the bill. Business scare stories of losing shelf space, having less room for desks because of aisle space requirements, and all kinds of arguments were being made. But Justin Dart was also the son of one of President Reagan's closest friends, and he met with Bush and convinced him not to veto it. I am eternally grateful for his assistance. Justin had been in a wheelchair since a young age from polio. He held his ground. We worked for three years to get that bill through.
Probably the last statement for the ADA finally came two years ago with the ability to carry a wheelchair on Greyhound and other over-the-road buses. That was a long time in coming.
I once spent a week in a wheelchair, at the request of a fellow who had worked very hard on my campaign for mayor of San Jose. So this is back to 1971. At that time, he asked if I would spend my first week as mayor in a wheelchair and I did. I could not get over the curb, people had to pick me up. I couldn't get into the bathroom stalls, reach the water faucets or access the phone booths. Outside, the sewer grates were designed in such a way that the wheelchair would get stuck. We were probably one of the first cities to change the grate design to be perpendicular to the road, so bicyclists and wheelchairs wouldn't get caught. Just in that one week I saw all the things that cannot be done if confined to a wheelchair. Everything was an obstacle.
Transit California:
In your opinion, how has the public's view of transit changed?
Norman Mineta:
Transit agencies do a better job of planning and offering services today for its clientele. I think there is a broader acceptance by the public. Of the Millennials today, only 40 percent of 18 year olds have a driver's license. I couldn't wait to get my license at 16. But today young people want to live in the cities, they want to take transit, and grab a bike off a rack, bicycle, and leave it on another rack. People are also using Zipcars, or Uber to get where they need to go.
But it also seems tied to the price of gas. If there is a crisis, people park their cars and if not, they tend to go back to their cars.
Transit California:
As you have traveled the world, and in the U.S., what transit lessons should we be importing to California? What do you see as working particularly well, or should we be paying attention to?
Norman Mineta:
China has high-speed rail plans for 17,000 kilometers (10,565 miles) of domestic high-speed rail lines from Beijing to Shanghai that will reduce what used to be a four-hour journey to just one-hour-and-a-half. Japan is also working on a span from Tokyo to Nagoya that takes two-and-a-half hours travel by car, but by 2022 you will be able to do it in 45 minutes. The whole span is tunneled because you can't watch the landscape go by at 350 mph, you have to be totally encapsulated.
Transit California:
In your opinion, what are California's chances for high-speed rail?
Norman Mineta:
We have to give Governor Brown credit for trying to get high-speed rail going. There are other regional efforts in Texas, Florida, D.C., New York, and other places. I don't think there will ever be a national program, but we must support regional efforts. But we are not doing that. Congress is so polarized. I'm afraid that years from now, we are going to be standing with our trousers around our ankles and wonder what happened. In other countries, our competitors are all working on infrastructure, and education and health. They are doing cutting edge research, making advances, and we aren't keeping up.
Transit California:
Why do you think Congress seems so unable to get things done?
Norman Mineta:
Congress today is made up of 50 to 70 people that believe 'compromise' is a bad word. They don't believe you can meet half-way or agree to give each other something. They each hold their ground. The people don't even know each other, and they don't talk to each other. They don't know their counterparts on the committees and subcommittees they serve on. They spend a majority of their time fundraising.
Transit California:
Let's switch gears to the Mineta Transportation Institute (MTI) located in San Jose: we have interviewed Rod Diridon, but tell us about your affiliation with MTI. How can MTI help our public transit readers to further their education goals?
Norman Mineta:
In 1991 the institute was established because most universities weren't preparing people for the transit business. So we set up the Transportation Institute at San Jose State University offered through four regional classrooms in California with a focus on practical, hands-on learning. Later on, Rod Diridon and others changed the name to Mineta Transportation Institute (MTI).
People can achieve in two years a Masters of Science in Transportation Management (MSTM). Last year we had 31 graduates, our biggest class yet. We also offer certificate programs in Transportation Management, Transportation Security, and High-Speed Rail Management.
It is a program that is growing and flourishing.
Transit California:
This interview is part of the retrospective of the California Transit Association's 50th Anniversary, and is included in the Gallery of Transit Leaders on the California Transit Association's website. As someone who has shaped public transit in California and nationally, we extend our best wishes and sincere thanks to Norman Mineta for taking the time to recount his leadership in the adoption of landmark federal transportation legislation – including ISTEA, the formation of today's Federal Transit Administration, and the ADA – and his monumental contributions to public transportation in California and across the nation.