50 Years of Leadership – Executive Reflections
Among the features planned in commemoration of the California Transit Association's 50th anniversary is the Gallery of Leaders, featuring interviews with some of the people whose vision has nurtured and bolstered public transportation in California to date, and in some cases has established a blueprint for the future.
Beginning this month and continuing throughout 2015, excerpts from the Gallery of Leaders will be presented in Transit California. In the first of a two-part series, we begin by asking several members of the California Transit Association's current Executive Committee – today's transit leaders – to share their opinions on significant achievements and influential figures over the last 50 years of public transit in California.
---
Transit California:
In your opinion, if you had to identify one or two game-changers in transit over the course of the past 50 years, what would it be?
Donna DeMartino, General Manager/CEO San Joaquin Regional Transit District
and Chair, California Transit Association: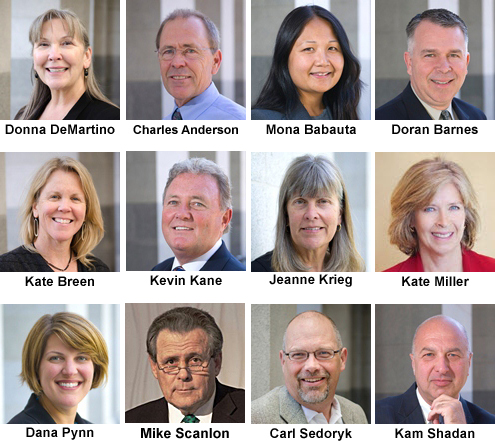 One of the biggest game changers has been the passage of the Americans with Disabilities Act of 1990 (ADA). It was established to ensure equal opportunity and access for persons with disabilities and to enhance the social and economic quality of life for all Americans. As a result of that legislation, now all of our transit vehicles and facilities are accessible to persons with disabilities and we all provide complementary paratransit services for customers who cannot use our regular services. But, we have not stopped there! Most of us are looking for ways to provide even better mobility options for customers who have disabilities. At RTD, our "Hopper" deviated fixed-route services provide a very cost-effective complement to our regular fixed-route services. The Hoppers operate in smaller buses and their routes are designed to stop at our frequently requested ADA destinations, so ADA customers may not need to make reservations in advance. In addition, because the Hoppers are open to all customers – ADA and the general public – they provide more than just an individual ADA trip, they provide a warm social setting where friendships are created and maintained, all at a fraction of the cost of a typical ADA trip. Many transit agencies, RTD included, are using taxis to help meet the demand for services, and some of us are even working with local social service agencies as partners in providing high quality, low cost ADA trips.
Charles Anderson, General Manager Western Contra Costa Transit Authority:
In my view, the two key game-changers for transit were the passage of the Urban Mass Transportation Act in 1964, and California's Transportation Development Act (TDA) in 1971. Both of these initiatives represented crucial ongoing sources of funding for public transit that are still providing support decades later. More importantly, the passage of these two acts formally recognized public transportation as an appropriate function and service at both the Federal and State level.
Mona Babauta, General Manager SolTrans (Solano County Transit):
I know some in the industry would say TDA law or something funding related, but I would say, since I started my career in the late 1990s, one of the bigger game changers are the mandates from the California Air Resources Board. I am so amazed by just how well everyone in the industry – manufacturers, maintenance managers, operations staff and many others – have pulled together to develop cleaner vehicles, build expertise and share resources to overcome the increasingly stringent air emissions requirements over time.
Kate Breen, Legislative Affairs Manager San Francisco Municipal Transportation Agency:
To me, one of the biggest game changers was the Federal enactment in 1991 of ISTEA (Intermodal Surface Transportation Efficiency Act), the federal transportation reauthorization legislation that took down historical barriers to using highway funds for flexible investments including public transportation.
Kevin Kane, Executive Director Victor Valley Transit Authority:
Without a doubt, I would suggest the TDA as one of the biggest game changers in the last 50 years. It provided funding so that transit could grow in the small urban and rural areas, as well as in the major cities and metropolitan areas.
Jeanne Krieg, CEO Eastern Contra Costa Transit Authority:
One of the biggest game changers over the past 50 years has been the positive impact various social movements have had on our industry. It is critical that the transportation services we provide be available to ALL regardless of race, ability, social standing, or economic status. The early days of the civil rights movement continuing through the Americans with Disabilities Act and today's Title VI policy guide our industry to focus on doing the right thing in the right way.
Kate Miller, Executive Director Napa County Transportation and Planning Agency:
Biggest game changers to me would be Transportation Authorization (and rise of the Self Help County) and Technology.
Carl Sedoryk, General Manager/CEO Monterey Salinas Transit:
The Americans With Disabilities Act of 1990 provided the right to unprecedented mobility to persons with disabilities allowing a largely "invisible" demographic to have access to jobs, education and a better quality of life. In small urban and rural areas like Monterey County the unprecedented funding growth that occurred in the 5311 under TEA-21 and SAFETEA-LU programs has helped people in rural areas connect with work, healthcare, and job training opportunities that they would not be able take advantage of without public transit.
Kam Shadan, Vice President/Regional Director Gannett Fleming, Inc.:
In my opinion, one of the biggest game changers came from federal funding of transit through the creation of Urban Mass Transportation Administration (UMTA) later Federal Transit Administration (FTA).

Transit California:
How about the biggest game-changer you've personally experienced in your career – what was it?
Donna DeMartino:
The biggest game changer for me personally was being selected as a member of the second annual Leadership APTA class. Being a part of that year-long process solidified my passion for public transit. The experience connected me to some of the real issues and the real icons of our industry and gave me opportunities I never anticipated. We all understand our industry will need strong leaders to carry out the important work we do in our communities. I applaud APTA, the University of the Pacific, the Mineta Institute at San Jose State University, the Eno Foundation, and other institutions that have recognized the need and taken on the challenge of preparing the next generation of transit leaders.
Mona Babauta:
Personally, the biggest game changer I've experienced is the privilege of becoming SolTrans' first, permanent Executive Director in June 2002. It certainly took an incredible amount of endurance, focus, creativity, and strategic planning to overcome the challenges of this "start-up" endeavor. Undoubtedly, the opportunity to lead SolTrans through this part of its evolution as an agency has been the most rewarding and valuable experience of my career.
Kate Breen:
Biggest game changer that I have directly experienced is the phenomenal revolution in technology that allows customers to access, and expect, real-time information from any mode, at any time. Plus it allows them to participate in our systems in myriad ways from fare payment to travel planning and making connections instantaneously.
Kevin Kane:
Personally for me, it would be the change of careers from newspaper marketing to public transit marketing. That led the way for me to become a general manager and to make a real difference in people's lives.
Kate Miller:
It has been great to witness and be a part of the rise of women in leadership roles.
Carl Sedoryk:
For me, access to real-time bus arrival information has been a game-changer in managing operations, realizing scheduling efficiencies, to the development of customer friendly website and mobile apps.

Transit California:
If you had to pick a few individuals for your OWN gallery of leaders that influenced transit in California the most in the past 50 years, who would you include and why?
Charles Anderson:
I'd be sure to include Senator Jim Mills, architect of TDA legislation.
Kate Breen:
Agreed. Senator Jim Mills, one of the original founders of the Mills-Alquist-Deddeh Act, creating the Transportation Development Act, which authorized a permanent 1/4 cent sales tax in every county to be used for public transportation purposes, creating an on-going stable funding source for public transit in California.
Also, Senator Quentin Kopp and Assemblyman Richard Katz were both legendary and influential on California transportation policy decisions in their respective roles as Senate and Assembly Transportation Committee Chairs.
Kevin Kane:
Certainly Ronald Reagan would have to be included in that list for his vision in getting through TDA.
Kate Miller:
I'd include Rod Diridon, he put transportation front and center as a major policy platform. I'd also have Prof. Robert Cervero, who authored a number of papers using socio-economic arguments for the integration of transportation and land use (work/housing).
Kam Shadan:
My list would have Secretary Mineta and Rod Diridon.

Transit California:
When it comes to your personal influencers, who influenced your transit career the most?
Charles Anderson:
Former SFMTA and VTA General Manager/CEO Michael Burns, and the late Monterey Salinas Transit General Manager Frank Lichtanski. The individuals who influenced my thinking on transit the most are Jaime Lerner and Enrique Penalosa, for their visionary approach to making transit a truly transformational influence in city life and development.
Mona Babauta:
Dave Ashcraft, one of Culver CityBus' past General Managers, definitely influenced my career the most. I never knew how fun public transit could be until the day I met him. His love of transit rubbed off on me and made me want to build a career in the industry.
Doran Barnes, Executive Director Foothill Transit:
While there have been many that have influenced my career, Jim McElroy was the individual that first helped me see the many possibilities of a career in transit. Jim was my first boss at Unitrans. He taught me the basics of transit operations that established the foundation for my career. Jim also taught me a great deal about leadership, managing conflicting priorities and working with people. Jim was the reason that many transit leaders entered the industry and I will always be grateful for his mentorship.
Kevin Kane:
Personally, I would have to say Larry Heil from McDonald Transit Associates. He was a great leader and mentor. Unfortunately McDonald Transit does not have a strong presence in California. In California, the person who influenced my career the most would be Mike Bair, Director of Transit and Rail for SANBAG now retired. Mike mentored me and was a friend as I learned the intricacies of transit in California.
Jeanne Krieg:
When I finished college, I was certain I wanted a career in sales and marketing so I pursued it. The success of the company – and my paycheck -- depended on making sure my customers received superior customer service. My very first sales manager taught me the importance of focusing on the customer and I have never forgotten the lessons about making customer-based decisions. This approach has served me well during my career in transit and his coaching influences me to this day, 35 years later.
Kate Miller:
I'd have to include Therese McMillan /Acting FTA Administration (former MTC Deputy Director) and Alix Bockelman/MTC Deputy Director.

Transit California:
How have pro-transit advocacy practices changed the most in the past 50 years?
Kevin Kane:
I believe there has been an increase in grassroots advocacy. I also believe there has been an improvement in legislative advocacy; mostly thanks to the California Transit Association.
Kate Miller:
When we first started out, it seemed we had a vision (build a highway network across the country to make the country secure from enemy attack - not my vision but a vision nevertheless). We need a new vision – revenues are so scarce that it has become more and more difficult to advocate for transportation in light of other demands, such as military spending, education, etc.
Mike Scanlon, General Manager and CEO of the San Mateo County Transit District:
For major change, you don't have to look back very far. Advocacy always follows opportunity. So, when earmarks were eliminated a few years ago, focus shifted away from Congressional outreach and Administration-level advocacy became more critical. Before that, we saw a major shift with term limits. All of a sudden, relationships with career legislative staffers became just as valuable as relationships with elected officials.
Dana Pynn, Manager, Governmental Relations Long Beach Transit:
The pro-transit advocacy group has evolved into a much broader coalition of individuals, helping to ensure that the varied interests of our customers are represented.
Kam Shadan:
Advocacy practices have changed to focus on the safety net for those who cannot afford or are unable to drive.

Transit California:
How have pro-transit advocacy practices changed the least in the past 50 years?
Kevin Kane:
Living in a very conservative part of California, I believe advocacy has change the least in that it has not been very effective with legislators and community leaders in this area.
Mike Scanlon:
Coalitions still matter. Going it alone has never been a good strategy: the bigger the tent, the better.
Kam Shadan:
Advocacy is still very much government driven. Private sector is on the sidelines ."There is no money in it" - however that is changing with private operators taking advantage of transit not being agile.

Transit California:
In your opinion, what was the top transit advocacy win(s) in recent history?
Kate Breen:
I would say the statewide voter passage of Prop. 1B (Transit Bond) and Passage of Prop. 1A (High Speed Rail Bond).
Kate Miller:
Top Federal win: American Recovery and Reinvestment Act of 2009 (AARA). Top State win: Gas tax swap – although it is a real loser as prices and usage go down.
Mike Scanlon:
Protecting transit revenues from diversion hasn't been easy, but thankfully, the California Transit Association is focused on it. They've had to win judicial battles, pass ballot measures, and get legislation approved. Thankfully they're batting close to 1.000 on that issue.
Kam Shadan:
The passage of Proposition 1A, high speed rail will benefit transit.

Transit California:
Thank you to the Executive Committee members that participated in this first installment. We will continue the conversation in the March edition of Transit California.