Member News Library
The following items are excerpted from news releases issued by California Transit Association members. If you are a member of the Association and would like to submit an item to be considered for inclusion in the Member News Library, please e-mail your press releases to Communications Director Jeff Wagner (jeff@caltransit.org) AND to Managing Editor Stephanie Jordan (sjordan@freelancecomm.com). Photos and cutline information with your news release submissions, when possible, are encouraged.
---
INDUSTRY NEWS

Goodbye GMBL; Say Hello to "G-Trans"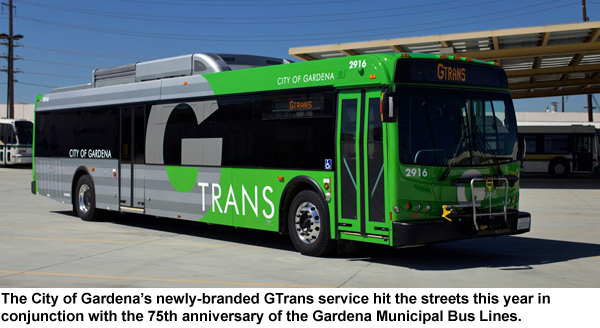 To mark its 75th year operating as a regional bus service in South Bay communities near downtown Los Angeles, Gardena Municipal Bus Lines (GMBL) began undergoing the biggest, most radical transformation in its long and illustrious history. And in the process, it was giving other transit agencies a roadmap to follow in their own rebranding efforts.
GMBL partnered with Pulsar, a Los Angeles-based advertising and marketing agency with decades of transportation industry experience, to begin the rebranding effort. The first step was making sure key stakeholders had a voice in the process.
The GMBL and the Pulsar team interviewed Gardena employees to determine the city's goals and the agency's core values, which helped form the project's creative brief. They conducted multiple focus groups with riders and non-riders to get customer feedback on potential new names and bus designs as they were being developed. And they worked closely with the GMBL staff along with city staff on the bus's new look, so that when it came time to present the finished product to the city council, it was unanimously approved.
The results have been extremely well received. The "Gardena Municipal Bus Lines" name changed to the easier-to-remember, quicker-to-say and more meaningful name "GTrans."
"The 'G' reminds us of our home city of Gardena as well as our commitment to green, environmentally friendly initiatives," said Paula Faust, Gardena's deputy director of transportation. "The 'Trans' is all about the work we do best – transporting our customers everywhere they want to go."
The GTrans fleet is now sporting a new paint job, too. The sleek, modern, green and silver design makes the vehicles easy to identify, while also making the service feel more inviting to potential riders who are considering taking their first ride.
Along with these changes, GTrans also unveiled a new website, RideGTrans.com, along with an ad campaign featuring the tagline "It all starts with GTrans." The work has helped get current and potential riders excited about their ride, boost recognition of GTrans in the community, and ultimately increase ridership.

Metro Offers Its First Bikeshare Demo
Metro's new bikeshare vendor, Bicycle Transit Systems, Inc. and its partner B-Cycle recently provided its very first bike and docking station demonstration in the Arts District in downtown Los Angeles. Metro and the Los Angeles Department of Transportation staffed a booth to gather public feedback on the system and locations for bikeshare docking stations in downtown, where Metro's bikeshare pilot project is scheduled to be unveiled at 65 locations next year.
Those who visited the docking demo were able to personally test-ride the bikes and see how their TAP card could be used to release the bikes from their docking stations.

Air District Awards $20 million for Caltrain Electrification Project
The Bay Area Air Quality Management District's Board of Directors approved the allocation of $20 million dollars to help fund the electrification of the Caltrain corridor. Transitioning to electric-powered trains will result in zero emissions locally and the ability to increase service. Caltrain currently serves more than 61,000 weekday riders between San Francisco and San Jose, and is projected to reach 100,000 weekday riders by 2040.
"This is the one of the most significant air pollution reduction funding projects the Air District has undertaken in recent years," said Jack Broadbent, executive officer of the Air District. "By replacing diesel-powered trains with electric, air quality will be substantially improved for everyone along the Peninsula train corridor."
Exposure to diesel exhaust can irritate the eyes, nose, throat and lungs, and cause coughs, headaches, and nausea. Because fine particles bypass the respiratory system's natural defenses, they also aggravate chronic respiratory symptoms, and may contribute to more serious health impacts. Key benefits associated with electrifying the 51 miles of rail line between San Francisco and San Jose also include a reduction of greenhouse gases, increased frequency and speed of train service, reduced engine noise, and reduced traffic congestion from automobiles along US 101 and interstate 280.
"The Air District has been a vocal leader and a strong ally in support of Caltrain's electrification project," said Jim Hartnett, Caltrain's Executive Director. "We are honored that the Air District is redoubling its commitment to the environmental benefits of electrification through the award of this $20 million grant."
The total project cost is estimated to be $1.53 billion and will be supported through a combination of local, regional, state and federal sources. The Air District allocation of $5 million per year over the next four years is being funded through the Mobile Source Incentive Fund, which is collected from a $2 fee on motor vehicles registered in the Bay Area.
Caltrain expects to start operating the electric trains by the winter of 2020.

Mineta Offers Free Bus-Stop Time Models Report to Transit Operators and Planners
A newly released study, Development of Bus-Stop Time Models in Dense Urban Areas: A Case Study in Washington DC, published by the Mineta National Transit Research Consortium (MNTRC) is available for free download.
The authors, Stephen Arhin, PhD, and Errol Noel, PhD, believe a new model for bus transit reliability can help operators improve planning and scheduling in urban areas. This study defines a new reliability variable, Total Bus Stop Time (TBST), which includes "dwell time" (DT) and the time it takes a bus to safely maneuver into a bus stop and then re-enter the main traffic stream.
"The report's proposed regression models have a high explanatory power over the observed data," said Dr. Arhin. "The models can therefore be used to adequately predict DTs and TBSTs at various bus stops and by time of the day with 95 percent confidence."
The report recommends that:
For bus stops near intersections, buses should spend no more than 43, 47, and 67 seconds TBST (from exiting the stream of traffic to successfully reintegrating with it) during the morning, midday, and evening peak periods, respectively.
Similarly, buses at midblock bus stops should spend no more than 36, 33, and 31 seconds TBST for the morning, midday and evening periods, respectively.
Dr. Noel noted, "Thirty bus stops located at intersections and thirty midblock bus stops were used for this study. All were in heavily traveled routes within Washington DC. Due to potential changes in traffic patterns and land uses near bus stops, these models should be updated and validated on a 3- to 5-year cycle."
The bus stop selection was based on the Stop Usage Report released by the Washington Metropolitan Area Transportation Authority (WMATA) in January 2014. This report ranked the bus stops based on the number of passengers boarding and alighting at each stop. The top-ranked bus stops in WMATA's report were selected to ensure the occurrence of bus-stopping events during data collection. The authors note that the resulting models are based on data collected at a specific transit jurisdiction and, as such, may not accurately predict TBST or DT for other jurisdictions. The report includes 71 figures and 35 tables detailing the collected data.

San Joaquin RTD Launches Books on Buses Program
San Joaquin Regional Transit District (RTD) is supporting countywide literacy efforts with the introduction of a new program, Books on Buses. Beginning this month, selected RTD Stockton Metropolitan Area (Metro) buses will offer free children's books for young riders. The books are available for the reader's use on the bus or at home. Children can return the books to any RTD Metro bus, or at a branch of the Stockton San Joaquin County Public Library (SSCJPL).
"RTD is proud to contribute to the collective effort to increase literacy in our community," said RTD General Manager/CEO Donna DeMartino. "Books on Buses is an innovative program aimed at targeting a captive audience, the young riders on our buses. We hope that this will not only add another positive element to their ride, but also help them by promoting the indispensable skill of reading. It's cool to ride the bus, but it's also cool to READ on the bus!"
RTD launched the Books on Buses at a community event for children. The event featured a story time and crafts in a fun-filled program. In addition to DeMartino, books were read by Suzy Davuley, Director of the Stockton San Joaquin County Public Library, and Zenet Negron, representing Assemblymember Susan Eggman. The event ended with a musical bus ride to the Cesar Chavez Library before returning to the DTC. The event was made possible by RTD's partnership with SSJCPL. Other program supporters include University of the Pacific and Health Plan of San Joaquin.

SFMTA Introduces New, Interactive, Online Performance Dashboards
The San Francisco Municipal Transportation Agency (SFMTA) recently introduced new, interactive, online dashboards that will allow the agency to better report on its performance by sharing up-to-date information with the public and increasing transparency and accountability as the SFMTA works to improve the transportation network.
"In an effort to improve what we do, the SFMTA has been regularly reporting these metrics to the public for many years," said SFMTA Director Ed Reiskin. "While those existing reports are informative, sharing these interactive reports will allow us to engage with the public in a more meaningful way, because the data is easier to find, easier to read and updated constantly."
The site contains results from 13 key areas, including: the percentage of on-time performance, mode share, crime stats, the agency's carbon footprint, collision data and other information aligned with the SFMTA's strategic plan.
The interactive performance dashboards are organized by the four goals outlined in the SFMTA's 2013-2018 Strategic Plan. The Strategic Plan's four overarching goals help shape how the agency prioritizes its attention, resources and staff over the next six fiscal years. The four goals are: (1) Create a safer transportation experience for everyone; (2) Make transit, walking, bicycling, taxi, ridesharing and car sharing the preferred means of travel; (3) Improve the environment and quality of life in San Francisco; and (4) Create workplace that delivers outstanding service.
TRANSIT PEOPLE AND HAPPENINGS

AC Transit Names Michael Hursh as New General Manager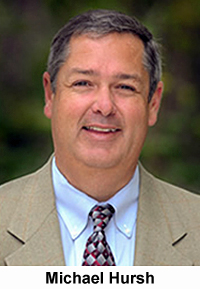 After an extensive search, Michael Hursh has been appointed as the new General Manager for AC Transit by the agency's Board of Directors. Hursh, a Bay Area transit executive with over 20 years of public service experience, will succeed Kathleen Kelly, who retired from the agency in December of 2011 and has been serving as Interim General Manager since April. Hursh will begin his tenure as General Manager on September 21.
Hursh, a nine-year veteran of the Santa Clara Valley Transportation Authority (VTA), has served as that agency's Chief Operating Officer since 2012 and prior to that as Deputy Director, Operations for Maintenance and Security. In his present role, Hursh is responsible for directing and leading all VTA transit operations, including bus and light rail operations and maintenance, operator training, accessible services, as well as planning, scheduling and facilities maintenance. During his career he has led teams that successfully purchased more than $300 million of new rolling stock, improved fleet reliability, and successfully planned and delivered transit service to the newly constructed Levi's and Avaya Stadiums as well as developing transit plans for Super Bowl 50.
He has also been a champion for the environment and has a thorough understanding of public transportation in the Bay Area, including its customers, key stakeholders and the employees that make transit systems work. From 1999 to 2006, Hursh held several positions including the Deputy General Manager for Maintenance, Safety and Training for San Francisco Municipal Railway. He is also a past chair of the California Transit Association Rail Operations & Regulatory Committee.
"I am honored to be joining the AC Transit family", said Hursh. "To be part of such a dedicated team that has been providing public transit for nearly 55 years is extremely exciting."

AVTA Names New Executive Director
The Antelope Valley Transit Authority (AVTA) Board of Directors has named Len Engel, current Director of Operations and Maintenance, as the new Executive Director. Engel's extensive background in public transit, and his familiarity with the agency's goals and objectives, made him a natural choice for the position.
Engel joined AVTA in 2012 as the Director of Operations and Maintenance, which included oversight and direction in all activities of the Operations, Maintenance, and IT departments. He provided assistance to the Executive Director in many capacities, including administrating policies and procedures, coordination of activities within the department and with outside agencies, data analysis, and the development and implementation of numerous programs and projects. Since the previous Executive Director's departure in January of 2015, Engel has been actively overseeing the day-to-day operations at AVTA, and is looking forward to leading the organization as its new head.
"I am honored to have been offered this great opportunity at this point in my career," said Engel. "It's a pivotal time in the public transit industry, with new technology being introduced all the time. I'm excited to be able to see things like our innovative electric bus project help pioneer a new vision for what a 21st century transit agency can look like."

RT Celebrates Grand Opening of Blue Line to Cosumnes River College Light Rail Extension
The Sacramento Regional Transit District (RT) celebrated the grand opening of its new Blue Line to Cosumnes River College (CRC) light rail extension with a pre-opening community celebration August 23 and an official grand opening ceremony August 24. The new line opened earlier than the original September 2015 date to coincide with the start of the fall semester for Cosumnes River College and the Los Rios Community College District campuses. With the opening of the Blue Line extension, RT will now operate 43 miles of light rail serving Sacramento, Rancho Cordova and Folsom. The light rail system – Blue Line, Gold Line and Green Line – includes 54 stations and 22 park-and-ride lots.
"The completion of RT's Blue Line to Cosumnes River College is a major milestone in growing Sacramento's transportation system," says Congresswoman Doris Matsui. "This extension links Cosumnes River College and will provide much-needed congestion relief along Highway 99."
UPCOMING EVENTS
October 4 – 7, 2015
Hilton San Francisco Union Square
San Francisco, California
Engage in educational sessions, workshops, tours, and network with colleagues at APTA's Annual Meeting being held in San Francisco this fall. Keynote speakers discuss strategy and leadership. Educational sessions explore creating transit oriented communities, investing in infrastructure, asset management, innovating funding and financing, managing emerging technologies, safety, workforce issues, and big transportation projects worldwide.
October 20 – 22, 2015
Double Tree Hilton, Sonoma Wine Country
Rohnert Park, California
The California Association for Coordinated Transportation's Autumn Transit Camp & Professional Development Conference is fast approaching. Registration and hotel room block reservations are now available. For more information, visit calact.org.
November 18 – 20, 2015
Pasadena Convention Center
Pasadena, California
Save the date to attend the Association's biggest event of the year and to be a part of the celebration as we commemorate half a century of achievements by the Association and its members. More information and online registration will be available beginning next month.