50 Years of Leadership
Among the features planned in commemoration of the California Transit Association's 50th anniversary is the Gallery of Leaders, featuring interviews with some of the people whose vision has nurtured and bolstered public transportation in California to date, and in some cases has established a blueprint for the future.
This month we feature Rod Diridon, Sr., who is known as the "father" of modern transit service in Silicon Valley and has chaired more than 100 international, national, state, and local programs, most related to transit and the environment. From 1993 to 2014, he was executive director of the Mineta Transportation Institute (MTI), a transportation policy research center created in 1991 by Congress. Today, Rod is still affiliated with the Institute as its Emeritus Executive Director. He frequently provides legislative testimony on sustainability.
---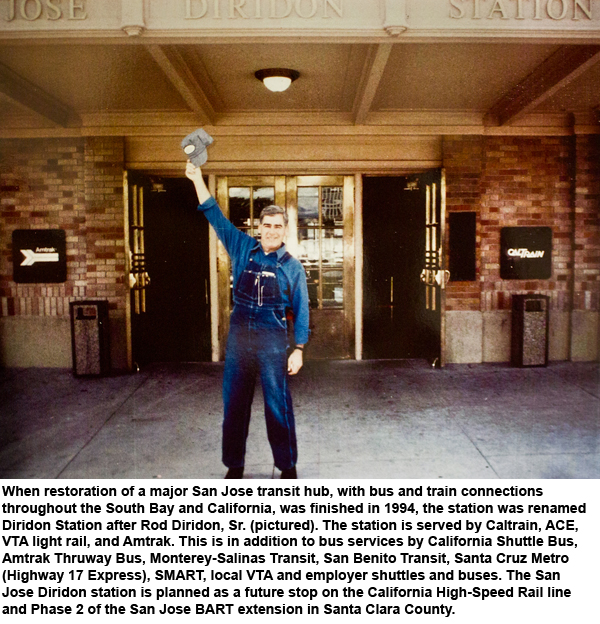 Transit California:
How does the transit environment today compare to the one you experienced while Chair of the American Public Transportation Association (APTA) in the 90s?
Rod Diridon:
Trying to compare today to the 1990s is discontinuous. Then, Secretary Norman Mineta, well known for his work in transportation and a Member of Congress from 1975-1995, was the primary author of the groundbreaking ISTEA legislation – the Intermodal Surface Transportation Efficiency Act of 1991. ISTEA was groundbreaking because it was the first time mass transportation was federally funded in the post-Interstate Highway System era and was a major change to transportation planning and policy.
Today, the reverse is true. There is a backlog of $88 billion of maintenance needed to bring America's existing transit infrastructure into a state of good repair. Public transit ridership has been up for several years, exploding in our metro areas. We are in a period now where transit demand is going up, but the funding capacity, especially at the national level is declining.
Transit California:
As you noted, the demand for transit is up, which given the current funding challenges, is at the least the silver lining.
Rod Diridon:
Yes, public transit is in the best place it has ever been, but for all the wrong reasons.
We haven't kept up with the rest of the world with our transit investments. Rather than having phenomenal new transit technology and elements of transit, we are nickel and diming our current transportation systems. Only in the U.S. is the single car still the primary mode of transportation. If we built out our mass transit systems, especially distribution systems to connect between systems, we could carry twice as many people as we do now.
Transit California:
In your opinion, why haven't we been more successful at mass transit system advancement, especially given transit's popularity and the millennial movement?
Rod Diridon:
The Millennials generation is building their lifestyles around transit and the next wave will be even more so. There is an ever-growing interest in sustainability. But why aren't we using electric power exclusively or doing more with solar? Why not more high speed automated guideway systems? Primarily, it is because the petroleum lobby is so strong. Couple that with a very conservative congress and money for transit is being throttled.
Our biggest weakness in American politics is our acceptance of corporate donations. Over the past two decades enormous amounts of corporate money have poured into the legislature, so much so that it now controls it, from insurance, to gas, to the auto industry. This has to stop.
In California, we are fortunate to have a progressive legislature and governor. We have Cap and Trade funding, new energy taxes, and county-level support. California is building without federal assistance, but that isn't going to help the nation. The economy across the nation is suffering terribly, while we here are investing in our future.
Transit California:
Throughout your career, collaboration has been a mainstay. In your opinion, which coalition was the most vital?
Rod Diridon:
One of the most successful coalitions was Transit NOW, formed in the mid-90s. During my time as Chair of APTA, we had thousands of Transit NOW members. This group has waned over time. This coalition resulted in successful reauthorization efforts. Back then Congress was more closely balanced. There were several bills in 1991, 1996, and 2002. The last one was in 2008. Since then, we have seen only continuing resolutions. This lack of long-term transportation investing is devastating. There is no way to sign certain types of contracts or make long-range plans. We have to go back to more stable funding approaches.
Transit California:
Your list of career achievements is very long and varied. What would you say is your most important contribution?
Rod Diridon:
I think it would be my willingness to take leadership risks. I was fortunate to have the opportunity to chair program after program, leading projects for 20 years at every level from local and state, to national and international. I have always been an environmentalist and interested in sustainability, and transit spoke to that.
Transit California:
Last year, you stepped down as the executive director of the Mineta Transportation Institute after 21 years. Many transit leaders are nearing retirement age, in fact some systems have as much as 50 percent of their workforce at or near retirement age. How do we get new interest in transit?
Rod Diridon:
We have to tie the solution of climate change to mass transportation in the minds of the average citizen, especially the young professionals. If we can tie the future of mammals on earth to mass transit, we will better convince high school and college career counselors to encourage kids into the field of transportation, and for the kids to want to plan, build, and operate our mass transportation systems.
Transit California:
Having been appointed in 2001 and 2005 by Governors Davis and Schwarzenegger, respectively, to the California High-Speed Rail Authority Board, (where you remain chair emeritus) tell us, will high-speed rail in California ever happen?
Rod Diridon:
Yes, high-speed rail will be built. ISTEA, back in the 90s, called for the designation of high-speed rail corridors. Even dating back to the 70s and Pat Brown's administration, high-speed rail was on the agenda and commissions were formed. I was fortunate to participate at the time. While those were ultimately not successful, our current high-speed rail effort will be. Over 3 billion in funding is already under contract and soon another 3 billion will be too. High-speed rail in California cannot be stopped. It is now important that feeder distribution systems and connectors begin to get prepared for its arrival.
Transit California:
Thank you, for being a part the commemoration of the California Transit Association's 50th anniversary and its Gallery of Leaders. On behalf of all of us at the Association and its members, we are grateful for all that you have done in your career to further public transit.