Big Honors Bestowed
Small Operators Recognized for Achievements and Contributions
By Stephanie Jordan
Managing Editor
Transit California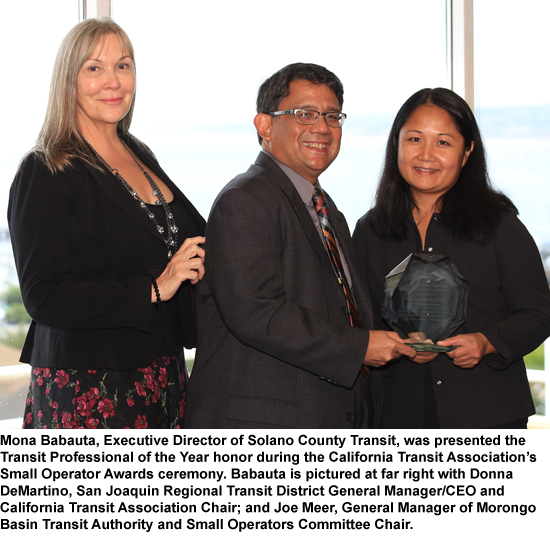 Leaders from small transit agencies throughout the state gathered together during the California Transit Association's 49th Annual Fall Conference & Expo held in Monterey last month for a special program designed especially for them. The program is hosted by the Small Operators Committee, one of several special interest opportunities that the Association membership offers as a resource to tackle difficult issues, and a forum to share best practices.
"Small operators have a voice through this committee to address issues specific to properties of this size," explains Joe G. Meer, General Manager of Morongo Basin Transit Authority and Small Operators Committee Chair. "Recently, for example, the committee has successfully improved relations between Caltrans and the subrecipients, engaged the Department of Motor Vehicles on its Employer Testing Programs, and collaborated with Caltrans and the Federal Transit Administration on MAP-21 implementation."
Taking full advantage of the opportunity to bring all the small operators attending the conference together last month, Meer, along with San Joaquin Regional Transit District General Manager/CEO and Association Chair Donna DeMartino, presented the group's annual awards. This year, in addition to the Transit Professional of the Year and Transit Agency of the Year awards, two new awards debuted: Transit Innovation and Distinguished Service.
Transit Professional of the Year
This award is given to an outstanding individual that has provided strong leadership and vision to a small operator or made notable contributions that benefits public transit overall.
Meer and DeMartino presented the Transit Professional of the Year Award to Mona A. Babauta, Executive Director of Solano County Transit (SolTrans). In June 2012, she became the first, permanent Executive Director for Solano County Transit – formed from the consolidation of Vallejo Transit and the Benicia Breeze. Babauta led the agency out of a $3 million structural deficit and established a 15 percent operating reserve and capital fund. She established the operational, financial and administrative foundation for the new agency, broke ground on a new O&M Facility with CNG infrastructure, as well as a transit center and Park & Ride Hub. Babauta also helped pass legislation to allow JPAs and transit districts to receive property from Caltrans and grew fixed-route ridership by over 6 percent.
In addition to being recognized as Transit Professional of the Year, also in 2014 Babauta received APTA's Gold Award for Excellence in Safety and an Excellence in Motion award from the Metropolitan Transportation Commission.
Transit Agency of the Year
This award goes to a California Transit Association small operator that has demonstrated excellence in the performance of their system that includes, but is not limited to ridership, customer service, service expansion, or financial management.
Gold Coast Transit District (GCTD) was honored as the Transit Agency of the Year. GCTD experienced considerable change and growth over the last year that significantly improved its service. Among its accomplishments in 2013-2014, GCTD:
Celebrated its 40th Anniversary of public transit service in Western Ventura County
Expanded service and added the highly successful Route 21
Rolled out a new fare collection system with new electronic tickets and passes
Installed new automatic passenger counters in all buses
Began the design of the new Administration and Operations Facility and purchased the 15-acre site for the facility
Partnered with Google Transit to have trip planning tools conveniently available to all
Additionally, ridership increased by 7 percent compared to the previous year and it continues to grow, with another 4 percent increase in the first quarter of this year. During all of these activities, GCTD worked with Assemblyman Das Williams to have AB 664 signed by the Governor. On July 1 of this year, the 40 year-old agency officially became the Gold Coast Transit District, allowing it to look beyond jurisdictional borders and more effectively allocate service to meet customer need and demand.
Transit Innovation
This new award category was formed to acknowledge an outstanding innovation, program, or service that has demonstrated innovative concepts, effective problem-solving techniques, or promotes a positive image of transit in the community that benefits small operators in particular or public transit overall.
Meer and DeMartino presented the first Transit Innovation award to SunLine Transit Agency. This past May, the agency celebrated a 20-year history of alternative fuels for all fixed-routes. SunLine has completely transitioned its fleet and does not operate any solid fuel dispensing on property. There is only one unleaded staff vehicle at the agency. This award recognizes SunLine's longstanding tradition as a leader in the deployment of clean transportation technologies in the United States. The agency has brought the total number of Ballard-powered fuel cell buses in operation to four, with plans to expand the fuel cell program and has two 8th Generation Hydrogen-Electric Fuel Cell Buses. SunLine was the first transit agency to own and operate a hydrogen generation and dispensing station.
Distinguished Service
Another new award category, the Distinguished Service honor, recognizes an individual who has had a long and distinguished career in the transit industry and made outstanding contributions to public transit.
The Distinguished Service Award went to former Fresno County Rural Transit Agency (FCRTA) General Manager Jeffrey D. Webster. The honor recognized the founder and first general manager for FCRTA, who recently retired in September after more than 35 years of public service. Webster's accomplishments include:
Development of both fixed-route and demand response sub-systems in 13 incorporated cities and 24 unincorporated communities in Fresno County
Creation of the Fresno Consolidated Transportation Services Agency (CSTA) in 1983
One of the first operators to use alternative fueled and electric vehicles
Providing transit dependent residents with rides to employment, medical appointments and social services
Maintaining adequate funding to provide general public transit services to Fresno County residents
Cultivating a history of working with elected officials to prioritize transit at the local, state and national levels
Sustaining stable fares without any increases over the last 10 years
Providing free fares to seniors and the disabled through special funding
Of the ceremony, Meer commented, "The awards don't recognize just small operators, but individuals and agencies that have made noteworthy contributions towards advancing the cause of public transportation in general. At the conference, we were able to recognize four worthy recipients that both inspire and motivate us."
An open call for award nominations is held each fall and submissions are vetted by a sub-group of the Small Operators Committee.