Transit Leaders Press for Special Session Solutions
September 1, 2015
Bills Introduced as Lawmakers Deliberate Infrastructure Needs
Would Help Alleviate $72 Billion Transit Funding Shortfall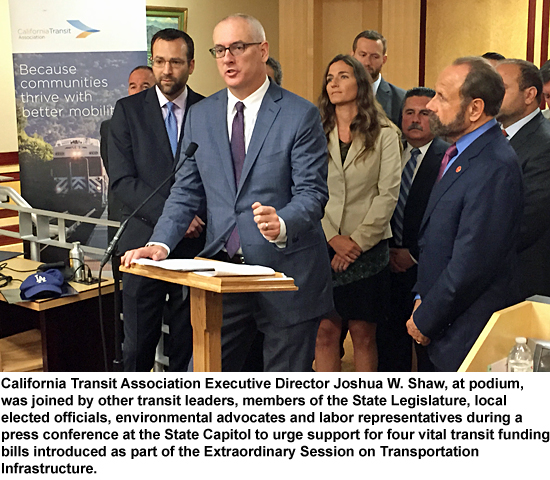 SACRAMENTO – As lawmakers debate solutions to the state's ailing transportation infrastructure, public transportation leaders stressed that transit must be part of the conversation, while urging support for a package of transit funding bills introduced during the ongoing Extraordinary Session on Transportation and Infrastructure Development.
While acknowledging the critical need for rehabilitation of the state's highways and local street & roads, advocates maintained that any final transportation funding package that results from the special session should represent a balanced mix of investments that address the state's immediate infrastructure needs across transportation modes.
"Omitting transit from today's transportation funding conversation would be a shortsighted decision with disastrous long-term implications," said Joshua W. Shaw, Executive Director of the California Transit Association. "Just as with highways, streets and roads, the cost of inaction is the further deterioration of existing assets, and the increased probability of today's maintenance needs becoming tomorrow's more costly replacement imperatives."
A 2011 study commissioned by the Association concluded that California´s transit infrastructure faces a funding shortfall of approximately $72 billion over the next decade, with roughly $39 billion of that needed to address issues of deferred maintenance and vehicle and facility rehabilitation.
Shaw added that, unique to transit, the costs of deferred maintenance are compounded by the foregone environmental and air quality benefits that would otherwise result from well-maintained infrastructure. "The majority of greenhouse gas emissions come from transportation," he said. "While investments in road repair are necessary, they do little to reduce emissions, improve air quality or reduce congestion, all of which are priorities the state has adopted, and all of which are central to the mission of public transit."
Four bills introduced during the special session would help to alleviate the transit funding shortfall.
Senate Bill X1 8 (Hill) and Assembly Bill X1 7 (Nazarian) are identical bills that would double the percentage of revenues from the state Cap and Trade system that would be allocated to transit on an annual basis. Developed by the California Air Resources Board and implemented last year, the Cap and Trade program currently generates about $300 million in transit funding per year.
Under existing law, 10 percent of Cap and Trade revenues are allocated to the Low Carbon Transit Operations Program (LCTOP), and 5 percent goes to the Transit and Intercity Rail Capital Program (TIRCP). The proposals would increase those allocations to 20 and 10 percent, respectively. LCTOP funds are distributed to all transit agencies via the existing State Transit Assistance formula. TIRCP funds are subject to a competitive grant process administered by the California State Transportation Agency.
Sixty percent of all Cap and Trade revenues are allocated based on adopted annual formulas, while 40 percent is disbursed on a discretionary basis from year to year.
Senate Bill X1 7 (Allen) and Assembly Bill C1 8 (Chiu and Bloom) are identical bills that would increase the incremental sales tax on diesel fuel from 1.75 percent to 5.25 percent. Per legislation passed in 2011, revenues from this tax comprise the primary funding source for the State Transit Assistance (STA) Program, the sole source of state funding that can be used for transit capital maintenance and rehabilitation.
These bills would provide new flexible funding for transit operators statewide, boosting STA funding by about $300 million annually, which would be distributed to transit agencies based on existing formulas for STA allocations.
"More Californians than ever want new, better transit options. Public transit not only gets people to work, it puts people to work by creating jobs and stimulating local economies," said Donna DeMartino, the general manager/ chief executive officer of the San Joaquin Regional Transit District, and chair of the California Transit Association. "Transit riders help reduce traffic congestion and subsequently travel times for all. It benefits even those who never use it. We thank the legislators who introduced these bold measures – they know with better public transit comes better quality of life for riders, non-riders, community stakeholders, businesses, and the public at-large. That's why we believe that public transit is beyond discretionary, that it is essential."