Transit Leaders Praise Steinberg Plan for Cap and Trade Allocations
April 14, 2014
Measure Complements and Grows Initial Proposal from Governor Brown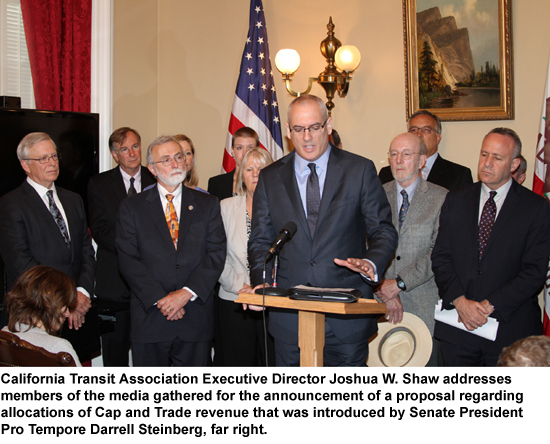 SACRAMENTO – State transit leaders today praised Senate President Pro Tempore Darrell Steinberg's proposal for allocation of Cap and Trade revenues, calling the plan a significant step towards meeting the state's greenhouse gas reduction goals, in part by providing a potentially dedicated source of funding for public transportation.
"Cap and Trade was implemented by the Air Resources Board as a means to help achieve the goals outlined in AB 32 [the Global Warming Solutions Act of 2006], and expanded transit is critical to meeting those goals," said Donna DeMartino, General Manager/CEO of the San Joaquin Regional Transit District, and Chair of the California Transit Association. "We're thankful that Senator Steinberg's proposal acknowledges the role of transit systems in reducing greenhouse gas emissions levels in California."
Steinberg's proposal calls for some funding to be appropriated annually by the Legislature for programs identified by the Governor promoting energy efficiency, emissions reduction through clean vehicles and effective natural resources management, as well as a climate dividend program. Of the remaining Cap and Trade revenues, the proposal calls for an ongoing investment in transportation by directing 40 percent toward sustainable communities and affordable housing near transit, 30 percent to transit agencies for uses related to GHG emission reduction and sustainable communities goals, 20 percent to rail modernization, and 10 percent for road rehabilitation and complete streets projects that reduce GHG emissions.
Since the introduction of the Cap and Trade program in 2011, the California Transit Association has advocated for the allocation of a portion of Cap and Trade revenues to public transportation, both in the Association's role as the leading voice for the state's transit stakeholders and as an active member of the Transportation Coalition for Livable Communities.
"We're very thankful that Governor Brown has recognized the importance of Cap and Trade funding for implementation of sustainable communities, with an acknowledgement that clean mass transportation systems should receive a share of these funds," said Joshua W. Shaw, the Association's Executive Director. "Governor Brown also recognizes that the success of high-speed rail is directly related to the ability of our existing regional and local rail transit system member agencies and other transit providers to seamlessly integrate local and regional trips, and connect riders on those systems to the state's proposed high-speed rail system."
Shaw added, "Senator Steinberg's plan builds upon the foundation laid by Governor Brown, by confirming that public transit is not simply a discretionary service; it is essential – and becoming increasingly more vital to the health and well-being of our state."
Association Chair DeMartino concluded, "These are two great proposals that highlight the need to fund meaningful investments in statewide, regional and local public transportation systems. We know the Governor, Senator Steinberg and other legislative leaders will work together to mold and shape a final Cap and Trade proposal over the coming months, and we look forward to contributing to that dialogue. We are excited about the prospects for new sources of transit funding."