Sen. Jim Beall Honored as Legislator of the Year
June 2, 2016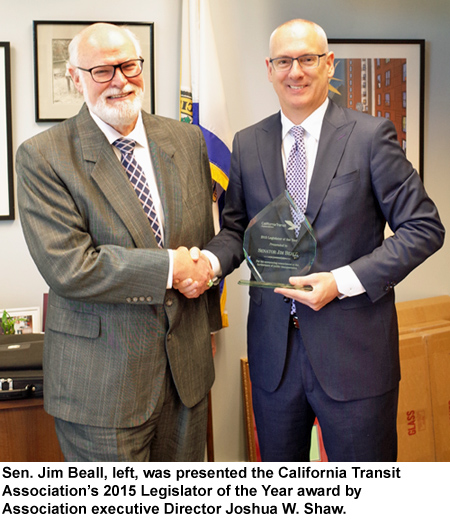 SACRAMENTO – In recognition of his long-standing commitment to advancing the interests of public transit in California, Sen. Jim Beall (D-San Jose) was honored with the 2015 Legislator of the Year award presented by the California Transit Association. The announcement took place May 24 at the Tsakopoulos Library Galleria during the Association's 2016 Spring Legislative Conference.
Sen. Beall was chosen for the honor by the Association's Executive and Legislative Committees, specifically recognizing his carrying the Association-sponsored SB 508 [Chapter 716, Statutes of 2015], which rationalized the qualification procedures and criteria for State Transit Assistance and Local Transportation Fund dollars; his authorship of SB 9 [Chapter 710, Statutes of 2015], which broadened the scope of the Transit and Intercity Rail Capital Program; and for his work to secure additional Cap and Trade revenue for public transit.
"It's an honor to receive the California Transit Association's Legislator of the Year Award because I share the Association's strong belief that expanding and improving public mass transportation is one of the smartest, fastest, and most effective ways to reduce greenhouse gas emissions," said Beall, who chairs the Senate Committee on Transportation and Housing.
Prior to his election to the Senate in 2012, Beall served six years in the State Assembly. He is a former 12-year member of the Santa Clara County Board of Supervisors, following 14 years of service on the San Jose City Council. He also served two decades on the Metropolitan Transportation Commission, where he was instrumental in the move to extend San Francisco Bay Area Rapid Transit (BART) service to the South Bay.
In addition to the Legislator of the Year award, two other honors were presented by the Association during the Spring Legislative Conference. Christian Griffith of the Assembly Budget Committee was honored as the Legislative Staff Member of the Year, while Kate Breen, Director of Government Affairs with the San Francisco Municipal Transportation Agency, was named Association Legislative Committee Member of the Year.