Fall Conference Partnership Announced
February 27, 2013
Association Teaming Up with CalACT to Present 2013 Event in Anaheim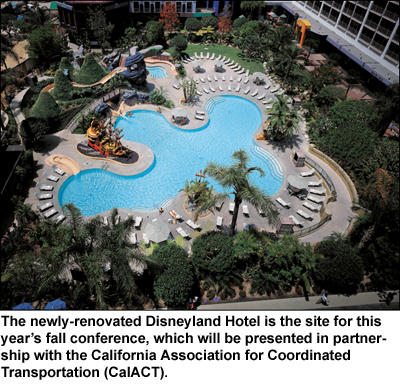 For the first time in five years, the California Transit Association will partner with the California Association for Coordinated Transportation (CalACT) to present its annual fall conference and expo.
Dubbed "California's Public and Community Transportation Conference & Expo," the joint event takes place October 16-18 at the newly-renovated Disneyland Hotel in Anaheim. The two organizations last teamed up in 2008 for a joint conference held in Monterey.
"We're really looking forward to once again partnering with CalACT on our premier annual event," said Amy Lai, Association Services Director for the California Transit Association. "Both associations will benefit from increased attendance, and the enhanced quality and variety of education sessions. By building a stronger partnership, we can also increase the effectiveness of advocacy efforts for both associations."
Lai also said that consolidating both organizations' fall conferences into one would allow exhibiting vendors an opportunity to save money, noting that 46 percent of the attendees in 2008 were members of both organizations.
More than 700 attended the 2008 event, among the highest attendance figures in the history of the fall conference. Conference planners anticipate that the jointly-planned event, coupled with the central location in Southern California, could significantly surpass that number.