Spring Legislative Conference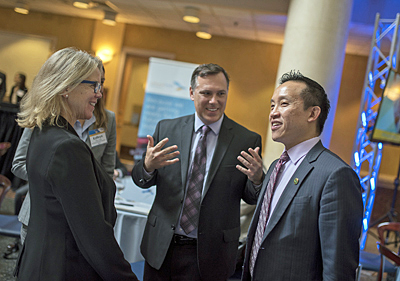 The 2017 Spring Legislative Conference takes place Tuesday, May 16-17 in Sacramento. The event kicks off Tuesday the 16th with an evening Legislative Reception, and culminates Wednesday the 17th with the full conference program at the Tsakopoulos Library Galleria.
In the spotlight this year will be Senate Bill 1, the landmark transportation funding package passed by the Legislature on April 6 that is estimated to generate up to $1.1 billion annually in new funding for public transportation. Conference attendees will get expert insight on what it all means for transit providers, riders and stakeholders.
The conference program traditionally features experts from the legislative and regulatory realms discussing the latest approaches and priorities on the most important issues facing transit agencies today. In addition to analysis of timely topics like Cap & Trade, STA allocation methodology, and state funding in general, attendees will get an update on the Association's legislative priorities for the current year.
Also on the agenda will be the presentation of the Association's Legislator of the Year, Legislative Staff Member of the Year, and Legislative Committee Member of the Year awards.
Attendee Registration Sponsor Registration
As one of our signature events, the Spring Legislative Conference blends professional development and networking activities with dynamic educational and informational sessions. Bringing more than 150 transit professionals to Sacramento each year, this comprehensive review of transit policy fosters high-spirited discussion and problem solving from passionate colleagues, guest speakers and other industry experts.
It's the ideal opportunity for you to meet face-to-face with other transit advocates, network with colleagues, and make an impact by bringing public transit to the forefront with state and federal policy makers.