Spring Legislative Conference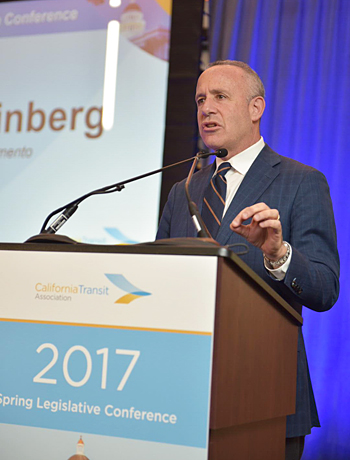 As one of the Association's signature events, the Spring Legislative Conference blends professional development and networking activities with dynamic educational and informational sessions. Designed for transit organizations of all sizes and for transit industry professionals of all levels, this event highlights the Association's highest-priority state legislative and regulatory efforts. This comprehensive review of transit policy fosters high-spirited discussion and problem solving from passionate colleagues, guest speakers and other industry experts.
Taking place each year in Sacramento, the Spring Legislative Conference provides an ideal opportunity to meet and hear from state elected officials, interact with other transit advocates, network with colleagues, and make an impact by bringing public transit to the forefront with state and federal policy makers. The next Spring Legislative Conference is set for May 23, 2018.
The 2017 Spring Legislative Conference took place May 17 at the Tsakopoulos Library Galleria in Sacramento. Transit professionals from across California were treated to a keynote presentation by Sacramento Mayor Darrell Steinberg – the former President Pro Tempore of the State Senate – who spoke about the important role public transportation plays in a number of the state's policy priorities. A panel of key legislators and other state leaders who played prominent roles in the passage of Senate Bill 1, the state's landmark transportation funding package signed into law by Governor Jerry Brown in April of 2017, recapped the four-year process that led to the bill's adoption, including the evolving focus on transit funding as a vital component of the measure.
Attendees also received an update on the development of the Air Resources Board's Advanced Clean Transit regulation and zero emission bus requirements, heard about the Association's legislative and regulatory priorities for 2017, and learned the latest regarding testing and deployment of autonomous vehicles in California. View the full program from the 2017 Spring Legislative Conference.