Spring Legislative Conference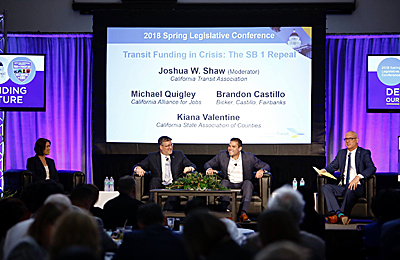 As one of the Association's signature events, the Spring Legislative Conference blends professional development and networking activities with dynamic educational and informational sessions. Designed for transit organizations of all sizes and for transit industry professionals of all levels, this event highlights the Association's highest-priority state legislative and regulatory efforts. This comprehensive review of transit policy fosters high-spirited discussion and problem solving from passionate colleagues, guest speakers and other industry experts.
Taking place each year in Sacramento, the Spring Legislative Conference provides an ideal opportunity to meet and hear from state elected officials, interact with other transit advocates, network with colleagues, and make an impact by bringing public transit to the forefront with state and federal policy makers.
The next Spring Legislative Conference is set for May 22, 2019 at the Citizen Hotel, located at 926 J Street in Sacramento.
The 2018 Spring Legislative Conference took place May 23 at the Tsakopoulos Library Galleria in Sacramento, and opened with welcoming addresses from Association Chair Carl Sedoryk (General Manager/CEO of Monterey-Salinas Transit) and Caltrans Director Laura Berman. With the theme Defending Our Future, the agenda was highlighted by a discussion of an impending ballot measure that proposes to repeal Senate Bill 1, the landmark transportation infrastructure funding package enacted in 2017. Transit professionals from across California learned about the initiative's prospects among voters based on the latest polling and other factors, and garnered insight on the campaign to defeat the repeal – including what other organizations and individuals can do to help.
Attendees also received first hand accounts from early adopters of electric transit vehicles in the midst of the Air Resources Board's ongoing development of its Innovative Clean Transit regulatory concept that will call for broad deployment of zero-emission buses.
Other presentations focused on what transit providers need to know and plan for regarding emerging mobility trends, and a review of the Association's legislative priorities for 2018. View the full program from the 2018 Spring Legislative Conference.