Spring Legislative Conference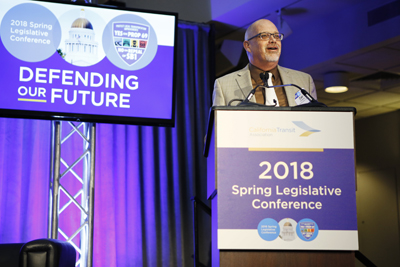 The 2019 Spring Legislative Conference takes place May 21-22 in Sacramento. The event kicks off May 21 with an evening Legislative Reception, and culminates May 22 with the full conference program at the Citizen Hotel.
The conference program features experts from the legislative and regulatory realms discussing the latest approaches and priorities on the most important issues facing transit agencies today. This year's program will feature a discussion of next steps in store for transit agencies now that the California Air Resources Board has adopted its Innovative Clean Transit regulation, which requires all California transit agencies to transition to zero-emission fleets by 2040.
Also on the agenda is an examination of the relationship between public transit and various housing proposals circulating in the Legislature and the Administration. Attendees will also receive an update regarding the work of the Association's Transportation Development Act (TDA) Task Force, which has been formed in response to the Legislature's request for a comprehensive review of TDA funding criteria for consideration of possible legislative revisions to the act that was first adopted in 1971.
In addition to analysis of other timely topics, attendees will get an update on the Association's legislative priorities for the current year.
Attendee Registration Sponsor Registration
As one of our signature events, the Spring Legislative Conference blends professional development and networking activities with dynamic educational and informational sessions. Bringing more than 150 transit professionals to Sacramento each year, this comprehensive review of transit policy fosters high-spirited discussion and problem solving from passionate colleagues, guest speakers and other industry experts.
It's the ideal opportunity for you to meet face-to-face with other transit advocates, network with colleagues, and make an impact by bringing public transit to the forefront with state and federal policy makers.