Spring Legislative Conference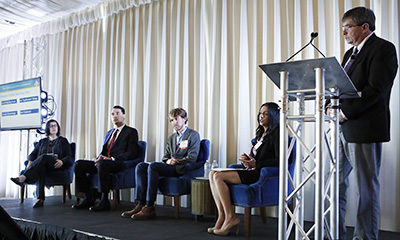 Taking place May 27, 2020 at the Citizen Hotel in Sacramento, the Spring Legislative Conference provides an ideal opportunity to meet and hear from state elected officials, interact with other transit advocates, network with colleagues, and make an impact by bringing public transit to the forefront with state and federal policy makers.
Online registration for the 2020 Spring Legislative Conference will open soon. In the meantime, use this link to book your accommodations at the Citizen Hotel by April 29 to receive the discounted group rate. Please note that a limited number of rooms are available at the group rate.
As one of the Association's signature events, the Spring Legislative Conference blends professional development and networking activities with dynamic educational and informational sessions. Designed for transit organizations of all sizes and for transit industry professionals of all levels, this event highlights the Association's highest-priority state legislative and regulatory efforts. This comprehensive review of transit policy fosters high-spirited discussion and problem solving from passionate colleagues, guest speakers and other industry experts.
The 2019 Spring Legislative Conference took place May 22 at the Citizen Hotel in Sacramento, and opened with welcoming addresses from Association Chair Carl Sedoryk (General Manager/CEO of Monterey-Salinas Transit) and Chad Edison, Deputy Secretary with the California State Transportation Agency.
Panel presentations included a discussion of next steps in store for transit agencies now that the California Air Resources Board has adopted its Innovative Clean Transit regulation, which requires all California transit agencies to transition to zero-emission fleets by 2040. Attendees also received an update regarding the work of the Association's Transportation Development Act (TDA) Task Force, which has been formed in response to the Legislature's request for a comprehensive review of TDA funding criteria for consideration of possible legislative revisions to the act that was first adopted in 1971.