Fall Conference and Expo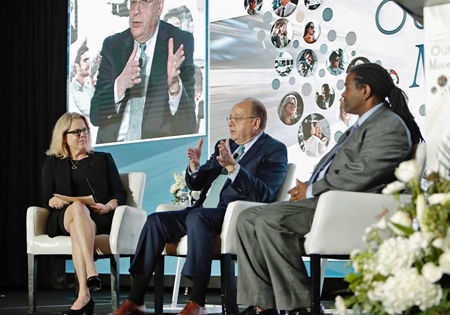 Make plans now to join us for our 55th Annual Fall Conference and Expo, presented by Proterra, taking place November 18-20, 2020 in Ontario. Registration will open in August.
The Fall Conference and Expo is our three-day signature event featuring dynamic presentations from industry experts on today's pressing transit challenges and the novel solutions being implemented by innovative transit leaders. Expect an incredible learning experience through our educational breakout sessions, abundant opportunities to connect with transit colleagues and a robust exhibit of new products and services for the public transportation industry. Attended by nearly 700 transit professionals of all levels and more than 100 suppliers, this is the preeminent networking event of the season. The theme for this year's event is "Essential Reinvention Leading a New Route."
The 2019 rendition took place November 13-15 at the Monterey Convention Center and the Portola Hotel and Spa in Monterey. The event featured two keynote presentations. Former Southwest Airlines "Ambassador of Fun" Tony Brigmon discussed how embracing and nurturing our workplace culture reflects back to the communities we serve. Christopher Gardner, whose inspiring book became the basis for the 2008 movie "The Pursuit of Happyness," shared his personal story of triumph in the face of incredible adversity. Gardner's discussion of the concept of "Spiritual Genetics" left conference attendees feeling uplifted and empowered.
In addition, one of the conference's three general sessions (pictured above) presented a panel discussion featuring Paul Skoutelas, President and CEO of the American Public Transportation Association (APTA), and Terry White, Deputy General Manager at King County Metro Transit in Seattle.
As always, highlights of the 54th conference included the presentation of the annual Small Operators Awards, with the Transit Agency of the Year Award being presented to the Torrance Transit System, and the Transit Professional of the Year Award going to Michael Tree of the Livermore Amador Valley Transit Authority. The Transit Innovation Award was presented to San Luis Obispo Regional Transit Authority, and Jim Mastin, former member of the Mendocino Transit Authority Board of Directors and the California Transit Association Executive Committee, was honored with the Distinguished Service Award.
Attendees also were treated to 20 educational sessions presented in tracks related to Maintenance; Management & Leadership; Operations; Marketing & Communications; and Fiscal, Planning, Policy & Compliance.
Many thanks to all the sponsors and exhibitors who helped to make the event such a success. Thanks also to Monterey-Salinas Transit, which served as Host Agency while providing invaluable logistical help and volunteer support.