Lawmakers Must Act to Save Local Public Transit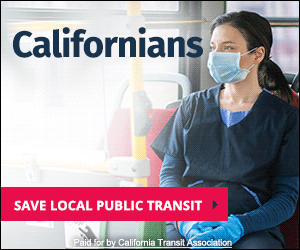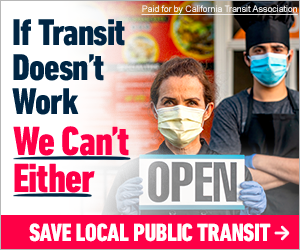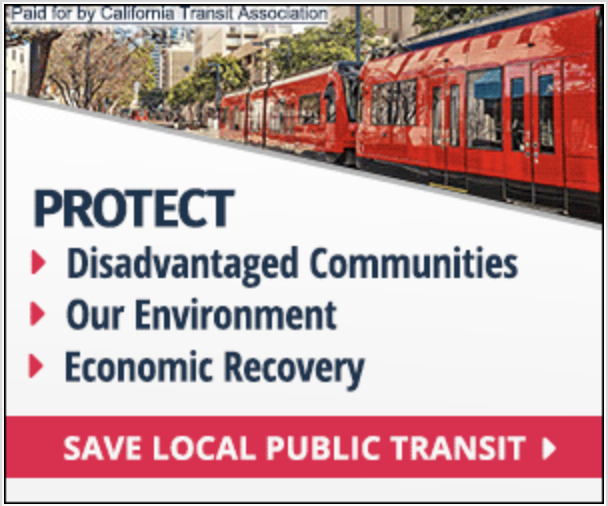 California's public transit agencies face an existential threat due to the severe impacts of COVID-19. State and federal lawmakers must act to save local public transit.
California's public transit agencies need $3.1 billion in funding relief this year to prevent dramatic permanent cuts. A viable public transit network is essential for economic recovery, to help those most hurt by the pandemic, to protect strong and healthy communities and to avoid the loss of thousands of local jobs.
WITHOUT STATE OR FEDERAL ACTION, WE MAY HAVE TO ENVISION CALIFORNIA WITHOUT LOCAL PUBLIC TRANSIT.
California transit agencies have been forced to suspend or dramatically reduce services, eliminating transportation options for millions. If the Legislature and Congress do not provide additional funding this year, these service cuts could (will?) become permanent.
Transit ridership and fare revenues have plummeted by as much as 90%.
Sales tax revenues are expected to decline by billions of dollars statewide.
Transit agencies will experience losses of more than $3.1 billion over the coming year.
WHO SUFFERS WITHOUT LOCAL PUBLIC TRANSIT?
In a California without transit, underserved communities would suffer disproportionately adverse economic and social impacts.
Disadvantaged communities: According to a recent survey by Transit App, the majority of riders using transit during the pandemic are Black, Latino, female, low-income and essential workers. Many of these riders have no other transportation available.
Our economy: 92% of today's riders use transit to commute to work. Many are essential workers on the front lines of the crisis in healthcare, food preparation, and grocery stores.
Our environment: Without public transit, there will be more single-occupancy vehicles on the road, increasing traffic congestion and worsening air quality and pollution.
Urge lawmakers to act now to save local public transit.
Bay Area Fact Sheet Northern & Central California Fact Sheet