J.F. "Jack" Hutchison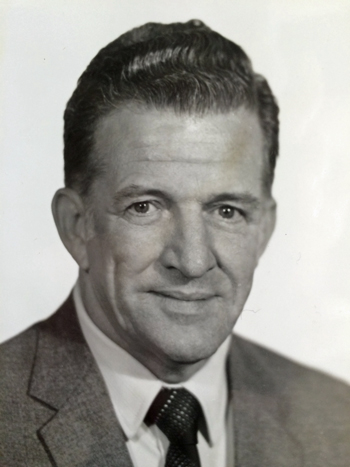 • Director, Santa Monica Municipal Bus Lines, 1967-1995
• Chair, California Association of Publicly Owned Transit Systems (CAPOTS), 1974-1975
• American Public Transportation Association (APTA) Hall of Fame Inductee, 1997
Born in Glasgow, Scotland, Hutchison came to the United States following World War II on a trans-Atlantic trip on the Queen Mary, settling in Omaha, Neb. to be near his sister. Shortly after his arrival, he joined the accounting department of the privately owned Omaha & Council Bluffs (O&CB) Street Railway in 1948. While with O&CB and its successor, Omaha Transit, Hutchison was part of the transition from streetcars to buses.
Many of Hutchison's family members moved to Santa Monica to escape the Nebraska winters, and Hutchison waited patiently for a job so he could follow suit. In 1967, he moved west to become director of the Santa Monica Municipal Bus Lines.
Hutchison's accomplishments in Santa Monica include extending bus service to Marina del Rey and Los Angeles International Airport; establishing two crosstown routes; and initiating freeway express service from Santa Monica to downtown Los Angeles. He also used outside funding to modernize Santa Monica's fleet. As part of a long-term capital program initiated in 1979, Santa Monica expanded and remodeled its facility at a cost of $13.7 million.
His background as an accountant and resulting fiscal acumen helped to grow the fledgling agency and earned Hutchison a nationwide reputation as a prudent financial planner. With a vision for transit that stretched beyond his community boundaries, Hutchison's coalition-building prowess assured strong state support for transit in California, and his leadership had a profound influence on the careers of several notable transit leaders who succeeded him in Santa Monica.
Learn more about Jack Hutchison through this article from the September, 2015 edition of Transit California.