Critical Investments
Study Finds That Senate Bill 1 Will Provide Broad Economic Benefits to Every Community in California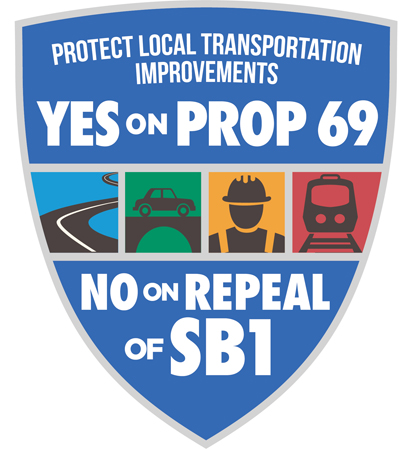 A study by the American Road & Transportation Builders Association (ARTBA) concludes that the transportation investment enacted under Senate Bill 1 will support at least $182.6 billion in increased economic activity and benefits for California residents and businesses over the next 10 years.
The study demonstrates how funds from SB 1 dedicated to improving California's highways and local streets, bridges, and transit systems provide broad economic benefits to every community in California and improve overall quality of life.
SB 1 represents the state's single largest funding commitment to transit in more than 40 years, with over $700 million dedicated to transit each year.
How SB 1 Benefits California's Economy
Total user benefits average $3.8 billion per year in savings for California drivers, transit riders and businesses, which will add up to $38.2 billion over 10 years. This is an annual savings of nearly $300 per household in California. These user benefits are a result of decreased congestion, less money spent on vehicle repairs, safer roads, and an improved infrastructure network.
SB 1 will support or create nearly 70,000 jobs per year over the next 10 years. Those workers will earn an average of $3.3 billion per year, resulting in $32.6 billion in additional earnings over 10 years.
Sales and output by businesses in all sectors will increase by $112 billion.
The additional economic activity from the implementation of SB 1 will contribute $57.9 billion to the state gross domestic product.
How SB 1's Investments in Public Transit Benefit Californians
Transit improvements will support cost savings and other benefits of an average of $1.5 billion per year. Over 10 years, this will add up to $14.6 billion.
Households that have access to high quality public transit spend less on housing and transportation as a percentage of their income.
Each person traveling by public transportation generates cost savings to both themselves and drivers of $1,505 to $2,455 per year.
Non-transit users will see a benefit from reduced congestion of $1.20 to $3.10 per public transportation trip, or $600 to $1,550 per year.
Eighty three percent of older Americans say public transit provides them with easy access to everyday necessities.
Making improvements to transit networks will result in more direct or frequent service. This means that transit users will spend less time waiting for trains or buses, and benefit from faster travel times on their way to work or entertainment.
Increased investment in public transportation will result in expanded service and increased utilization of transit systems. This will result in fewer cars on the roads, and therefore less congestion.
Transit users can get to work faster and more consistently using an improved transit network, while drivers can benefit from fewer delays since there are fewer cars on the road.